Rust is one of the best multiplayer games. It is loved by many and would have continued to conquer the hearts of its millions of users, if not for a very strange issue. According to many of its users, Rust keeps crashing on Windows 11/10 computers. This issue can be resolved by following the solutions that we are going to mention.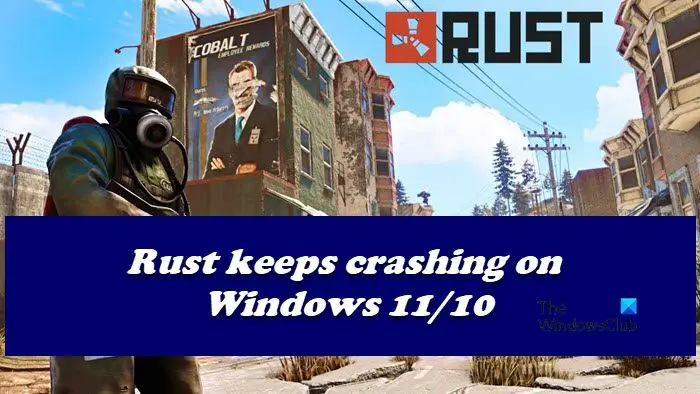 Why does my Rust keep crashing?
Rust is not very demanding, but there are some configurations of computers on which it will cease to run. So, you should check the system requirement before going for the fixes. if your computer is barely meeting the requirements, you need to precautions and make sure that there is no program running in the background.
Apart from that, some of the common reasons apply here as well. Such as outdated Graphics Drivers, or lack of administrative privileges. That's not it, the issue can also happen because of corrupted game files. In this post, we are going to see all the potential fixes and some workarounds to make the game work.
Rust keeps crashing or freezing on Windows PC
If Rust keeps crashing on your PC then start the troubleshooting process by checking for upgrades. If Rust is still crashing then use the fixes are given below.
Update your Graphics driver
Run Steam as an administrator
Opt-out of the Steam Beta
Kill Background programs
Verify the integrity of game files
Change the Power option
Reinstall Rust.
1] Update your Graphics driver
It is reasonable to check whether the Graphics driver can bear Rust beforehand going for complicated fixes. Outdated Graphics driver is one of the grounds on which more than half the game crashes including Rust.
So, update your Graphics driver to ensure smooth gameplay, without obstacles. However, if updating doesn't solve the issue then see the next fix.
2] Run Steam as an Administrator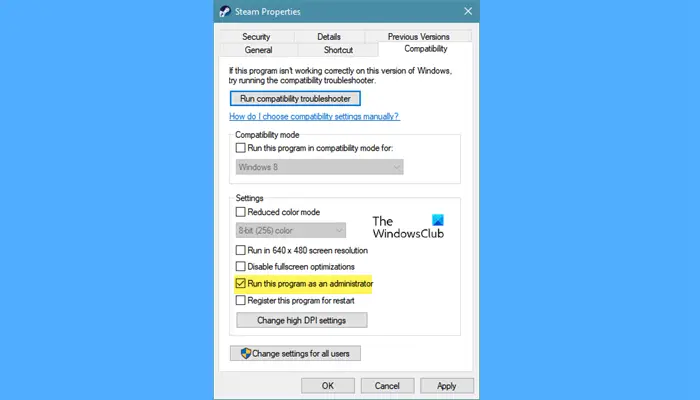 Normal user mode may not be compatible with Rust so you can run Steam as an administrator and see if that works. You can right-click on Steam and select Run as administrator. But why not make it run in elevated mode all time. The steps are given below to do the same.
Right-click on Steam.
Navigate to Properties.
Click on the Compatibility tab and then tick the box next to Run this program as an administrator.
Click on Apply and then select OK.
Relaunch Rust and check the issue.
3] Opt-out of the Steam Beta
Steam Beta is obviously, not stable and can cause issues for you. If you are a part of Beta, try disabling it as it majorly leaves an impact on the game performance in a negative way. Follow the steps to do the same.
Run Steam
Click on Steam > Settings.
Click on the Change button.
Click on the list box of Beta Participation.
Select None-opt out of all beta programs.
Now click on the OK option.
Relaunch both Steam and Rust.
4] Kill Background programs
Background programs running at the same time as Rust can lead the game to crash. So you can close the background programs and here's how to do it.
1. Click Ctrl+Shift+ESC to open Task Manager.
2. Now go to the Process tab and see which process is putting a lot of strain on your CPU and RAM.
3. Then right-click on them and select End task.
5] Verify the integrity of game files
Validate all the game files so that no corrupt or missing game files can interfere with the proper functioning. The steps are as follows.
Open Steam and go to the Library.
Right-click on Rust and navigate to Properties.
Click on the Local Files tab and then select Verify integrity of game files.
Wait for verification to complete and then check whether Rust still keeps crashing or not. If yes, move on to the next fix.
6] Change the Power options
You can switch the Power Plan from default to High Performance so that the system will not slow down and in return, Rust will not crash.
Here's how to change the power plan option.
Click Win+R to open the Run Dialog box.
Type the command and click on Enter.
Powercfg.cpl
Click on the High Performance or Ultimate Performance option.
Restart your PC and Rust to check the condition of the issue.
7] Reinstall Rust
Last but not least if you have tried all the above-mentioned fixes but Rust is still crashing on your PC then delete Rust and reinstall it. Now launch it to test the issue. Fingers crossed you won't have any more complaints about Rust crashing.
System Requirements to run Rust
The following are the system requirements you need to meet to play Rust.
Minimum
CPU: Intel Core i7-3770 / AMD FX-9590 or better
RAM: 8 GB
OS: Windows 7 64bit
VIDEO CARD: GTX 670 2GB / AMD R9 280 better
DISK SPACE: 10 GB
DEDICATED VIDEO RAM: 2048 MB
Recommended
CPU: Intel Core i7-4690K / AMD Ryzen 5 1600
RAM: 16 GB
OS: Windows 10 64bit
VIDEO CARD: GTX 980 / AMD R9 Fury
DISK SPACE: 12 GB
DEDICATED VIDEO RAM: 4096 MB
Hope this helped.