If you purchase a new router, it needs to be set up according to your ISP's network settings so that you can share your broadband connection across multiple devices. Although the manufacturer puts all the necessary information on the router's box, if you have thrown it away, you can find the default username, password, and login URL of any router using Router Default Password.
How does it work?
The mechanism is simple. Router Default Password doesn't scan deeply for your router's manufacturer. Instead, it comes with a list of manufacturers with all the necessary information. For example, if you have a D-Link router, you can navigate to the D-Link menu. You would see some router models and their username and password.
This login URL is the router's control panel URL that you need to open to set up the router or enter the IP addresses that your ISP has assigned to you. The username and password are required to log in to that control panel.
Find out default Router username & password
This is very easy and not much time-consuming as well. As this is a portable app, you do not have to install it on your machine. Simply download and extract the contents of the ZIP file. You will find a RouterDP.exe file. Double-click on it to run the tool.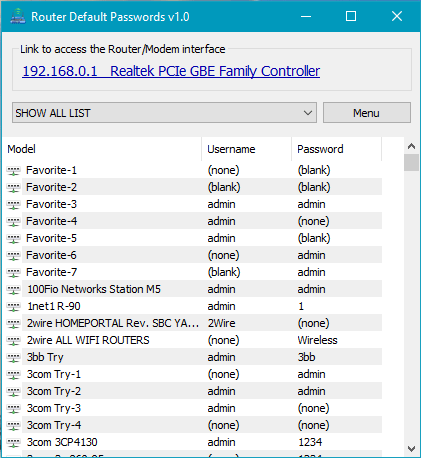 You need to change the router list by clicking the SHOW ALL LIST button to find out your router's manufacturer and own username, password, and login URL.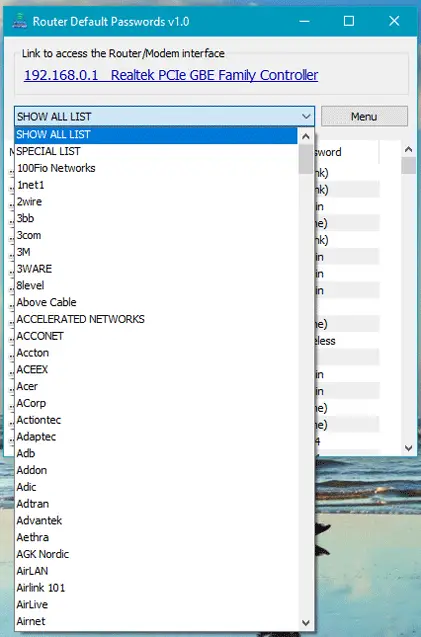 To log in, you need to click the link visible under Link to access the Router/Modem interface label. Then click on the corresponding router in the app, and copy the username and password.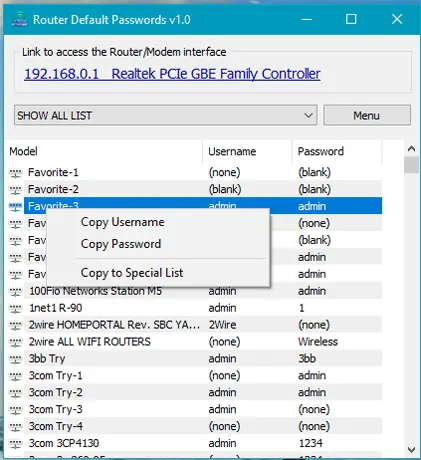 If you want to open the Network Connections window directly, you can click the Menu button and select Network Connections instead of entering ncpa.cpl in the Run prompt.
Router Default Password free download
I hope this tiny tool would be helpful. If you like, you can download Router Default Password from here.