There are many times when we need to use Text to Speech converters. Say you are trying to create a video, but you do not speak English fluently. At this time, you can simply convert your text to speech and add that to the video background. On the other hand, suppose you do not want to read a long article, but you have to do so. Then you can convert that article to speech and listen to your system read it out to you.
Robot Talk is a free Windows Store app that helps users convert text to speech and save them to their computer or phone easily. Most of the TTS tools do not allow users to save the converted speech, but Robot Talk offers the option to do so.
Robot Talk is designed for Windows PC as well as Windows Phone. However, you must have Windows Phone 10/8. On the desktop, you will need Windows 10/8.1. Unfortunately, it doesn't support Windows PC.
Convert text to speech with Robot Talk
It is very easy to use Robot Talk. As it doesn't come with a huge list of features, you will not have to spend a lot of time understanding the app and its works.
Features:
Change voice – It comes with five different voices including three male voices and two female voices. Depending on your requirement and accent, you can modify the sound.
Pitch – You can change the pitch of the voice.
Rate – It changes the speed of speaking.
Save – It helps users save the converted audio to their computer.
To get started with this tool, download and install it on your Windows computer. After opening it, you will see a screen like this: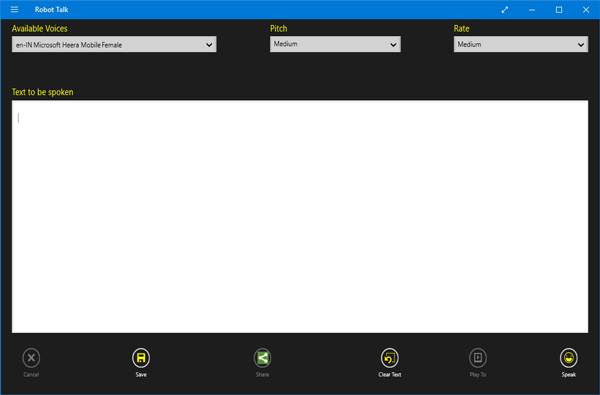 Paste the text that you want to convert. Now, change the voice, pitch, and rate if you want.
Click on the Speak button. It will take a few moments to convert that text and the conversion time depends on the text that you entered.
If you want to save the converted file, click on the Save, select a location, add the file name, choose the file format, and hit the Save button again.
It is pretty useful and if you like it, you can download the Robot Talk app from the Windows Store.
RoboBlather and Balabolka are some other free text-to-speech tools you may want to take a look at.