How often it happens that you don't get sufficient time to read your favorite news or article? Possibly it happens every now and then because of your busy routine and other important tasks. But how cool it would be if somebody can read out your favorite article while you are jogging, driving or having breakfast or lunch. Here comes an application, Balabolka, that almost does that.
With the help of Balabolka (it is a Russian word meaning "chatterer"), you can keep doing your work and at the same time can listen to the articles that you wanted to read. This portable text to speech converter freeware can convert any written text into WAV, MP3, OGG, WMA, and other audio formats. The best part of this text-to-speech converter is that you can save the text narration so that you can hear it again and again, any number of times you want.
Text to speech converter

The interface of this portable text to speech converter is simple and easy to use. On the main page, you can insert the text by clicking on File. Then choose the article you want to read and press Open. Now you will able to see the whole article on the main interface.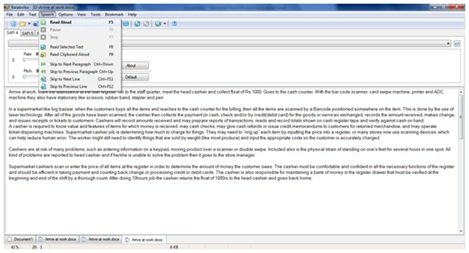 To convert your article into a voice message-Click on Speech and press Read Aloud.  As soon as you will do this you will be able to listen to your article. Now with the help of the toolbar, you can manipulate the text as Play, Pause, Stop or Bookmark.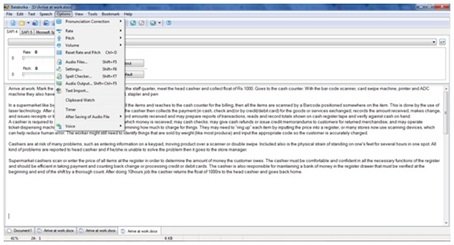 From Options menu you can even set the volume, voice quality, rate, pitch, tone, volume, and other options.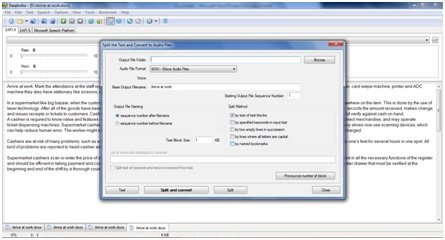 To split the text and convert the file into audio, Click on File and press Split the text and convert to Audio files' option. Browse the article you want to convert and press split and convert to save the file. The size of the output file will depend on the size of the text file.
Features of Balabolka:
Balabolka

allows you to save text as WAV, MP3, MP4, OGG or WMA.

View the text from DOC,RTF,PDF,ODT,FB2and HTML files.

The program can also read content from the clipboard.
It has a pronunciation feature.
You can customize font and background color.
It can read individual words, sentences, and paragraphs.
Other major features:
 Magnifier
Case converter
Spell checker
Multiple tab documents
File comparison
Shortcut keys
Fully portable
Balabolka free download
The program is easy to use and has a lot to offer. Click here and simply download it from the link. It is a 7.48 MB file so it is not too large to fit in your system. As it is a portable text-to-speech converter, you can move the ZIP package to any other folder of your choice.
Robot Talk and RoboBlather are some other free text-to-speech tools you may want to take a look at.