It's in human nature to forget things at times (mistakenly or deliberately). The worse may hit when you are just back from your vacation and fail to remember your Windows password. Under such circumstances, no matter how hard you try, the Login screen just won't allow you to get past it. In such a case you may have to reset your Windows password.
Reset Windows Password
In one of our earlier posts, we have already seen how to recover lost or forgotten Windows password and regain access to a computer. Today we will see another freeware called Lazesoft Recover My Password, that may help you should you get locked out of any system.
Lazesoft Recover My Password Home Free
Lazesoft Recover My Password Home Free is a Windows Password Recovery freeware. The program allows you to reset the lost Windows login password instantly and easily. With this utility at hand, home users can reset their forgotten Windows admin password to blank within a few minutes, and log in on their Windows again. In short, the tool can be used to remove your Windows login password and reset your Windows password to blank, unlock and enable your locked or disabled user account.
When you first launch the program, you are welcomed by a simple interface that in the center shows a 'Burn bootable CD/USB Disk now' option, so you do not miss it.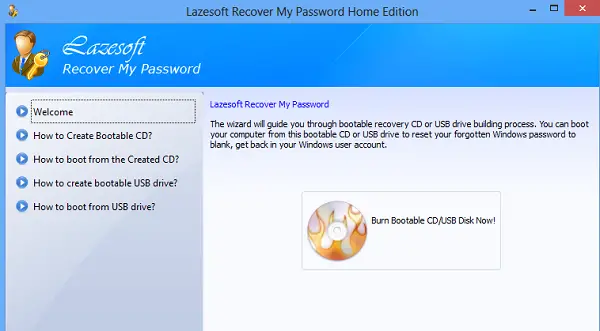 Then, to begin you just have to press the button and the wizard guides you through the complete bootable recovery CD or USB drive building process. It is via this CD or USB you can boot your computer and reset your forgotten Windows password to blank or get back to your Windows account.
All you need to do is hit the Create bootable media button and select the media for booting. Here, I chose a USB as bootable media. When done, hit the 'Commit' button.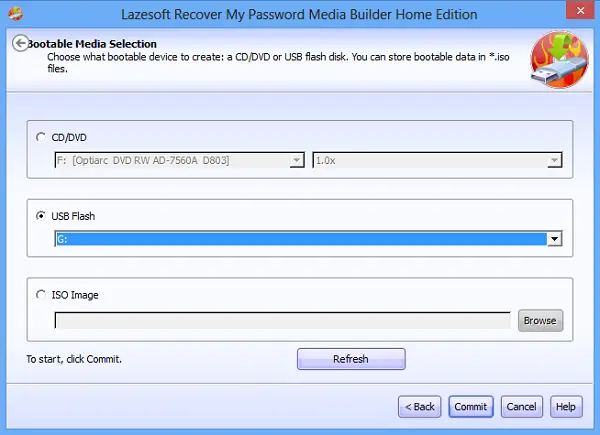 Do note that creating a bootable USB disk, needs you to format the disk first. You might lose all the saved data. It is advisable to have a backup of all the saved data in the first place.
Next, the built-in Media Builder will start formatting the disk. The process may take some time. When done, shut down the system and turn it back on with the USB key plugged in.
You can reboot the USB device by selecting the device from the Boot device selection menu. Use the Boot Menu Key (usually F12) to select the active boot device.
For some reason, if you are unable to select the boot device using the BOOT DEVICE SELECTION MENU, you can set up the starting device sequence through BIOS. The new booting order will remain in effect until you change it.
You can download Recover My Password Home Free from its home page.
If you are looking for a paid software to reset forgotten Windows passwords, read our Windows Password Key review. You can also Create Password Reset Disk using USB Flash drive.