'Failed Updates' comes across as one of the major issues plaguing Windows 11/10 users during its upgrade. It occurs when not enough free storage is available for the task to be completed. This is set to change as Microsoft has come up with a practical alternative – Reserved Storage. The software-giant will automatically reserve enough space to ensure the process completes without any hassles. It will reserve 7GB of disk space to prevent big Updates from failing. This post explains how the new Storage Reserve will work in Windows 10.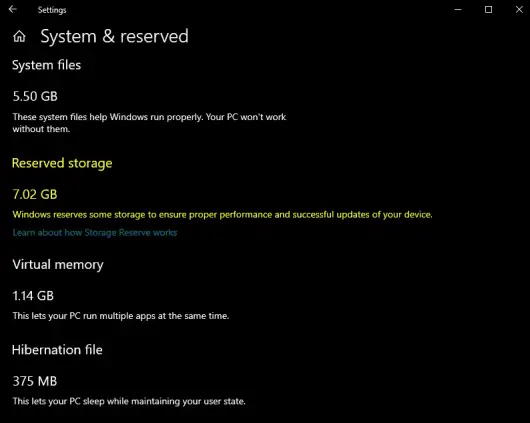 Reserved Storage in Windows 11/10
Reserved Storage will be enabled automatically on new PCs with Windows 10, v1903 pre-installed, and for clean installs. It will not be enabled when updating from a previous version of Windows 10.
Through activation of the Reserved Storage feature, less space will be consumed by updates, apps, temporary files, and system caches. Moreover, the feature will not only reserve storage but also be utilized for the day to day smooth running of your PC.
Reserved Storage will start at about 7GB. Once activated, it cannot be removed from the OS. However, if required, you can influence the amount of space reserved.
Optional features
Whenever an optional feature is installed, Windows will invariably increase the amount of reserved storage. This practice ensures there's enough space available to maintain this feature on your device when updates are installed. That said, you can downsize the space quota by uninstalling optional features, not in use.
Installed Languages
Although most customers stick to a single language, some users prefer to switch between two languages at least. As such, when an additional language is installed, Windows naturally increases the reserved storage quota. This makes sure there is enough space to maintain installed languages. Similar to optional features, you can choose to configure the space amount required for reserved storage by removing languages you aren't using.
View Reserved Storage size
If you would like to view the Reserved storage size, open Settings > 'Storage settings'.
Select 'Show more categories' > 'System & reserved'.
Finally, look at the 'Reserved storage' size and you will see the disk space allocated there.
In a nutshell, Storage Reserve is a new feature that Microsoft intends to test for improving Windows 10 experience. It will simplify the upgrading process by removing all the temporary unrequired OS files and allow the update to take over the full reserve area. In the case of misfortune, Windows will assume responsibility and guide you fully through steps to reduce the clutter or free up disk space.
Related reads:
How to enable or disable Reserved Storage on Windows 11/10.