Everybody wants to be more productive these days, and we tend to try many things to do that. We try to create schedules, log our time, but sometimes it doesn't work out. The tool that we are talking about can help you achieve more productivity by letting you analyze your activity on your computer. RescueTime Lite is a free tool that tracks your time on your computer and then provides you with useful insights.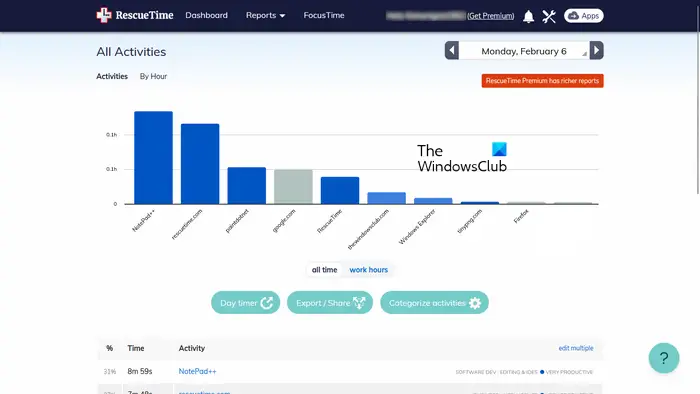 RescueTime Lite Review
This free Time Tracking online tool is available in both free and premium variants. This post only covers the features that are the part of the Lite (free) variant. To use the tool, you will have to create an account on RescueTime in order to get access to logged data.
The tool is simple to use and simple to set up. Once downloaded, you need to sign in using your RescueTime account. Once logged in, the tool will quietly sit in the system tray and track your time spent on different applications. There is no GUI or any interface as such. You can access the tool only from the system tray. It gives you the option to pause it for some duration stop it altogether.
After a few hours, you will be able to see your logs from RescueTime dashboard. The dashboard can be accessed from any web browser or a mobile app. The dashboard is the only point of information in this tool, and you can track all your activity from the online dashboard.
Free Time Tracking, Management & Productivity software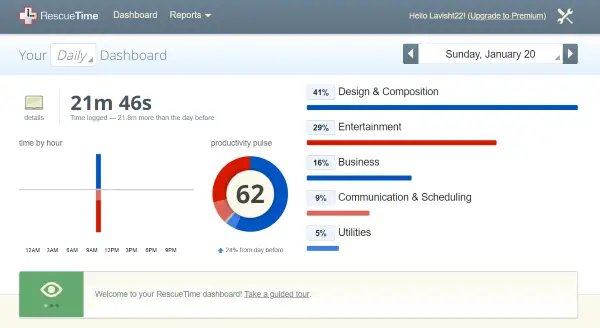 A good thing about this tool is that most of the required feature is a part of the free variant. The dashboard, for instance, provides you with full insights with beautiful charts. For starters, you can view the percentage of your time you spent on different categories of applications.
You can also have a look at the chart showing time by the hour. You can quickly look at what time you worked and how much of it was productive (blue) and how much was un-productive (red).
Productivity Pulse is your real-time score of productivity. The donut chart can provide you with information like how much time you were productive and for how much time you were distracted from your work.
Scrolling down, you can find out how much time was spent in the work hours and how much outside of it. You can configure your work hours easily from the settings. One more graph is there that displays the top applications you spent your most time on.
Another feature I loved from RescueTime was goal creation and tracking. You can create your time goals, such as how much time you want to be productive daily. Once created, goals can be tracked from the dashboard. You can generate daily, weekly and monthly reports to see how you are doing on your goals.
Apart from that, there are Lifetime Milestones available as well. Lifetime Milestones are a good way to check total time logged, total productive time and total distraction time. The top days can tell you the best days productivity-wise.
So, this was pretty much about your dashboard. There is a separate Reports page available too. You can generate and export all reports such as the one about time spent on different applications and websites. Remember that you can also install RescueTime browser extension to track your internet activity.
RescueTime is a great time tracking software. As a time-conscious person, you want to monitor where you are productive and where you are wasting time – and this is where this software can help you. It is simple to use and has a beautiful web-app based dashboard. The best part is that most of the features are available in the free version. Go here to sign up for and download RescueTime Lite which is free forever.
What are the benefits of RescueTime?
RescueTime is a time-tracking application that helps you track your activity while working on your computer. After you install and activate RescueTime on your system, you have to start the focus time manually. After that, it starts tracking your time and activities on your system. The time you spent on each app or software is recorded in RescueTime. Moreover, it also keeps a record of the time you spent on different websites in your web browser. You can view all these activities on the RescueTime dashboard. It also generates daily, weekly, monthly, and yearly reports. The report generated by RescueTime will tell you how much time you have spent on different applications and websites so that you can increase your productivity.
How does RescueTime track time?
RescueTime Lite has different focus time slabs, including 15 minutes, 30 minutes, 1 hour, 2 hours, and until tomorrow. You can select any of these time slabs to start time tracking. After that, it starts recording the time you spent on each app, software, and website on your system. While time is being tracked, you can view live reports on the official website by signing in to your account.
That's it.
Read next: ManicTime is a free time tracking and management software for Windows 11/10.