These days, time is of the essence, which means having a good task manager to help make work or personal chores easier is a must. The old days of writing down tasks on paper are long gone, so if you're still living in the past, it's time to move forward.
With the various Task Management Software available both on the web and as standalone programs for computers and mobile, it's easy to have your plans centralized without many problems going forward.
Now, you may not have the cash to subscribe to task-managing software or to buy an app. But don't worry; there are many free options out there, and today we're going to talk about five of them.
Free Task Management Software for Windows 11/10
Here is a list of the best five free Task Management software for Windows PC that will help you manage Teamwork.
Trello
Todoist
PinTaskTrello
WrikeSo
TrackingTime.
1] Trello
If you're leading a medium or large team, but things are not as organized as you'd like, then we recommend giving Trello a shot. The service relies heavily on the Kanban system of project management, so expect smarts and visual flair.
The service is also great for teams that are working on separate tasks that link with a larger goal within the company.
Trello is superb due to its excellent design that is very easy on the eyes. Additionally, the free version is free forever and is good enough for most teams that aren't doing anything extravagant.
Not to mention, Trello can be accessed from anywhere. Visit the website right here.
2] Todoist
What makes Todoist a great tool for managing tasks, is the fact that it's available everywhere on almost all major platforms. Folks can access the service through their web browsers, Windows 10 as an app, and other platforms.
We like the interface because it's similar to Gmail, so expect an intuitive experience. Furthermore, there are several categories, and then the tasks themselves which can be sent off to others for broader collaboration.
Team leaders will enjoy the simple design and the option to have a mobile app. However, bear in mind the free version is limited at best and isn't fully encrypted. Visit the website right here.
3] PinTask
Trello is great, but maybe you do not enjoy some of the features and would prefer a similar looking alternative. Well, PinTask is that alternative, and it works quite well. Interesting enough, it's also based on the Kanban system – therefore, it looks and acts like Trello.
To give it more features, just customize it with extensions. These add-ons will allow managers to build a task management program that is low-cost and to their needs.
Visit the website right here.
4] Wrike
So, you're lazy and would prefer to have a task management system that supports drag-and-drop. That's fine because Wrike is one of the good ones, and it's designed for business and individuals.
We like the option of mass editing tasks with Wrike's "Spreadsheet View." The collaboration system is pretty solid as well, but Wrike moves one step further with the ability to synchronize with Google Drive, Dropbox, Box, and iCal.
Don't go in with the expectation that the free version will be the same as the premium version. For now, it's free for up to five users – therefore, we can only recommend it for small teams.
Visit the website right here.
5] TrackingTime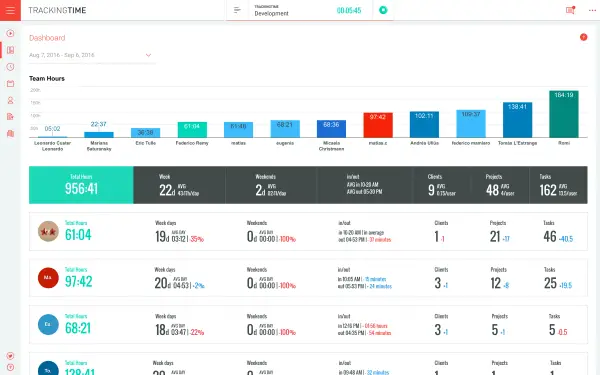 Are you a freelancer, seeking a software that does task management and time tracking? If that's a yes, then TrackingTime is your friend, maybe even your best friend.
This software doesn't throw limits at its users, and with a powerful reporting tool, all of your workers will no doubt stay on track.
TrackingTime is available on all major platforms, and the free version lacks calendar support.
Visit the website right here.
Also check: RescueTime Lite | ManicTime.
Let us know which of these you recommend.
What is the best Task Management app free?
If you are looking for some best free task management apps for your Android smartphone, then Microsoft To Do is one of the best apps to use. Or else, you can also use the Google Tasks app which is a good alternative to Microsoft To Do app. TickTick:To-do list & Tasks, Todoist, Any.do, etc., are also some handy options.
Is there a task manager for Teams?
If you want to manage individual tasks and/or team tasks and prioritize their work in one place in Microsoft Teams, then you use the Tasks app. This app is powered by Microsoft To Do. It comes with My Tasks and Shared plans features for managing your own tasks as well as team tasks. You can access this app on the left side of Teams and as a tab in a channel.
Read next: Free Automation software for Windows.