Computers have changed the way we live our lives. They have found a place for themselves in every walk of our life. In the recent past, artificial intelligence and machine learning have given way to increased automation. Despite the development, most of the task we do on our PC is repetitive. Have you ever thought of automating these tasks and saving time? While most of us are familiar with AutoHotkey, today we will take a look at some other free automation software for Windows.
Automation software for Windows 11/10
In this article, we will guide you through some of the best apps that will help automate tasks on Windows 11/10. Please mind that some of the automation software offers a paid version too – however, the free versions are sufficient for home users like you and me.
Mini Mouse Macro
Macro Toolworks Free
Macro Recorder
AutoIT
Pullover's Macro Creator
Let us take a closer look at some of the best free task automation software for Windows 11/10.
1] Mini Mouse Macro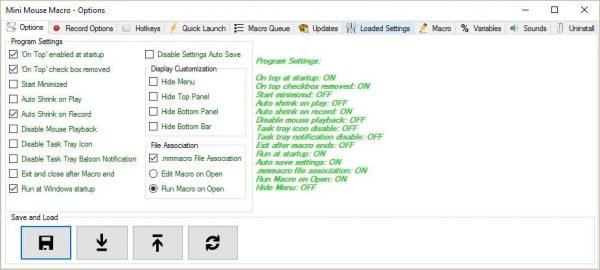 Mini Mouse Macro is an open source software designed to record mouse and keyboard actions. The software is also capable of repeating the playback, and you get a simple editor to fine tune/edit the captured actions.
The mouse record feature will record the movement of your mouse and map it with respect to X and Y position. You can also define a loop count and automate the task for a predefined number of times. Mini Mouse Macro supports Script Builder, and this lets you create command lines. Download Mini Mouse Macro from the homepage.
2] Macro Toolworks Free
Macro Toolwork is aimed at power users and is a powerful all-in-one automation software for Windows. Needless to say, the tool lets you record macros and then edit them in a macro editor. As a user, you can choose each Macro to be triggered in multiple ways and assign it to text shortcuts, keyboard hotkeys, time scheduler, and mouse keys. Most importantly, the Macro Toolworks records both keyboard and mouse events simultaneously.
The software is pretty useful for automating repetitive tasks like file backups, editing registry, retrieve data from Excel files and other actions. The Macro Toolworks automation software is available in three editions Free, Standard, and Professional. Scroll down and download Macro Toolworks Free from the homepage.
3] Macro Recorder
Mouse Recorder is yet another freeware that helps automate tasks on Windows. Mouse Recorder records mouse movements, clicks and a feature that lets you playback repetitive procedures. Advanced features like pixel color detection will pause macro playback and wait for a certain pixel to change colors.
The best part is that unstable mouse movements are converted into smooth swipes and this is something that will come in handy while creating video tutorials. Furthermore, the advanced recording algorithm is capable of sensing a resized program, varying resolutions and offer accurate macros.
All said and done; the Mouse Recorder ended up being one of the most accurate macro automation software. Download Mouse Recorder Pro from the homepage. Macro Recorder productivity boost is free-of-charge to personal users.
4] AutoIT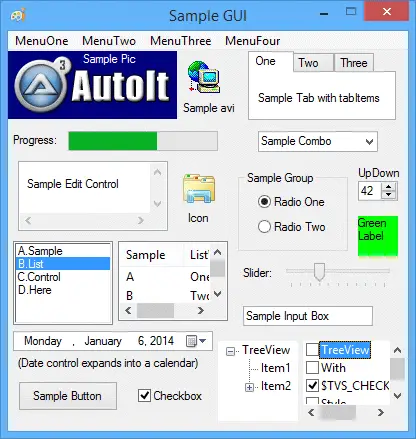 AutoIT lets you create different types of automation and edit them to suit your requirement. As with all the other programs in this list you can automate repetitive tasks by recording mouse gestures and keystrokes. If you are an advanced user than the Auto Script Editor will help you integrate the automation with various coding tools.
That apart AutoIT can be used to change the registry entries, execute programs, automate keystrokes and create a new workflow for Windows. Download AutoIT from the homepage.
5] Pullover's Macro Creator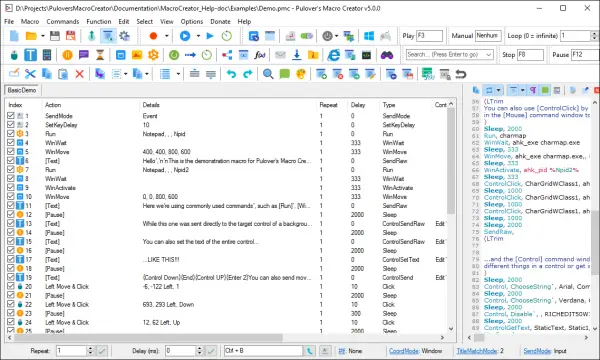 Are you on a lookout for a free macro creator that doesn't cut corners? Pullover's Macro Creator lets you write scripts, record functions and automate a wild array of tasks. The learning curve is not steep, and a normal pc user can easily understand the user interface. As a user you can set Loops, control commands, use pixel search and map it to specific functionality, devise 'If Statements' and map hotkey's to the automation.
The highlight is definitely the Macro Creator. I would recommend Pullover's Macro Creator to someone who prefers writing manual scripts rather than just recording the actions and creating automation. Download Pullover's Macro Creator from the homepage.
Hope you find these freeware useful.
Read next: Free Task Management Software available for Windows.