Planning and organizing play a major role in executing any task. Whether it is a project you are working on or an event that you are going to host in a few days, management is a must. And since bigger things are not done single-handedly, collaboration plays a major role too. Trello is one such web application – also available as a Microsoft Store app. This tool helps you collaborate with people on various projects. You can plan and execute large-scale projects or work on a simple grocery list with your roommates. Trello brings endless possibilities to your conventional to-do and team management apps.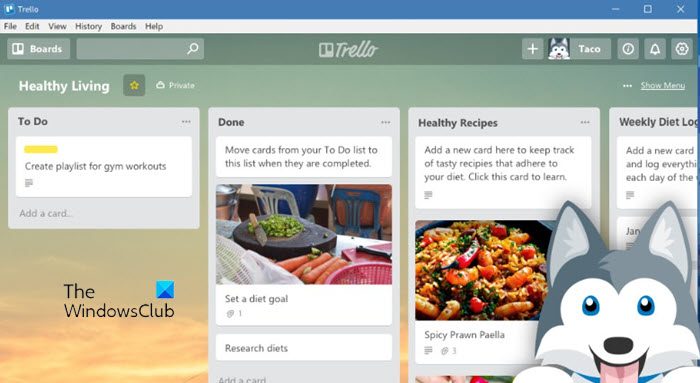 Trello task organizing & collaboration app
The best part about Trello over other applications is its flexibility. It is not just limited to professional projects. Rather you can even use Trello for more simpler and easier activities. As mentioned, it can also be used as a simple task organizer. Or it can be used to plan an event. Or it can be used to work on a school project. Trello inspires teamwork.
How does it work
The overall working of Trello is based upon teams and boards. You can create a team with all the people working on a specific project. And then you can create boards for different departments to divide your team into different groups. One team member can participate in more than one board. Board is essentially a collection of lists. And in those lists, you can add various cards. For example, you can create a list of To-Dos and the list of tasks that have been done. So, once you are done with any task from your To-Do list, you can simply drag the card to 'Done' list.
The card approach lets you perform various operations on a list item. You can click open any card to view complete details about it. Here you can edit the description, make comments, mention members and even attach files. Moreover, you can add checklists, add due dates and labels to the card.
One card can store a tremendous amount of information, and I was amazed to see how Trello handled this stuff beautifully while being user-friendly and simple to operate simultaneously.
You can completely customize your board, both visually and mechanically. You can change colors, add custom effects and do a lot more. The third-party 'Power-Ups' let you add more functionality to your Trello account. The 'Power-Ups' are available for many services, including GitHub, Bitbucket, Google Drive, Jira Cloud, and the list goes on. The list covers all the major web services which you might be using already.
Trello app for Windows 11/10
While the Trello web app is successful and is currently being used by many users. The company recently launched the browser-based application as a Windows 10 Store application. The Store application not just brings native Windows 10 features to the existing Trello app but also makes it simpler to access your boards at the same time.
Windows 11/10 application offers features like desktop notifications, quick add from anywhere, and a lot more. Moreover, the application also supports multiple windows, which means you can be present in different teams or boards at the same time. Trello on Windows 11/10 can be very useful to you if you are a part of multiple teams and boards and want a dedicated tool to manage all your cards and tasks.
The user interface is almost similar, and all the keyboard shortcuts are in place. You might notice a settings icon in the top right corner. It lets you customize notifications and other Windows-related settings of the application.
With Trello you can:
Create boards to organize anything you're working on
Use them solo or invite coworkers, friends and family to collaborate
Customize workflows for different projects
Add checklists of "To-Dos" on cards
Assign tasks to yourself and coworkers
Comment on items with your friends
Upload photos and videos
Attach files
Display cards in a calendar view with the Calendar Power-Up
Some useful Trello shortcuts:
Ctrl+Alt+Space – Open Quick Add window to quickly create a card (customizable)
Ctrl+Shift+N – Create another window
Right-click on card – quick edit menu
Ctrl+Alt+C – Copy URL of current open card or board
Ctrl+Alt+V – Open any Trello card or board by pasting it into the app from your clipboard
Ctrl+Alt+T – Open app from anywhere (customizable)
Ctrl+1-9 – Quick access to your Starred Boards
Ctrl+Shift+B – Open Boards page
Ctrl+D – Open Default Board
Go here to access Trello on your browser or visit the Microsoft Store to download Trello app for Windows 11/10. Trello is free to use forever with options to upgrade to Gold for loads of extra fun and functionality.