If you see The compressed (zipped) folder is invalid error message, stating that the zip file is corrupt, incomplete or damaged and that the extraction cannot proceed, while trying to open a zip file, then you need to repair the corrupted and damaged zip files. This issue can also happen if the download is incomplete or has got corrupted along the way.
The compressed (zipped) folder is invalid
This happens because Zip files have a well-defined structure and are therefore prone to corruption. Even in the case of minor corruption, the extraction tools will not be able to extract its content, since all zip tools first run a check for integrity and if they find that the CRC values of the original files of an archive do not match the extracted ones, they will not work.
Repair zip files in Windows 11/10
If you receive The compressed (zipped) folder is invalid message, then I'd like to recommend these good free zip file repair software that will help you to repair and extract the contents of the zip files:
Repair Zip
Zip2Fix
IZArc
Object FIX ZIP
Haozip
DataNumen Zip Repair.
Let us take a look at them in brief.
1] Repair Zip
The first is Repair Zip. This tool helps repair the zip structure and extract the contents of the archive. Its plus point is that it has a wizard-like interface, making zip repair and recovery very easy. You can get it here.
2] Zip2Fix
The other is  Zip2Fix. This tool extracts the undamaged files from a damaged ZIP archive. The good files are extracted into a new ZIP file. It also worked with SFX Zip files.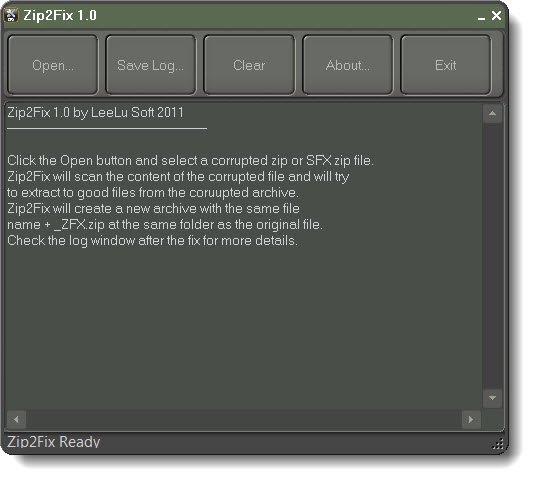 Zip2Fix creates a new zip file with the same file name suffixed with _ZFX.zip containing all the undamaged files. After the recovery is complete, you can check the log window for more details on what has been recovered and what, not. Download this free software here.
3] IZArc
IZArc is another broken archive repair utility that can help you. IZArc is one of the finest freeware archive utility supporting many archive formats. It can also help you repair compressed files.
4] Object FIX ZIP
Object FIX ZIP is a program for repairing Zip archive files. It can reconstruct a specified Zip file by creating a new Zip archive while recovering the contents of the faulty Zip file where possible. It is available here.
5] Haozip

Haozip is another free compressed file repair tool that can help. You can download it here.
6] DataNumen Zip Repair
DataNumen Zip Repair is a free Zip recovery software for Windows PC.
If you know of any other good free zip recovery tools, please do share them here.