Google Drive has proved itself to be one of the most reliable and easy-to-use cloud storage services that don't cost its users a penny. One additional feature user can make use of are the Suggestions and Suggested Files on the Drive homepage. Some people, however, may find this a needless addition to Drive's UI. In this article, we will look at how you can remove Suggestions and Suggested Files from Google Drive.
How to remove Suggested Files from Google Drive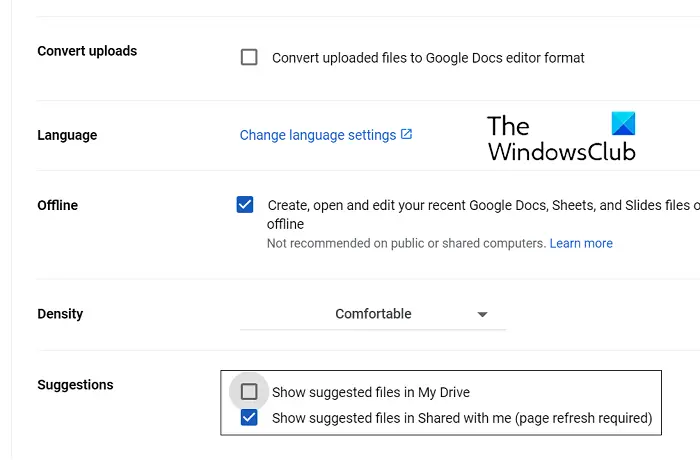 Suggested Files on Google Drive appear in the form of a row of documents you had accessed in the past, at the top of the homepage. Below are the steps you need to follow to remove this section.
Open the Google Drive website in the browser of your choice and log in with your Email ID
Click on the Settings icon that sits to the right of the search bar at the top
Further, click on 'Settings'
Access the General tab from the side menu
Scroll down to find the Suggestions section, and here, unmark the 'Show suggested files in My Drive' option
Save this change by clicking on 'Done' and reopening Google Drive, logged in, to see the Suggested Files section removed from your Google Drive homepage. If you don't want to go through the settings' revamp, an alternate way to do this is by opening different files than the ones appearing on your Suggested Files row at the time.
How to remove Suggestions from Google Drive
If you want to remove the Suggestions section, there are two ways in which this can be accomplished. One is through the Google Drive mobile app, and the second is the web browser method.
Remove Suggestions using the Google Drive app
If you predominantly find yourself using Google Drive on your mobile phone, then you're recommended to go this way to remove the Suggestions area.
Open the Google Drive app on your phone and click on the side menu option next to the 'Search in Drive' search bar
From the list of options available here, click on Settings
Under the Notifications section, click on Notification settings
On the subsequent screen, locate your Email address (if you have more than one logged in) and toggle off the 'Requests for access' option
Exit this page to save the change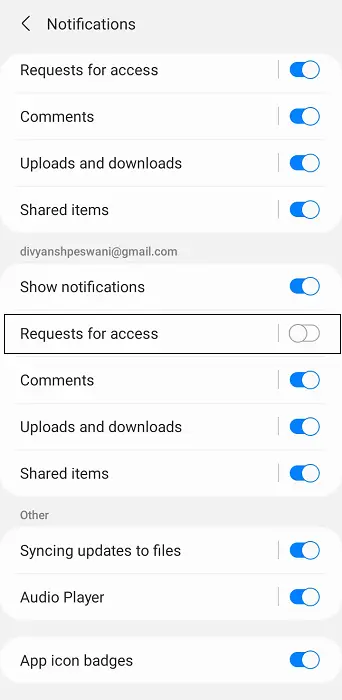 You will now find Quick Access hidden from your Google Drive homepage.
Remove Suggestions on Google Drive via a web browser
Alternatively, the Suggestions section can be disabled from Google Drive's website as well.
Open Google Drive's official website and click on the Settings icon to further open its Settings
Visit the General tab
Scroll down to find the Suggestions section, and here, unmark both the options available
Save these changes by clicking on Done and reopen the website to observe the change
This way, the Suggestions or Quick Access area will be removed altogether from your Google Drive homepage.
Read: Google Drive for Desktop not syncing on Windows PC
How to remove a particular file suggestion on Google Drive
Another possible scenario here could be you want to remove one or more specific files, previously loaded and accessed on Google Drive, from the Drive Suggestions section. Fortunately, there is a course of action for that too. To remove a particular file suggestion on Google Drive, follow the given steps:
Open Google Drive on your computer or android phone
From the list of file suggestions, suggest the one you don't want to encounter and right-click on it
From the list of options that then shows up, click on 'Not a helpful suggestion'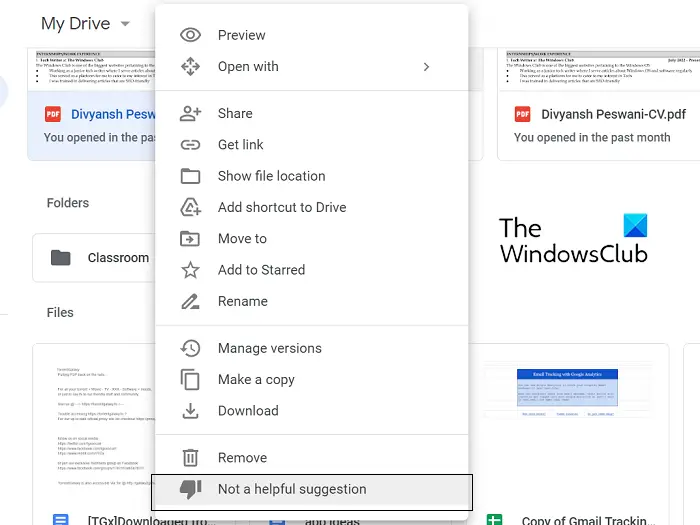 You can follow the same steps as above to remove particular file suggestions using your Google Drive android app as well.
How do I delete Google Drive activity?
Active users of Google Drive would know that whenever you use one of Google's utilities, be it a site, an app, or any other service, Google traces and saves your activity. If you want to avoid anyone getting to know about this activity, you can delete your Google activity history by going to myactivity.google.com and clicking on Delete activity by.
Can the owner of a Google Drive see who viewed it?
Access to any documents that you may upload on Google Drive solely depends upon you i.e., how many people you grant access to it. Whenever you access someone else's document, be it a Google Docs file or Google Sheets, your presence is marked by the active users' section at the top-right corner of the page. However, no further details about your IP address or device can be extracted from this area.
We hope that this post helped you around with Suggestions on Google Drive.