Over a period of time, you may have changed your user Account Picture several times. For instance, in my case, I had a different one in Windows 10. I have now set a new User profile picture. In this post, we will see where Windows 11/10 stores your user account pictures and how to delete or remove those which you do not now need.
Now in Windows 11/10, if you were to open the Settings app > Accounts > Your account, you will see the previous user account pictures too. If you want to remove the old user account picture, there is a way you can do it. Let us see how.
Where does Windows store user account pictures?
Windows stores your user account pictures in a hidden AccountPictures folder. To see its contents, open File Explorer and browse to the following location:
C:\Users\<Username>\AppData\Roaming\Microsoft\Windows\AccountPictures
It is a hidden folder, so you will have to first set Folder Options to Show hidden files & folders.
Read: Setting The Account Picture Failed in Windows 11/10.
Remove old user account picture in Windows 11/10
To delete or remove your previous or old images, you may simply copy-paste the following path in Explorer address bar and hit Enter:
C:\ProgramData\Microsoft\User Account Pictures
Here you will see your photographs or images.
Delete the old one's that you do not want.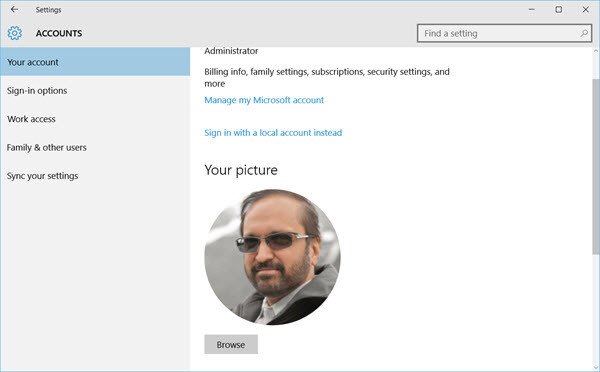 Now check the Settings app and you will see the difference.
In earlier Windows 10 versions, they were located here:
%appdata%\Microsoft\Windows\AccountPictures
How to change User Account picture to a video in Windows?
To change the User Account picture to a video:
Open Settings > Accounts > Your info
Under Create your picture, click on Browser for one
Locate the MP4 file
Chose Picture
You will see the video playing as your user accounts picture.
More Windows 10 tips and tricks here!