A User Profile picture is defined as an avatar for accounts, and comments, generally used on social media, and the user account picture is classified as the picture that appears on the account screen.
Whenever individuals turn on their Windows 11/10 PC, they will see a User Account sign-in on their login screen to gain access to your PC. Persons can add an account picture as an avatar to their user account login, shaped like a circle. People have been adding a picture to their Microsoft user accounts for ages, but most individuals do not know that they can also add a video as their user account avatar.
How to change User Account picture to video
Whenever a person uploads a video to their user account, the video length must be a maximum of 5 to 6 seconds, and the video extension must be MP4 to make this process work. You can upload short video clips of yourself or short videos from movies or your favorite TV shows as your user account avatar. To change the User Account picture to a video:
Open Settings > Accounts > Your info
Under Create your picture, click on Browser for one
Locate the MP4 file
Chose Picture
You will see the video playing as your user accounts picture.
Let us see the method in detail.
Windows 11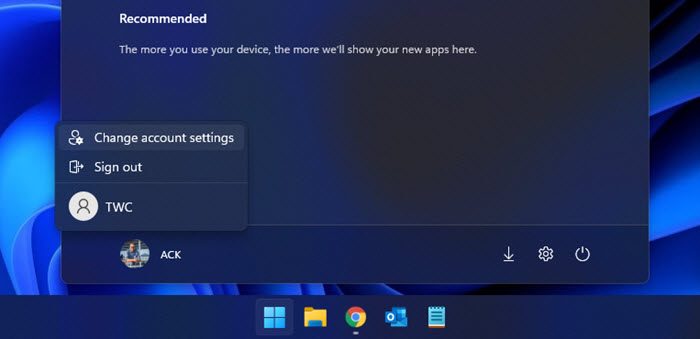 Windows 10
On your PC, click the Start button.
On the Start menu, click on User Account.
Then click on Change Accounts Settings.
On the Change Accounts Settings window that pops up, click Browse files or Browse for one on the Your Info page.
Windows 11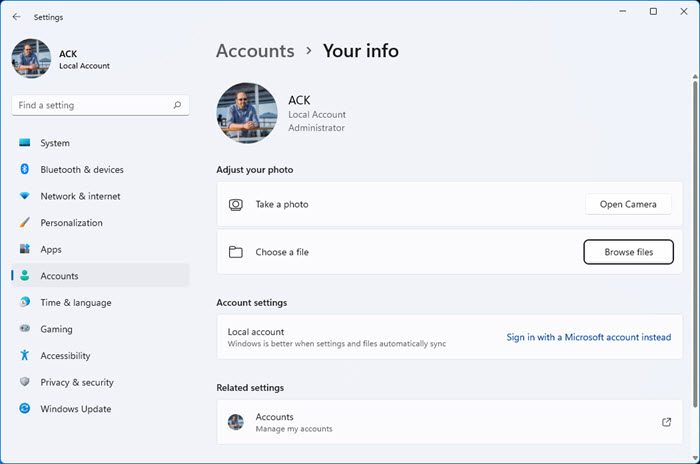 Windows 10
An Open dialog box will pop up.
When you open the location of the video file, you will not see the video.
To see this file, click File Explorer.
Open the location where you store the video or videos, select the video file, right-click the file, and select Rename.
Then copy the file name.
Then paste the file name into the Open dialog box.
Then click Choose Picture.
Then you will see the video playing as your profile or user accounts picture in your settings window on the Your Info page.
You can even sign out, restart or shut down the computer and when the PC is turn on, you will see the small video as the profile picture playing on your screen.
We hope this tutorial helps you understand how to change Windows 11/10 user account picture to a video.
Related: How to remove old unused User Account Pictures in Windows 11/10.