In Windows 11/10, if you create a new user account, a default account picture gets assigned automatically. If you want to change this default profile picture when you create a new account in Windows 11/10, here is a simple method. Obviously, you can change the profile picture later based on your preference – but this trick will change the image that comes before changing the profile picture manually.
Change default User Account Picture in Windows 11/10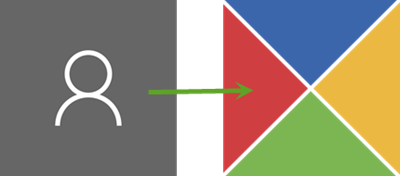 To do this, you need an Image Editor. As Windows uses various image sizes at different locations, you need to resize the image based on system requirements. In total, you need eight (8) different images in two different formats, i.e., PNG and BMP.
So, select an image that you want to set as the system's default User Account picture. Then, resize and rename it as follows:
guest.bmp – 448 x 448 pixel
guest.png – 448 x 448 pixel
user.bmp – 448 x 448 pixel
user.png – 448 x 448 pixel
user-32.png – 32 x 32 pixel
user-40.png – 40 x 40 pixel
user-48.png – 48 x 48 pixel
user-192.png – 192 x 192 pixel
Next, make Windows Show hidden files & folders and then navigate to this folder:
C:\ProgramData\Microsoft\Default Account Pictures
Alternatively, you can enter this in Run prompt:
%ProgramData%\Microsoft\User Account Pictures

Once the folder has opened, copy all your resized & renamed images and paste them into this folder. Before you do that, you may want to back up the original default system images.
That's all!
Now your default profile picture has been changed. If you create a new account or you have an account having the system's default profile picture, you will see the new image.
This post will show you how to set a default User Logon Picture for ALL Users using Registry or Group Policy Editor.
Hope you like this small tip!
Why should we use a User Account Picture for your Windows 11 computer?
Firstly, since you are logged in using the Microsoft account, this picture will appear on every tool associated with your Microsoft account. Quite some personalizing. Furthermore, it will add your display picture as soon as you boot into the system. This would mean anyone who checks your system would know who the owner is.
How to remove the User account picture in Windows 11?
You must have noticed that there is no option to remove the user account picture. Maybe Microsoft would add the option later. But for now, you could use the hack mentioned in the linked article.
Where all would my User account picture appear?
Your User account picture would appear everywhere you are logged in to your Microsoft account and there was a void for an image. It would be at surprisingly more locations than you would initially assume.
TIP: You can also change the User Account picture to a video.