Users working on small screen devices like tablets and smartphones find it difficult to find the fields in documents. For this reason, Microsoft Office Word offers a field shading feature that helps users find fields in their files quickly. Simply select a field or move the insertion point into a field, Word application highlights the entire field or result of the field.
For some, this proves to be a boon while for some, it appears as a bane. If you find this feature a distraction and would like to disable it, here's a tutorial to make your work easier.
How to Remove Field Shading in Word
A Field is shaded when it is selected or you place the insertion point within the field. If you happen to select an entire field, it appears both, shaded and highlighted.
To begin, open Microsoft Word application.
From the upper-left corner of the screen, select the "File" tab.
When presented with the background screen, look for the "Options" by scrolling down a bit.
When found, click the option to open the 'Word Options' dialog box displays.
When the 'Word Options' dialog box appears, click "Advanced" button.
Next, scroll down to the "Show document content" section and locate "Field shading" option. Thereafter, click on the drop-down arrow of the option and select "Never".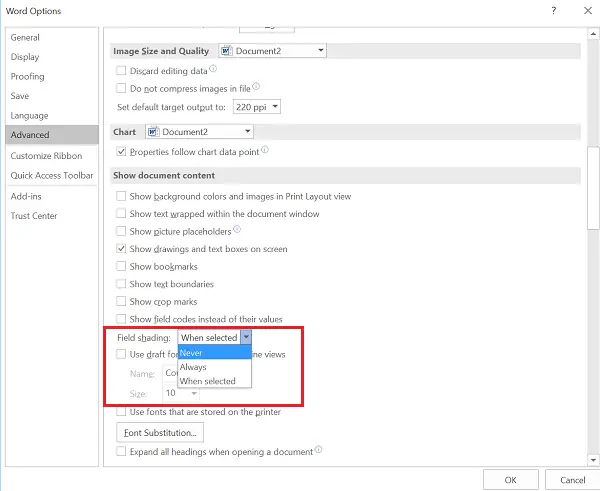 The action ,when confirmed, ensures that the user does not wish to see the fields shaded. If you would like to undo the changes made and enable this feature again simply switch to "Always".
The default option you notice is "When selected", which means that a field appears shaded when you place the cursor anywhere in that field.
Also note that, when you chose the "When selected" for the "Field shading" option, each field displays a gray background when you click within that field.
Read: How to use Pictures as Bullets in Word.
Let us know if you find the tip useful in the comments section below.