Remote Desktop is a powerful and handy feature that allows you to connect to another computer on the same network or the one available over a dedicated network available for access. When trying to connect to a remote computer, if it cannot find the PC, this post will resolve the problem related to Remote Desktop Can't Find the Computer.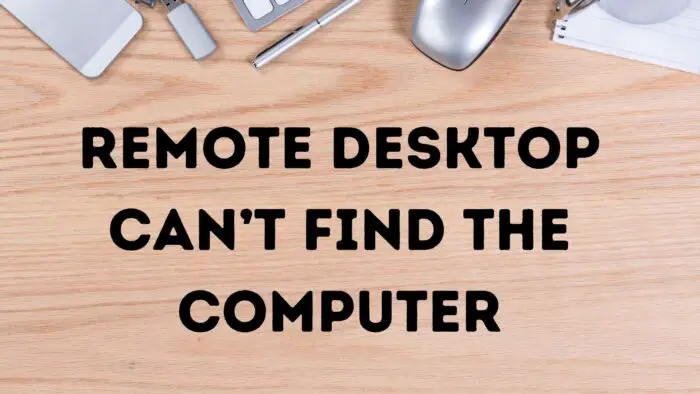 Remote Desktop can't find the computer
Follow these methods to resolve the issue if you cannot find the computer on the network.
Check Windows Version
Enable Remote Desktop Connection
Check if you are on the Same Network
Verify the status of RDP services.
Network Profile is Public
Check Restrictions on Security Settings.
You will need to use an administrator account for some of the steps.
1] Check Windows Version
If you are using Windows Home, Remote Desktop is not available. If you are trying to connect to that computer from your PC, then it won't work. While it is officially not supported, you can use the RDP Wrapper library from Github and use Remote Desktop in the home version.
Related: Remote desktop can't connect to the remote computer.
2] Enable Remote Desktop Connection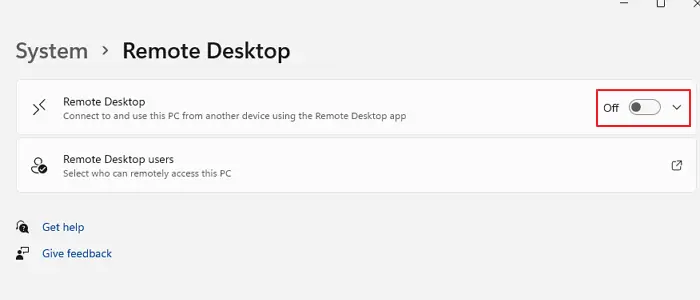 The default option to connect to a computer using Remote Desktop is turned off. Make sure the option is enabled on both computers. Go to Settings > System > Remote Desktop. Turn this on. Now, if you type the exact name of the computer, you should be able to connect.
Related: Remote Desktop Connection not working.
3] Check If You Are on the Same Network or Correct Address or Name
When connecting to a remote computer close to you, make sure you are connected to the same wifi network. If you are on the same network, then make sure you are using the right Name. If you are trying to connect to a computer that is available over the internet, make sure you use the right address.
Troubleshoot: Remote Desktop connection issues on Windows.
4] Verify the Status of RDP Services
Remote Desktop connection is made through Windows Services, and you need to make sure they are running when you are trying to connect.
Open Run prompt, and type Services, and press the Enter key
in the Services snap-in, locate Remote Desktop Services
Double click to open it, and Start it.
Now try to connect with the remote computer.
Usually, this service should start as soon as you try to connect, but if you can't, you can manually start it.
5] Network Profile Is Public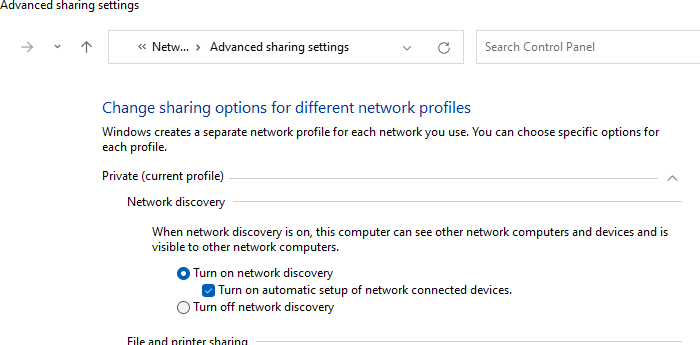 Make sure both the computers are available or discoverable in the network. Follow the steps to enable it:
Open Run prompt (Win + R), type Control, and press the Enter key
Navigate to Network and Share Center
Click on Change advanced sharing settings
Under Network Discovery, select Turn on Network Discovery.
Then check the box next to Turn on automatic setup of network-connected devices.
Save the changes, and you should now be able to find the computer.
6] Check Restrictions on Security Settings
It's for advanced users, or you can connect with the support. It will vary from software to software. Some of the advanced security software can restrict incoming-outgoing connections so that Remote Desktop doesn't work. You will need to relax the security settings or look for an option that can directly conflict with them.
Can You Remote Desktop to a Computer That Is Turned Off?
If the Remote computer has Wake-on-Lan enabled, then Remote Access Software can wake it up. You should be able to connect to the remote desktop if it is turned off. This works even if the computer is in hibernation or sleep mode.
How Can I Access My Office PC from Home?
You can ask your IT Admin to make it available through the computer network to be accessed over an IP address. If this doesn't work, you can use desktop software such as TeamViewer to pre-configure the setup and access it from anywhere. Some VPNs also allow you to connect to your computer from anywhere in the world, but that would need to set up a lot of configuration.
Which Is the Best Remote Desktop Software?
There is nothing the best desktop software, but there are many that are useful. The list includes TeamViewer, AnyDesk, Splashtop Business Access, ConnectWise Control, Zoho Assist, VNC Connect, and more.