Microsoft Teams, both free and business versions, allow you to share files. Files that have been shared can also be deleted. What if you delete a file shared by you or someone else and want it back? While the business version of Microsoft Teams offers a direct way, the free version users will have to take an alternate approach. This post will guide you on how you can recover Deleted Files from Microsoft Teams.
How to recover Deleted Document from Microsoft Teams
Just like the business version, the free version of Microsoft Teams is also powered by SharePoint in the backend. This can be easily figured out if you get the sharable link of any of the files already available in the Files tab. If you do not have any files, you can upload a file to the channel.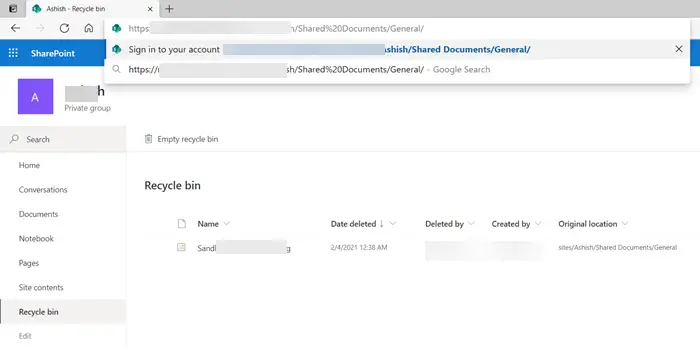 Open Microsoft Teams, and open the Files section.
Right-click on any file, and click on the Copy link. It will look as below:
https://noxyz.sharepoint.com/sites/Ashish/Shared%20Documents/General/Sandboxie.png
Open the browser, and on a new tab, paste the link in the address bar, but do not press the Enter key.
Remove the part of the address which has the file name, and it will look as below.
https://noxyz.sharepoint.com/sites/Ashish/Shared%20Documents/General/
Press the Enter key, and it will ask you to sign-in. Make sure to use the same account related to Microsoft Teams.
Once signed in, locate the Recycle bin on the left.
Here you can find all the deleted files from every channel. Do note that it will only reveal the files which you have uploaded or if you are the owner of the channel; you can see them all.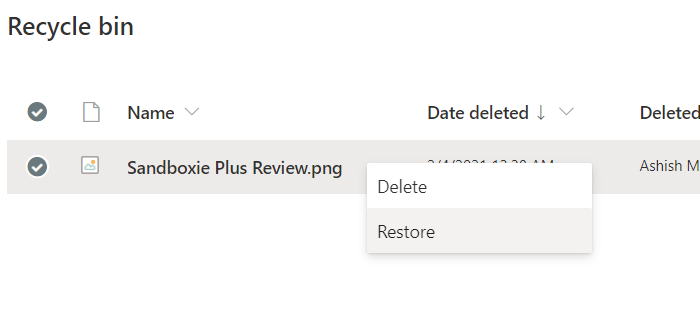 Business version of Microsoft Teams
Open the channel's Files tab and select Open in SharePoint. It will reveal the Sharepoint site, which takes care of the backend. Locat the Recycle bin on the left side of the page. All the files deleted from every channel will be available here—Right-click on your file and select Restore. Now go to the Files tab, and your file will be available here.
That's about it.
Honestly, it is disappointing that there is no direct way to restore the files instead of using a hack to find the SitePoint link and then locate the recycling bin.
I hope the post was easy to follow, and you were able to recover the files you had deleted or those deleted from the channel.