What 'Read Aloud' feature in Office applications like Outlook does, is fairly easy to understand. It reads back to text, that's it! Officially, this feature is a part of Windows' TTS 'text-to-speech' capability and is beneficial for people suffering from hearing or visual disability. How is it configured, used and activated when not working in Outlook? We'll see all that in this post.
How to enable Read Aloud feature in Outlook
When you're looking at mail or reading it either in the main Outlook window or an individual message, the Read Aloud button can be seen towards the far right of the Home tab under the ribbon menu.
Select the File tab and then from Backstage View, select the Options category. The Outlook Options dialog box appears displaying various options.
Select the 'Ease Of Access' category from the left. There, under the 'Ease Of Access' category, locate 'Applications Display Options' and under its heading, activate 'Show Read Aloud' feature by checking the box marked against it.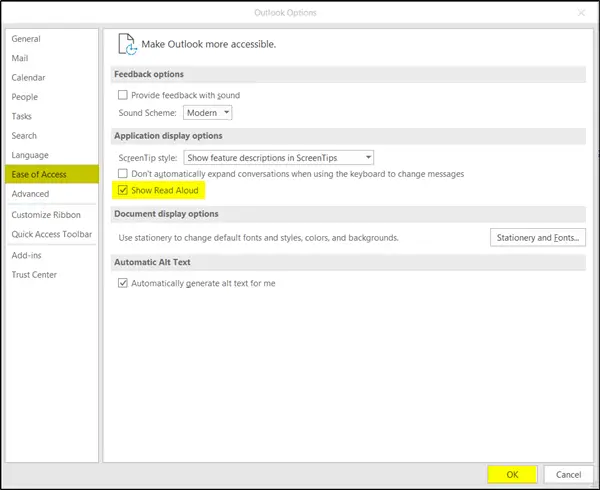 When done, press the OK button to return to Outlook.
Now, open a Message that you would like to be Read Aloud. Position the cursor to a place from where you would like Outlook to start Reading Aloud. Then, hit the Read Aloud button.
Using Read-Aloud Control Player settings, you can set the speed of the Speech. Other commands visible under the 'Control Playeer' include-
Previous
Play
Next
Close.
Outlook Read Aloud feature is not working
If you find Outlook Read Aloud feature isn't working as desired then, try isolating the issue by launching Outlook in safe mode. This helps in finding add-ins that might conflict with the feature. Follow these steps.
Find the shortcut icon of Outlook. Press and hold the CTRL key and click the application shortcut to launch Outlook in Safe Mode. If prompted with a message, click 'Yes'.
Next, choose File > Options. Select Add-ins from the left sidebar menu and hit the 'Go' button adjacent to Manage: COM Add-ins option.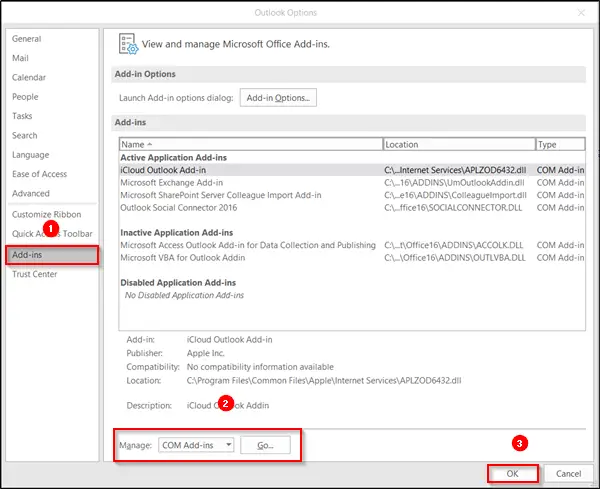 Clear the checkbox against add-ins, if seen. This will temporarily disable them.
Now, close the Outlook app and relaunch it. Check if the erroneous behavior is resolved or persists. In most cases, it is resolved.
To exit Outlook Safe Mode, close Outlook and restart the application. It will start in normal mode unless there's a problem opening the application.
Read next: Read Aloud isn't available because something is preventing it from starting in Word.