Users should have complete control over their default browser's features and their settings. Browser notifications tend to distract the users, most. Luckily, the Microsoft Edge Chromium browser suggests a way around this issue. It enables users to enable Quiet Notification Requests.
Enable Quiet Notification Requests in Edge browser
Browser notification dialog boxes are quite bothering since they allow websites to push spam or undesirable content to users. As such, browser makers like Microsoft feel committed to making the browsing experience safer as well as less troublesome. Microsoft Edge, in particular, offers an option to hide them.
These notifications mainly appear when a user visits a website for the first time and agrees to sign up to receive notifications regarding new content.
Launch Edge browser.
Go to Settings and more menu.
Select Settings.
Choose Site Permissions.
Access Notifications.
Enable Quiet notification request feature.
The debut of 'Quiet notification requests' feature offers Edge users a much-needed option to block all browser notification dialog from being displayed.
Launch Edge browser.
Go to 'Settings and more' menu (visible as 3 horizontal dots in the upper-right corner of the browser window).
Click the menu to choose 'Settings'.
Under Settings panel, select 'Site Permissions' entry.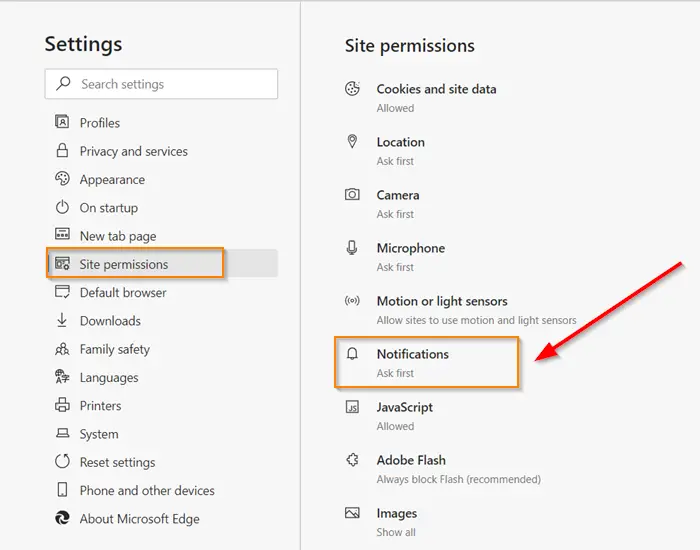 Now, switch to right-pane and scroll down to find 'Notifications' entry.
When seen, press the side-arrow button to go to a new page.
Here, you should find a toggle for 'Quiet notification request' option.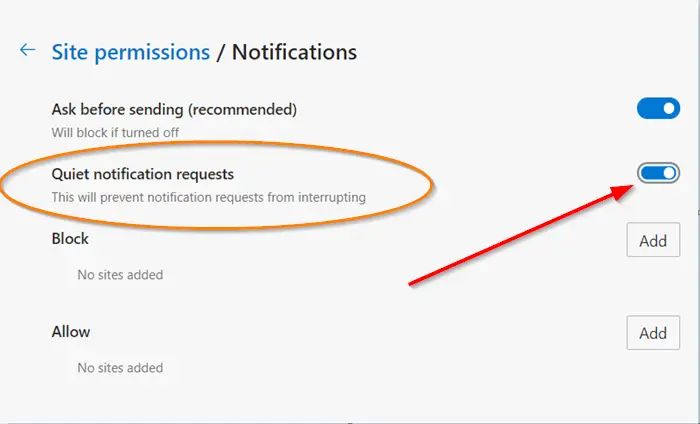 Toggle the switch to 'On' position to enable 'Quiet notification request' feature.
When done, the setting will prevent notification requests from interrupting you.
If at any point you feel to disable the feature, simply toggle the switch to 'Off' position.
This feature will be rolled out to the final stable Edge versions soon.