When your home printer fails to work correctly, it can be a frustrating experience, especially when you have no idea how to solve the problem. One of the most annoying issues many have faced over the years is their printer's inability to stop printing blank pages.
Why does my printer just keep printing blank pages?
Your printer may keep printing blank pages if the print head is clogged and the cartridge is not installed properly. It can also happen if printer settings are not correct or there is a low ink. A defective cartridge can also be the reason that your printer is printing blank pages.
Printer printing blank pages but has ink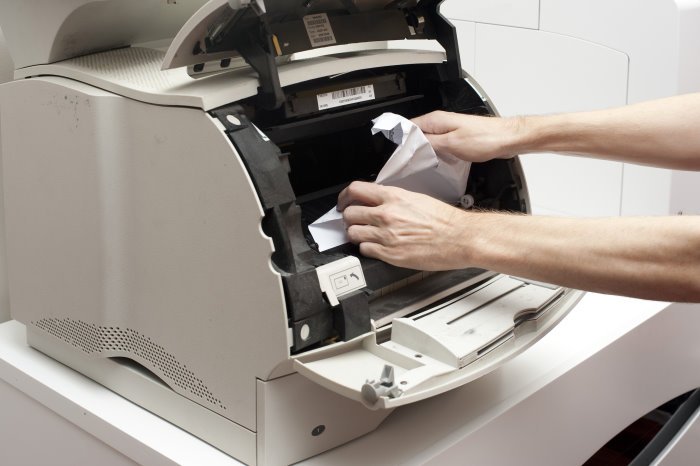 For those who are unaware of what that means, well, it is when the printer performs an action, but when the page comes out, it is empty, or better yet, blank.
Now, we know that a printer printing blank pages is a common problem that has affected thousands of Windows 11/10 users. Still, it is not always easy to pinpoint the exact cause. With this in mind, we are going to explain how to set things right again, with multiple fixes as mentioned below:
Restart the printer
Check if your ink level is low
Clean clogged print head
Check Printing Preferences
Run Printer Troubleshooter
Align the print cartridge
Let us talk about this from a more detailed perspective.
1] Restart the printer
In most cases, the user only needs to turn off and turn on their printer to solve the problem. Do this by tapping the power button on the device to turn it off. Once that is done, remove the power supply cable, then wait for around 10-seconds.
Finally, reattached the power cable, then turn on the printer. Go on ahead and attempt to print a document to see if it now works.
2] Check if your ink level is low
Your printer may be shooting blanks because your ink levels are low. We suggest reading your printer manual to find out how to check the amount of ink sitting around in the cartridge. If it does not have a sufficient amount, then the chances are that is the reason for blank pages. So check your Ink or Toner cartridges.
The best option would be to purchase new cartridges or refill the ones you already have. The latter is cheaper but not always better.
Read: How to Cancel a jammed or stuck Print Job queue.
3] Clean clogged print head
In a situation where you haven't used the printer for an extended period of time, the print head could become clogged. We do not know of any manual ways to unclog a print head; therefore, the best option is to do it from the printer menu.
Read your manual to learn how to clean the print head of any problems in order to solve the blank page print issue.
Read: Printer keeps printing documents in inverted colors.
4] Check Printing Preferences
Windows 10 users may open their Printer and scanner settings and check if all their Printing Preferences are in order.
Read: Printer not printing in color on Windows.
5] Run Printer troubleshooter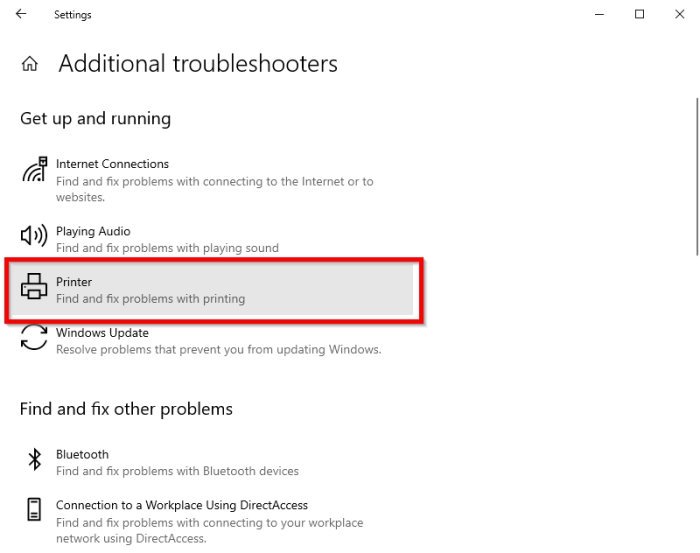 The next best road to take if all the above options fail to work is to run the Printer Troubleshooter in hopes it will solve the problem once and for all.
We can do this by firing up the Settings menu by clicking on the Windows key + I, then select Update & Security.
From there, be sure to click on the Troubleshoot tab. From there, choose Additional Troubleshooters, and from there, click on Printer and follow the instructions.
6] Align the print cartridge
Whenever you've replaced your print cartridges, it is very important for you to align them and have them calibrated by the printer. Since this is done via the software and most printers do things differently, we urge you to read your manual.
However, for those who are using the HP Inkjet series, you can open the HP Solution Center application, then navigate to Settings > Print Settings. From there, be sure to select Printer Toolbox, then go to Align the Print Cartridges, and finally, hit Align to complete the job.
That's it!
Why is my printer printing black and white Windows 11?
If the printer is not printing in color and only printing in black and white on your Windows 11 computer, then you must verify if the Print in grayscale option is set. If yes, change it to the Print in color option from the Printer Preferences. You might also need to reset printer settings to factory defaults. Other solutions like re-install the printer driver, running Printer Troubleshooter, and fresh install printer software can also come in handy.
Let us know if anything here helped you.