Some reports say Adobe Photoshop crashes when printing on a Windows 11/10 computer. According to the users, the software crashes when they click on File > Print. In this article, we will be talking about this issue and see what you need to do to fix it.
Why does my Photoshop keep crashing when I try to print?
Photoshop allows you to print edited files easily from the app, but if there is some misconfiguration in Preferences Settings or it just got corrupted, you won't be able to use the feature. What's good though, is you can try clearing the Preferences settings and this should do the job.
However, it's not the only reason, if there is an issue with your printer's configuration that's stopping it from taking input from the Photoshop app, Adobe Photoshop may crash. The burden to solve this issue can be put on the broad shoulders of the Printer Troubleshooter as it will detect and fix the cause.
We also have a workaround for you along with some other solutions that you can try and fix this issue, quite easily.
Fix Photoshop crashes or freezes when Printing on Windows 11/10
If Photoshop crashes when Printing on your Windows computer, try the following solutions.
Restart and Retry
Flatten your .PSB file
Reset Preferences Settings
Run Printer Troubleshooter
Troubleshoot in Clean Boot
Reinstall Adobe Photoshop
Let us talk about them in detail.
1] Restart and Retry
Let us first restart your computer and see if it works. Restarting will clear out glitches that you may have and make your system print. So, go ahead and reboot your computer, then, retry printing and see if Photoshop crashes or not. If the app continues to crash, move to the next solution.
2] Flatten your .PSD file
This may not be a solution, but you can flatten the .PSF file and change it into JPG or PNG. Just save your edited file as PNG or JPG. For that, click on File > Save as. Now, just save your edited file as PNG or JPG. Then, open the file with Photos, and print your image, you can use the shortcut Ctrl + P to take the print. This will do the job for you, but if you are still looking to fix the issue, move to the next solution.
Read: How to open RAW image in Adobe Photoshop CS6 or CC 
3] Reset Preferences settings
You may also see the error in question because of some corruption or misconfiguration in Adobe Photoshop Preferences Settings. We need to reset it and see if that helps.
Before that, we need to create a backup of the Settings. So, open File Explorer and go to the following location.
C:\Users\[Your Username]\AppData\Roaming\Adobe\Adobe Photoshop <version>
Now, copy the Adobe Photoshop <version> folder to a different location.
After creating the required backup, follow the prescribed steps to reset Preferences Settings.
Launch Photoshop
Go to the Edit > Preferences.
Make sure you are on the General tab and press the Reset Preferences On Quit option.
After that, click the OK button.
Hopefully, this will do the job for you.
4] Run Printer Troubleshooter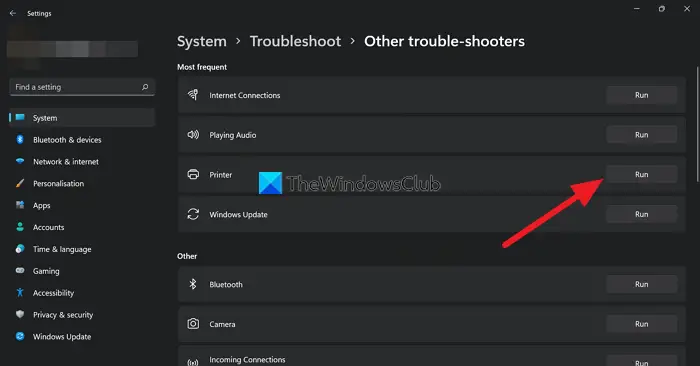 Since the app is crashing when users try to print them, it would be fair to give Printer Troubleshooter a shot. So, let us run Printer Troubleshooter using the following steps.
Windows 11
Open Settings from the Start Menu.
Click System > Troubleshoot > Other troubleshooters.
Look for the Printer troubleshooter, and click on the Run button.
Windows 10
Open Settings.
Go to Update & Security > Additional troubleshooter.
Click Printer > Run the troubleshooter.
Hopefully, this will do the job for you.
5] Troubleshoot in Clean Boot
Needless to say, there are a lot of third-party applications interfering with your printing process as well as Adobe Photoshop. Now, we won't recommend you to just go and start removing apps from A to Z. What we want for you to perform Clean Boot and find out the culprit. Once you who the culprit is, just go ahead and remove that program, your issue will be resolved.
6] Reinstall Adobe Photoshop
If nothing worked, then we would have to conclude that the issue is caused due to the corruption in the Adobe Photoshop app. To fix the corruption, you need to uninstall it and install a fresh copy. Hopefully, this will do the job for you.
We hope that you are able to resolve the issue with our solutions.
Why does my Photoshop keep crashing?
The reason that we talked about earlier, applies to this issue as well. If Photoshop keeps crashing or freezing, then reasons such as the app consuming too many resources, or way too many apps running in the background leave no ground for the editing app to run upon.
That's it!
Also Read: Adobe Photoshop CC tutorials for beginners