This post features methods to fix Overwatch 2 Error 'Sorry, we were unable to log you in'. Overwatch 2 is a team-based action game set in the optimistic future. However, like any other online game, it is also prone to bugs and errors. Among all the errors, Sorry, we were unable to log you in In is one of the most common errors. Fortunately, you can follow some simple methods to get rid of this issue.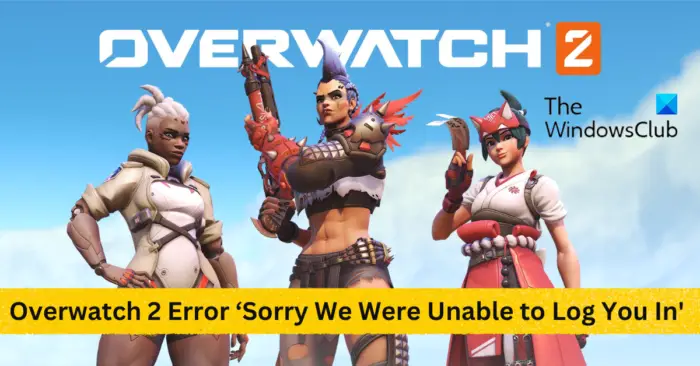 What causes Overwatch 2 Error – Sorry, we were unable to log you in?
There isn't any specific reason why this error may occur. In many cases, users have reported this happens due to some error in the game's servers. The primary reasons for this error could be:
Servers under maintenance or are facing a downtime
Corrupted game files
Unstable internet connection
Fix Sorry, we were unable to log you in error in Overwatch 2
To fix Overwatch 2 Error 'Sorry, we were unable to log you in' that you may face while trying to play the game, follow these steps.
Check Server Status
Repair Game Files
Reinstall Overwatch 2
Now let us see these in detail.
1] Check Server Status
Before getting started with different troubleshooting methods to fix this issue, check the Overwatch 2 server status, it's possible the game's servers are under maintenance or facing downtime. Follow @PlayOverwatch on Twitter to check if they've posted about ongoing website maintenance. If many people have the same issue, the server may face downtime.
2] Scan Game Files
Sometimes game files can get corrupted due to a bug or a recent update. This could also be why you cannot log into Overwatch 2. Scan and repair the game files and check if the issue is fixed. Here is how it's done:
Launch the Battle.net client and click on Overwatch 2.
Click on the Gear icon and select Scan and Repair.
Now click on Begin Scan and wait for the process to complete.
Close the Battle.net launcher, and restart your PC once done.
3] Reinstall Overwatch 2
If none of the above-mentioned workarounds were able to help you, the game's core files might be corrupted. To fix this, remove all files of Overwatch 2 from your System, and start installing it again.
Fix: Overwatch BN-564 error on Windows PC or Xbox One
Why is Overwatch 2 unable to log in?
The 'Sorry We Were Unable to Log You In' error usually occurs if the game servers have significant issues. Also, it could be simply due to incorrect login credentials. You can follow Blizzard's official Twitter account to check for any server issues.
Why does the Overwatch 2 beta say login error?
Login error might occur on Overwatch 2 while players try to shift the game from PS5 to the PS4 platform. Doing so can trigger various errors and bugs in the game.
Will I have to buy Overwatch 2 if I own Overwatch?
Yes, you will have to buy Overwatch 2, even if you own Overwatch. However, if you don't get Overwatch 2 and continue with the old game version, you can still use new heroes and maps for PvP. The only new thing Overwatch 2 offers is the PvE story mode.
What is error code BC 101 in Overwatch?
The BC-101 error occurs if the client has trouble connecting to the server. To fix this, you will have to reset your network settings and check your internet connection.
Read: How to force quit a Full-Screen Always-On-Top Program or Game?