At times you may find that your Outlook Search grayed out or not working or disabled. In some cases, Outlook may even give out error messages like – Something went wrong and your search couldn't be completed, or Search results may be incomplete because items are still being indexed.
This problem is faced by many computer users along with those in the business field. It's quite easy to fix as well, but that's not apparent to everyone.
Outlook Search grayed out
If Advanced Search function in Microsoft Outlook on Windows PC is not working or grayed out, you can fix the problem via Outlook Options, Registry or Group Policy. Let us dig in to find out how to fix this issue.
Fix Outlook Search not working via Outlook Options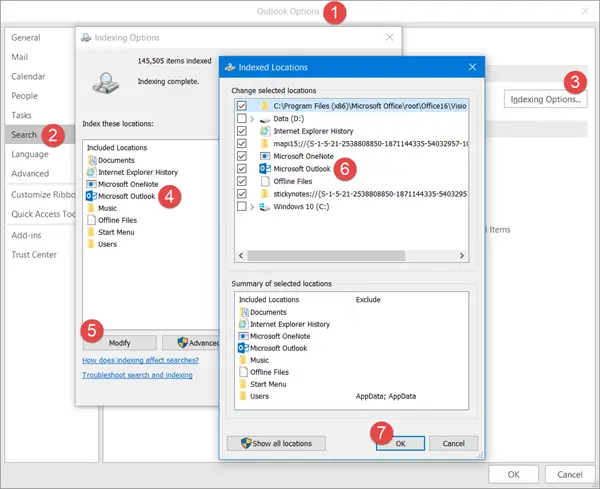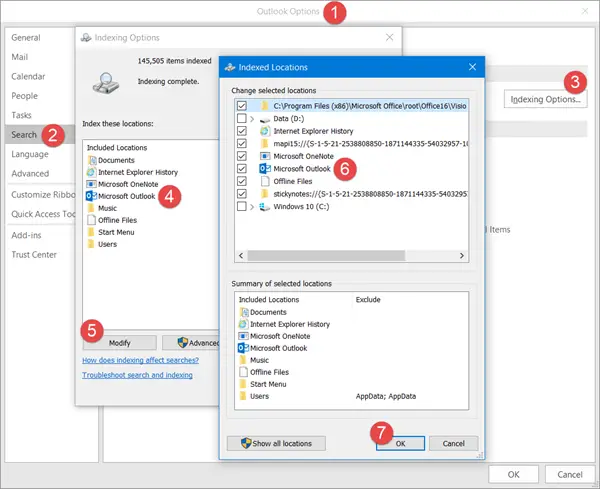 Usually, we tend to look at the registry when there's a problem with any particular software, and that's true for this particular issue. However, jumping directly to the registry shouldn't be your first option since there's another way that could do the trick.
The first step here is to navigate to Outlook Options via the program itself; hit the Search tab situated in the left-pane. After that, click on Indexing Options, then select Microsoft Outlook. To move forward, tap the Modify button below, then select Microsoft Outlook again by ticking the box beside it.
Click OK, and that should be the end of your problems.
Related: Outlook Search not working
Fix Advanced Outlook Search grayed out problem via Registry
If that doesn't work, open Registry Editor and navigate to the following key:
HKEY_LOCAL_MACHINE\SOFTWARE\Policies\Microsoft\Windows\Windows Search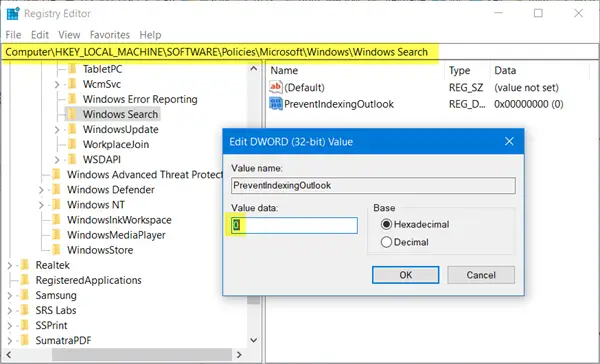 Here in the right side pane, create a new DWORD (32-bit), name it PreventIndexingOutlook and give it a value 0.
Click the OK button and see if it has resolved the issue.
Check Group Policy Setting
While at it, you might want to also have a look at at the Group Policy settings and make a slight change if needed.
Run gpedit.msc to open the Local Group Policy Editor and navigate to the following setting:
Computer Configuration > Administrative Templates > Windows Components > Search
In the right side, you will see Prevent indexing Microsoft Office Outlook. Ensure that it is set to Not Configured or Disabled.
That's it really. Everything should be up and running right now with problems, or little problems. Just make sure to follow the instructions properly.
See these posts if: