Some users of the Opera browser have been complaining about their browser keeps crashing or freezing more often than not. This is not a good sign, of course, but one should not worry because it is possible to fix this issue once and for all.
Opera browser keeps crashing or freezing on Windows 11/10
Stopping the Opera web browser from freezing and crashing on your Windows 11 or Windows 10 computer is not difficult, so if you follow the information below, everything should turn out well in the end.
The first thing we are going to do here is to disable Opera extensions because they are usually the culprit behind most crashes.
Update the Opera browser
Check Opera Extensions
Reset Opera to a default state
Completely uninstall and reinstall Opera.
1] Update the Opera browser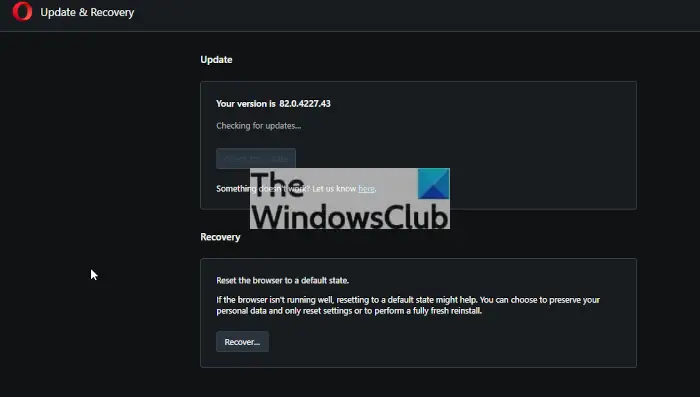 If the above fails to work, then maybe Opera needs a new update. To update this web browser, open it then click on the Opera icon at the top left, and be sure to select Update & Recovery from the dropdown menu.
Opera will automatically check for updates, and if any are available, you can easily download and install.
2] Check Opera Extensions
To fire up this web browser, please look for the icon on the Desktop space, or navigate to the Start Menu to find it. From there, click on the icon to launch Opera as soon as possible.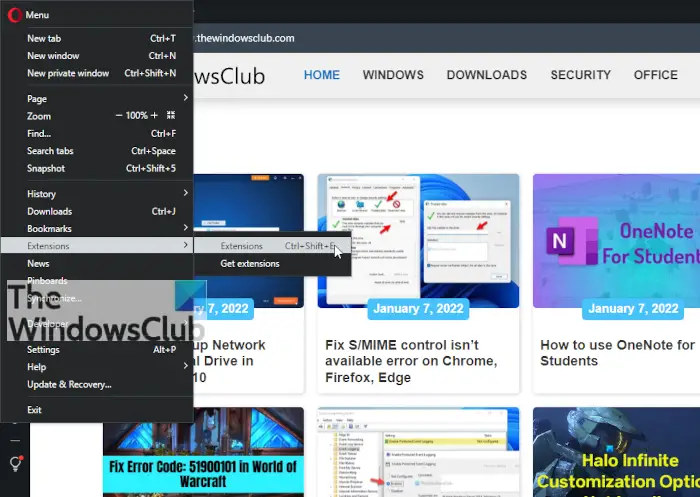 After opening Opera, you will want to click on the icon at the top-left corner of the screen. A dropdown menu should reveal itself right away. From there, hover over Extensions, then select Extensions. Alternatively, you could press CTRL + SHIFT + E.
You should now be looking at a list of extensions installed. From each, click the Disable button or the toggle button to the right. Were not sure why Opera Software added two buttons designed to do the same thing, it is what it is.
The next step here is to restart the web browser and check if it's still crashing or freezing. If not, then enable a single extension, restart the browser again to see if that particular extension is the cause behind the crash and freezing.
Do this for all until you've located the culprit. Be sure to remove the affected extension or wait for an update.
3] Reset Opera to a default state
The final thing we recommend here is to reset the Opera web browser to its default state. Doing this is super easy. Simply click on the Opera icon at the top-left, then select Update & Recovery > Recover.
You should now see two options in form of:
Keep my data and only reset Opera settings.
Reset my data and Opera settings.
Select the one that best fits your needs, then click on the Recover button. After a short while, your version of Opera will revert to the factory default settings.
4] Completely uninstall and reinstall Opera
If nothing helps, then backup your Opera bookmarks, passwords, etc., and then uninstall Opera.
Next, download the latest Opera version from opera.com and fresh-install it,
Related read: Opera browser not opening or loading pages.
Does Opera work on Windows 11/10?
Yes, the Opera web browser works just fine on both Windows 11 and Windows 10. It offers nothing unique across both operating systems, but what it does offer is a choice for users to decide which browser they can use that is not Microsoft Edge.
How to update the Opera browser on Windows 11?
Launch the Opera browser on your Windows 11 computer.
Click on the Opera icon located at the top-left to reveal a dropdown menu.
Click on Update & Recovery.
Right away the Opera Update and Recovery window will open and begin checking for updates.
If any updates are available, they'll be downloaded and installed automatically.
What has happened to the Opera browser?
If this is your first time using the Opera browser since the Presto engine, then things will no doubt look a lot different from before. That's because Opera is now based on the open-source Chromium engine created by Google. Unlike most Chromium-based web browsers, however, the developers at Opera Software have done a good job to make it stand out where design is concerned.
Does Opera steal data?
Some users are a bit concerned about the privacy of their data because the Opera web browser is now owned by a Chinese consortium. Well, the developers have stated it does not collect any form of user data. Now, while we do understand your fears of using software owned by Chinese companies, we must stress that such fears should not be exclusive to such companies, but all, no matter their location.