The Opera web browser is one of the popular browsers on the market today. The company behind this tool has switched from its own rendering engine to Chromium, which is both a good and bad thing. Now, if you are a long-time user of Opera, then by now you should know of the values of backing up your files before upgrading to a newer version. Now, getting this done is not straightforward because Opera does not provide a way to backup your file, but the company recommends it.
How to backup Opera Bookmarks, Data, Passwords, History, Extensions
OK, so when it comes down to manually backing up your Opera browser files, the information below will help a great deal.
Open the Opera browser
Go to the About Opera page
Go to Opera's Profile directory
Select and copy all relevant folders and files
Paste copied files in a OneDrive folder
1] Open the Opera browser
The first thing you should do here is to fire up the Opera web browser. You can do this by clicking on the icon located on your Desktop, or find it via the Start Menu.
2] Go to the About Opera page
After you've loaded the Opera browser, you must now navigate to About Opera. To complete this task, please click within the address bar, and type the following URL:
opera:about/
Hit the Enter key and you should see a list of things. From there, copy the Profile directory under Path and move on to the next step.
3] Go to Opera's Profile directory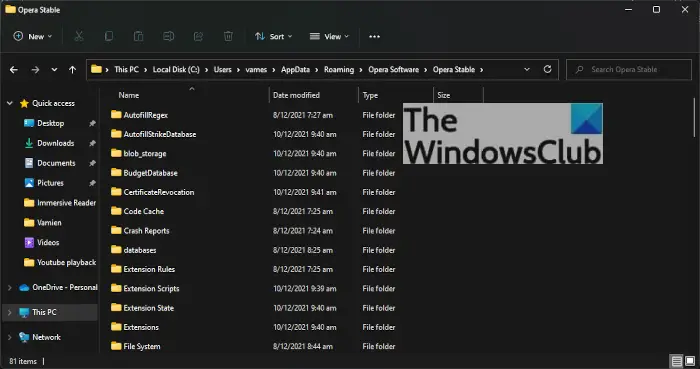 The next thing to do here is to go to the Profile directory. You can do this by launching File Explorer, then from the address bar, paste the recently copied address. Hit the Enter button on your keyboard and you should now be inside the Profile folder.
4] Select and copy all relevant folders and files
We now suggest that you select and copy each relevant file located in the Profile folder. This is very important because you'll need to paste them later.
Read: How to Import/Export History in Chrome, Edge, Firefox, Brave
5] Paste copied files in a OneDrive folder
Here you will need to open OneDrive, create a folder for these particular files, then paste them within it. You can create a new folder by right-clicking, then select New > Folder, and that's it.
All of your important Opera browser files should now be stored in a safe space for whenever you need them again. Now, bear in mind that you cannot back up your passwords with this method, you must use Opera Sync for that.
Why backup your Opera Browser files?
Your browser files are very important, and depending on what you have saved, it is possible you might not have certain files in another location, and as such, if you lose them, you will likely not find them again.
What type of Opera files can we back up?
The files (or file types) that can be backed up for the Opera browser are Bookmarks, BookmarksExtras, Cookies, Current Session, Extension Cookies, Favicons, History, Local State, Login Data, Preferences, Visited Links, Web Data, etc.  In addition, you can also backup Opera folders which include Extension Rules, Extension State, Extensions, IndexedDB, Local Extension Settings, Local Storage, Sync Data, Databases, and Themes_backup.