OneNote has a version of the UWP or Microsoft Store app. Office's OneNote. While it makes OneNote of much better use to those who use it as their primary note-taking app, an issue reported by many is that the 'Copy Text from Picture' option in OneNote is missing.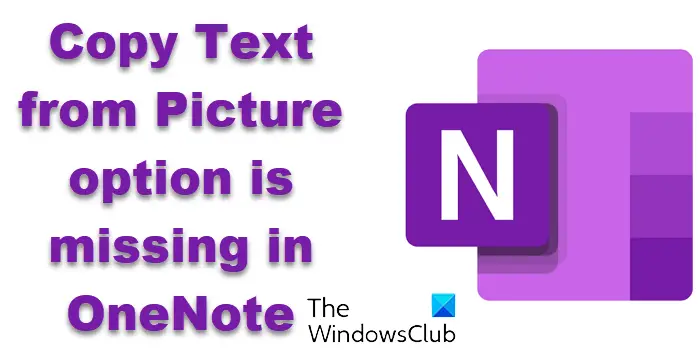 Now you should know one thing. OneNote desktop software has the Copy Text from Picture option, but it is missing in the OneNote app found in the Microsoft Store because the OCR technology used in the latter is cloud-based – and so tends to appear a little late or is a bit slow to start working. In this post, we will discuss what you need to do if you find that the option is missing in the OneNote UWP app or the desktop software.
Read: Difference between OneNote (desktop software) and OneNote (app) for Windows.
Copy Text from Picture option is missing in OneNote app
The Copy Text from Picture option is extremely useful to someone who uses OneNote actively. To be able to pull out text from pictures is useful to all kinds of people, be it students or working professionals. In order to extract texts from images, Microsoft uses cloud-based Optical Character Recognition (OCR) in the OneNote app. This feature can be used on business cards, scanned notes, and really any kind of picture where the text is visible clearly. Thus, it can be troublesome when this option goes missing.
After you right-click an image in the OneNote app you may not see the Copy Text from Picture option right away. It may take a minute or so. If it still does not appear, try these suggestions.
Sync OneNote on your Windows device
The first thing you should give a shot to is syncing the OneNote app. Here's how:
Open OneNote and from the tabs on top, select Files
Then, click on Info and further select 'View Sync Status'
In the resultant dialog box that opens, you can select either Sync All or Sync Now.
This change is not going to take effect immediately. While the Notes sync immediately, the OCR technology takes a while to get reinstated. Most users suggest that it takes somewhere between 10-20 minutes before you can see the feature again on your OneNote app.
If you've waited a while and are still out of luck, edit the page you're running at the time; make modifications with the pictures or the text, and restart OneNote.
Copy Text from Picture option is missing in OneNote desktop software
If you're facing this issue on your Microsoft OneNote desktop software, then it is possible that text recognition is disabled in your OneNote settings.
Ensure that the text recognition option is not disabled

You should check that that's not the case by following the steps below:
Click on File from the tabs on top and select Options from the left-sidebar
In the options dialog box, locate and click on the Advanced option
Scroll down a bit and under the head Text recognition in pictures, you'll see a box labeled 'Disable text recognition in pictures'
Uncheck the box if it is checked and save this change
One of the above two solutions should help you fix this issue for good.
Is there any free OCR software?
In case the issue is still not fixed for you or you're not satisfied with OneNote to adequately meet your needs or text recognition from pictures, there are several free OCR software. We've named the most commonly used ones below:
FreeOCR
Adobe Acrobat Reader
Simple OCR
VueScan
How can I copy text from an image in PDF?
Copying text from an image stored in a PDF format is just as easy if you do it with Adobe Reader. As long as the PDF doesn't have a security firewall/isn't password-protected, you can freely extract texts from a PDF. Here's what you have to do:
Open the PDF document in Reader. Right-click to open the context menu and from the options offered click on Select Tool
Drag to select the text that you want to extract or right-click on the picture you want to take out from the document and click on Copy
The content you want is now copied to your clipboard. It can then be posted in the document of your choice.
You can also copy an entire PDF, but this functionality is limited only to the Reader application on Windows:
Open Adobe Reader and access the PDF on the application
Choose Edit and further select Copy File to Clipboard
The contents of that PDF are now copied to your clipboard. You can paste them in any other application or a new PDF file
Hope the solutions discussed here were able to help you.