OCR or Optical Character Recognition is the conversion of images containing text into machine-encoded text, maybe from a scanned document. It means taking the text from a photo of a document and being able to paste it in a text editor. There are various free online OCR sites or free software including UWPs on the Microsoft Store that let a user make use of this technology. Today we will be taking a look at them one by one.
Best free OCR Software for Windows 11/10
1] SimpleOCR
SimpleOCR is a free software that has a bit of an outdated user interface. But if you tend to value brains more than beauty, then this one might be something that you are looking for. It is a software that is allowed legally to be redistributed without being modified in any way. Although it might not be as feature rich as the software that other people use, in my opinion, it is more than enough for someone's personal and professional user. And the best part about this is the fact that it is compatible with Windows 10.
If you are interested, you can download the latest version of SimpleOCR from their official website here.
2] Boxoft Free OCR Converter
Boxoft free OCR Converter is a free software that will enable a user to extract text from all kinds of images. It can analyze multi-column text and at the same time support the detection of multiple languages including English, French, German, Italian, Dutch, Spanish, Portuguese, Basque, and more. Apart from images, you can also scan various hard copies of documents and convert that to editable text in a moment.
The user experience of this software is also a bit outdated but can get you to get your work done without any hiccups. If you are interested, you can get Boxoft Free OCR Converter from their website here.
3] (a9t9) Free OCR app
This UWP app supports the detection of text from a PDF document.
The (a9t9) Free OCR Software converts scans or (smartphone) images of text documents into editable files by using Optical Character Recognition (OCR) technologies. It uses state-of-the-art modern OCR software. The recognition quality is comparable to commercial OCR software.
Being a UWP or a Universal Windows Platform app makes it compatible with a range of Windows 10 devices like the Phone, HoloLens, PC as well as the Surface Hub. This means that if you are on the Windows ecosystem, this app will be working everywhere no matter what device you are on.
This application is free to be used. However, it contains advertisements. It offers an IAP or In-App Purchase using which you can pay the developer with $1.99 and get rid of the advertisements forever.
Some of the OCR languages that this application supports are, Chinese, Czech, Danish, Dutch, English, Finnish, French, German, Greek, Hungarian, Italian, Japanese, Korean, Norwegian, Polish, Portuguese, Russian, Spanish, Swedish and Turkish. This brings its capabilities to a whole new level.
If you are interested in try out this app, you can check it out in the Microsoft Store here.
4] Easy Screen OCR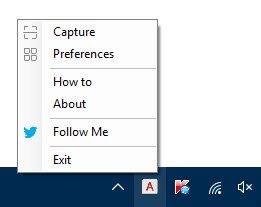 Easy Screen OCR is capable of capturing and converting Screenshot to Text. It can extract text from an image, video, website, documents and more for convenient editing.
5] Capture2Text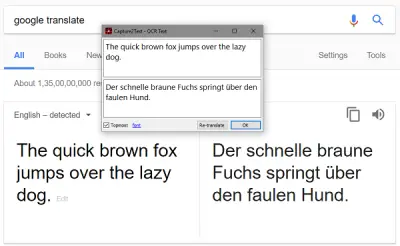 Capture2Text is a free software for Windows that lets you extract and copy text from images and save it to the Clipboard. It makes it ultra easy to OCR a portion of the screen and automatically copy the text in an image to the clipboard.
Also read: