Windows 11/10 Photo Scan is a new offering from Defined Studio's store that lets you extract text from Images or Photos very easily and efficiently. The app is designed to handle various types of images, ranging from scanned documents to photos. It is also highly optimized and capable of running entirely on the device without requiring an Internet connection.
Windows Photo Scan app
The app allows you to copy text from a picture or file printout and paste it into some 'note' application since it is powered by OCR. This feature was earlier available in Microsoft OneNote application only. However, the functionality has now been extended to the Photos Scan app.
Read: How to extract Text from Images using OneNote.
Extract Text from Image using Windows Photo Scan app
Once done, the app will automatically analyze the image, and if it contains any text, the app will automatically extract it and show it in the adjacent right-hand panel.
By default, Photo Scan displays extracted text with line break. You can change the default setting from 'Settings'. Also, the extracted text can be saved in any of the following file format-
Rich Type Format
Text File Document
HTML File Document
CSS and more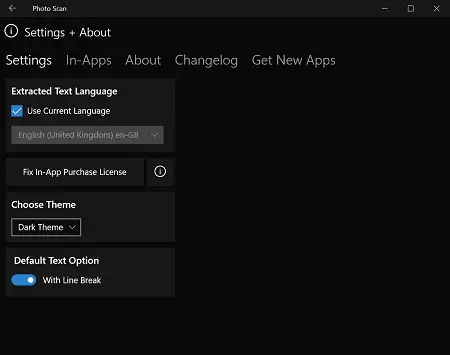 Apart from the above functionality, Windows 10 Photo Scan also supports the web camera so that you can readily capture an image that interests you and extract text from it, then and there.
If you would like to extract text from an image file located on your PC,  right-click on the image file, select 'Open with' option and choose Photo Scan.
The speech feature supported by the app will read out all extracted text for you while the left-pane of the app will display all of your recent photos added to your Photos collection.
Thus, the application can find its use in many scenarios where you want to copy number or very long important text from a photo but find too hard to write it. Windows 10 Photo Scan App is light in weight and features Optical Character Recognition (OCR). The feature has been a part of the Universal Windows Platform (UWP), which means that it can be used in all apps targeting Windows 11/10.
Also read: Copy Error Codes & Messages from Dialog Boxes
How can I extract text from an image?
There are numerous tools available in the market to extract text from an image on Windows computers. Whether you have a PNG or JPEG image, you can extract the entire text section from the image with the help of such tools. For example, the Photo Scan app is a very handy tool that you can use to get the job done. It is compatible with Windows 11 and Windows 10.
Can Google Docs extract text from image?
No, Google Docs doesn't have an option to extract text from an image. As of now, you can convert text to PDF and some other formats. However, you cannot extract any text from images with the help of Google Docs.
The free OCR-powered app can be downloaded from the Windows Store. Once you download it, launch the app and open a photo using Photos Scan. Let us know your thoughts on this app in the comments section below.
Capture2Text lets you OCR a portion of the PC screen & copy Text from Image.