Have some old notes in another OneNote but want to merge them into a new notebook related to those notes without copying and pasting the notes in the new notebook. There is a feature in OneNote called Merge into Another Section. The Merge into Another Section feature in OneNote allows the user to search for notebooks and then merge the sections from one notebook to the section of the other notebook.
How to move Sections or merge Notebooks in OneNote
To merge one Section to another in OneNote, follow the steps below.
Launch OneNote
Right-Click the Section
Select Merge into Another Section
Click the plus button of any one of the Notebooks and select a section
Click Merge
The sections are merged.
Launch OneNote.
Launch a notebook or create a notebook as practice.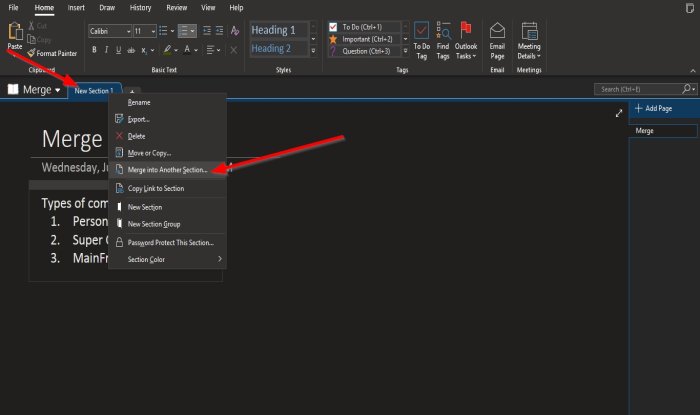 Within your notebook, right-click the section tab above the page.
In the context menu, select Merge into Another Section.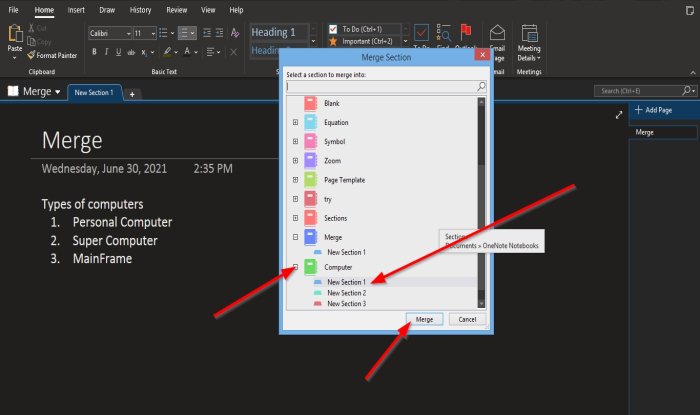 A Merge Section dialog box will open, displaying notebooks that you save; you can also search for notebooks.
At the left of the notebook, you want to merge sections click the plus button.
The section or sections in the notebook will be displayed.
Select the section that you want the section to be merged to.
Then click Merged.
A Message box will pop asking if you are sure you want to merge? Click Merge Sections.
Another message box will pop up stating that the message is successful and asking if you want to delete the original section; Click No.
It will load to the notebook of the section you selected.
On the right of the page, in the Add Page section, you will see the notebook of the section you just merged displayed.
Click on it to see the section you just merged.
We hope this tutorial helps you understand how to merge one section to another in OneNote.
Read next: How to add Colors to Sections in OneNote.