If you are always worried about your files getting locked by Ransomware, Windows 10 users have an option to fight against it and make sure their files are never locked down by any of these malicious codes. Microsoft is offering a File Restore feature which will let you recover such locked down files if you are using Windows 10, OneDrive and Windows Defender Antivirus.
First introduced to Office Premium users including Home, and Personal subscribers, Files Restore is now available to your personal OneDrive account starting with Windows 10 v1803. It offers the ability to recover files from malicious attacks like ransomware and new tools to help keep your information secure and private.
How OneDrive File Restore works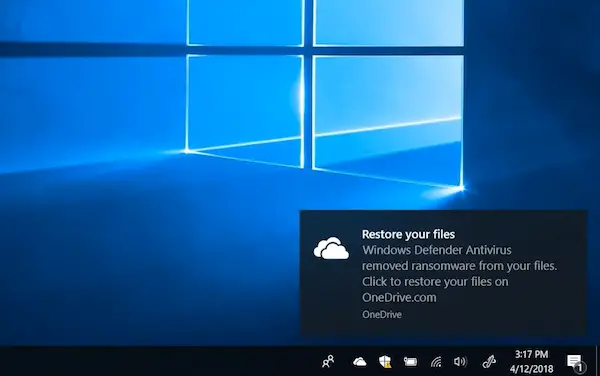 The first step you need to take is to start saving your files on OneDrive. If not everything, make sure to keep most important files on OneDrive. The second step is to use Windows Defender as your primary antivirus solution. It's not more a small program, but heavily integrated into Windows 10, and can even take down malicious codes in Safe Mode.
Recover Ransomware locked files
Once done, in case, a ransomware threat is found on your device, Windows Defender will notify you of the danger, help you remove the ransomware from your device, and give you the option to use OneDrive Files Restore so you can recover your OneDrive files to the state they were in before the attack occurred.
You will get to see the date and time when Windows Defender detected the attack would be pre-selected in Files Restore, making the process simple and easy to use. After Windows Defender removes the ransomware from your device, you can start the OneDrive Files Restore process by clicking the notification.
When you click on the notification, you will be taken to OneDrive online account. Go to Options > Restore your OneDrive, and then select a timeline where you think a problem appeared. OneDrive will also offer some input when Windows Defender detected the problem making it easier to choose the date to restore.
The tool lets you slide through the file changes to get an idea when things would have gone wrong as you can see in the image above. Then choose to restore. It is possible that you may have to uninstall OneDrive from your computer and then reinstall for best results.
This feature will be rolled out to all Windows 10 April 2018 Update users in the coming days.
Via Microsoft.