Understanding Firewalls have been a tough job. A Firewall is that piece of software that acts as a wall between you and the Internet and regulates the internet permissions of other applications. Windows come with a built-in firewall system that can protect you from suspicious programs. Also, you can manually add some applications to the firewall exemptions or permanently block some applications from accessing the network. This post talks about a small utility called OneClickFirewall for Windows PC that lets you block and unblock applications from the network instantaneously.
OneClickFirewall for Windows 11/10
OneClickFirewall is a small tool available to download for free. The tool has essentially no UI and operates only from the context menu. Once you've downloaded and installed the application, you will notice two new entries whenever you right-click an executable file.
The two new items added to the right-click context menu are 'Block Internet Access' and 'Restore Internet Access'. You can simply right-click an "exe" file and select a relevant option to allow or block an application from accessing the internet.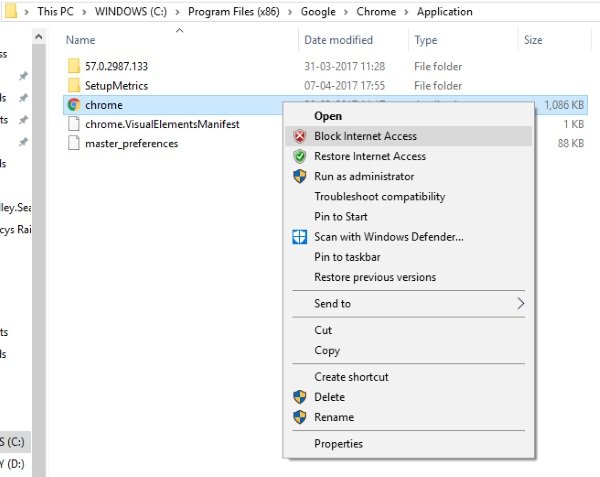 The tiny little application makes the task a lot easier. There've always been some applications you've wanted that they should not access the internet. Now all you need to do is locate the application's 'exe' file (usually in the program folder), right-click it and select 'Block Internet Access' and you are done. Restoring access is as simple as blocking is.
Block or allow Internet access via Context Menu
For testing purpose, I tried revoking internet permissions on Google Chrome. I just located the 'chrome.exe' file in Program Files and blocked its internet access. And the results were as expected. All other applications except Chrome could access the internet as usual and Chrome would show an error.
How does the program work
You might be thinking that the program is a separate firewall program running on top of Windows Firewall. To make this clear, OneClickFirewall is not a separate firewall program. Rather it uses the built-in Windows Firewall to block applications from accessing the internet.
What the program basically does is that it creates a new outbound rule in Windows Firewall. The rule contains the path to the file that is blocked and other relevant details that facilitate the rule.
You can manually check out this rule by following these simple steps:
Go to Start and search for 'Windows Firewall'.
Open firewall settings and go to 'Advanced Settings'.
Now open 'Outbound Rules' from the left menu and locate the rule created by OneClickFirewall.
OneClickFirewall is a great little tool. It is indeed a time saver and does its job pretty well. We would have loved the tool more if a simple UI could have been provided. The UI would have made it easier to add and remove programs to the block list rather than locating 'exe' files. Also, an option to temporarily disable the program or maintain profiles should be considered in the next updates (if any). Otherwise, the tool works flawlessly well and does what it says.
Click here to download OneClickFirewall.