Office 365 Advanced Security Management is a program that adds a new set of capabilities to your Office 365 environment like threat detection and insights. All these capabilities are powered by Microsoft cloud technology.  Moreover, this set of capabilities can be added as an add-on to other Office 365 enterprise plans for a nominal fee of $3 per user per month.
Office 365 Advanced Security Management
The package includes the following capabilities:
Threat detection
Enhanced control
Discovery and insights
Threat detection
Enhanced control
Discovery and insights
Make sure to go through each of them, and understand them clearly.
1] Threat detection
This capability informs you about high-risk security threats, abnormal usage, and other instances.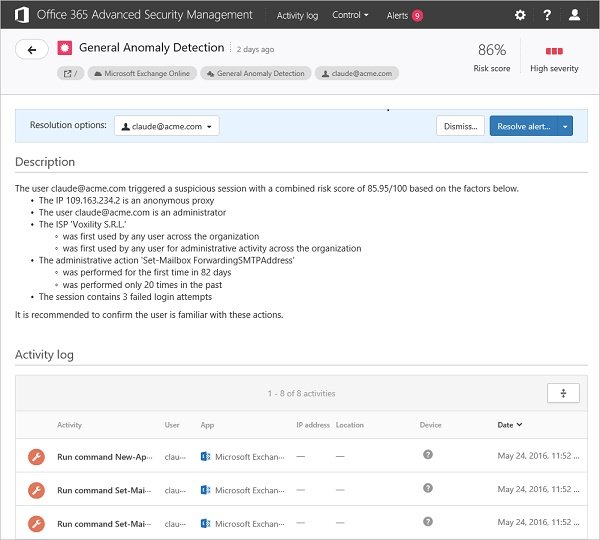 2] Enhanced control
Interested IT administrators deploy the service to set granular controls that protect against a variety of threats. For example, the system makes it pretty simple to detect and block any threats while downloading an unusually large amount of data. Additionally, it can generate a threat alert for IT personnel, automatically.
3] Discovery and insights
Offers enhanced visibility into your Office 365 usage and shadow IT without installing an endpoint agent.
4] Threat detection
Threat detection capabilities function in a unique way as it allows administrators to set up policies for detecting possible security anomalies. The service scans a user's behavior, sensing for factors indicating that something's not right and then informing IT administrator to take some quick action. It performs the aforementioned task via behavioral analytic. Advanced Security Management incorporates Microsoft's insights into the threat landscape.
5] Enhanced control
The Enhanced Control feature comes with pre-defined templates. These templates allow IT administrators to set up new policies or modify the existing ones for tracking specific activities. Alerts can be generated when any suspicious activity is noted and immediately conveyed to the IT administrator via email or text message when a violation occurs. With the help of these activity filters, IT can look for the location of a user, device type, IP address, or more.
6] Discovery and insights
This feature gives IT enhanced visibility into Office 365 usage and IT, without the need for an endpoint agent. A new app discovery dashboard offers a visual view of your organization's Office 365 usage, plus usage of other cloud services so one can better examine the extent to which shadow IT is occurring in his organization. For example, a person can see how much data is being sent to OneDrive for Business and rival services like Box, Dropbox, and the like, without requiring you to install any service. Advanced Security Management will also give you details about the top apps in each category. For example, you can see how much data is being sent to OneDrive for Business, Box, Dropbox, and other cloud storage providers.
For more information, visit Microsoft.