If your Windows 11/10 computer audio does not detect the NVIDIA Output as plugged in, then this post will help you address the issue. This can happen for different reasons. For example, you might have outdated drivers, the output sound device is not set, or for any other reasons.
NVIDIA high definition audio Not plugged in
Here is a list of options to solve this NVIDIA Output Not plugged in problem:
Update NVIDIA graphics driver
Roll Back NVIDIA driver
Run Playing Audio Troubleshooter
Set Input and Output sound device
Use NVIDIA Control Panel.
1] Update NVIDIA graphics driver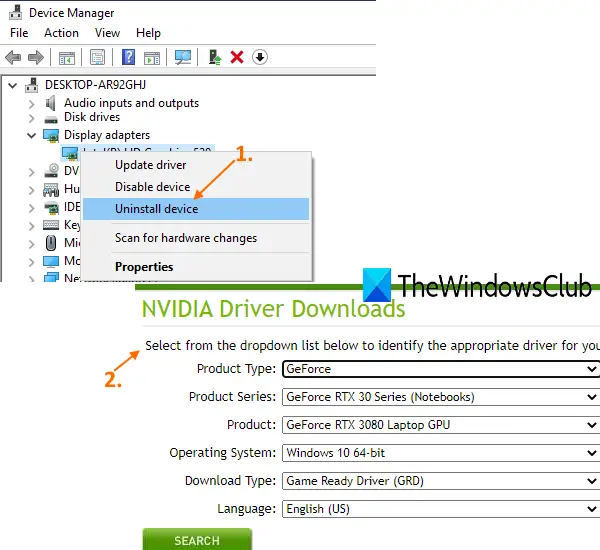 Outdated driver causes a lot of issues related to a particular device. The same might be the case that you're seeing NVIDIA high definition audio not plugged in error. So, you can simply install the latest driver for your NVIDIA graphics card. Here are the steps:
Open Device Manager
Access Display adapters section
Uninstall NVIDIA graphics card
Open Official site of NVIDIA
Download compatible driver for your NVIDIA graphics card
Install it.
First, type device manager in the Search box and press Enter to open Device Manager.
In the Device Manager window, access the Display adapters section and expand it. You will see the NVIDIA driver. Right-click on that driver, select Uninstall device option, and complete the uninstallation process.
Now open the official website of NVIDIA and then access the download section. On that page, select product type, product series, download type, etc., so that you can download the driver which is compatible with your graphics card. Use the Search button and it provides a download link for that driver.
Download the driver and begin the installation process. During the installation, you should choose custom installation, and then select Perform a clean installation so that it will remove any old profiles and begin with a fresh start.
2] Roll Back NVIDIA Driver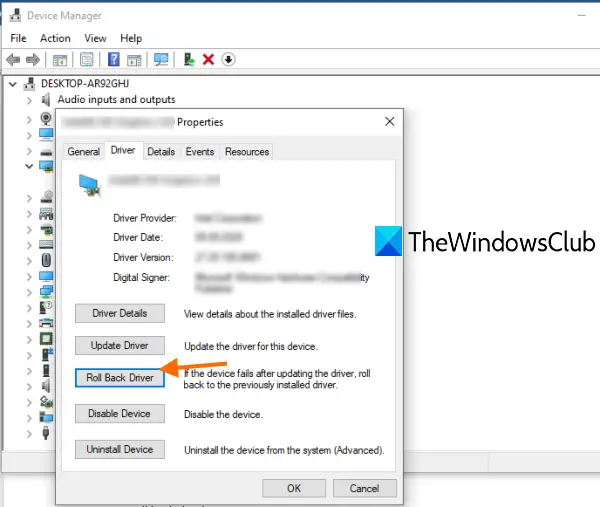 If your graphics card is not working properly after installing the latest driver or updating the driver to the latest version, then rolling back the driver to the previously installed driver might be helpful. Here are the steps:
Open Device Manager
Access Display adapters section and expand it
Right-click on the NVIDIA driver
Select the Properties option
Access the Properties window of the NVIDIA display driver
Go to the Driver tab.
There, click on the Roll Back Driver button.
3] Run Playing Audio Troubleshooter
Windows 11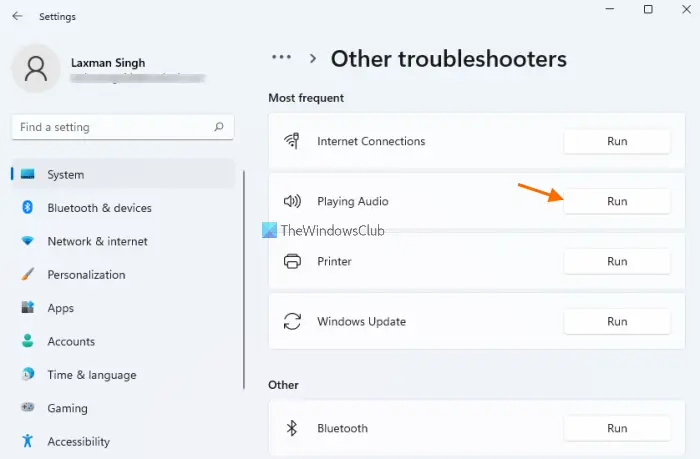 There is a built-in Playing Audio troubleshooter in Windows 11/10 that helps you detect various audio-related problems by checking audio service status, audio device status, etc., and then provides the fixes based on the problem. This might work in this case too.
In Windows 11, follow these steps to run Playing Audio troubleshooter:
Open Windows 11 Settings app. You can use Win+I hotkey or other ways to open it
Open Troubleshoot page
Access Other troubleshooters menu
Click the Run button available for Playing Audio troubleshooter.
Let the troubleshooter complete its work and then it will provide audio problem-related fixes (if any). You just need to apply those fixes and see if your problem is gone.
Windows 10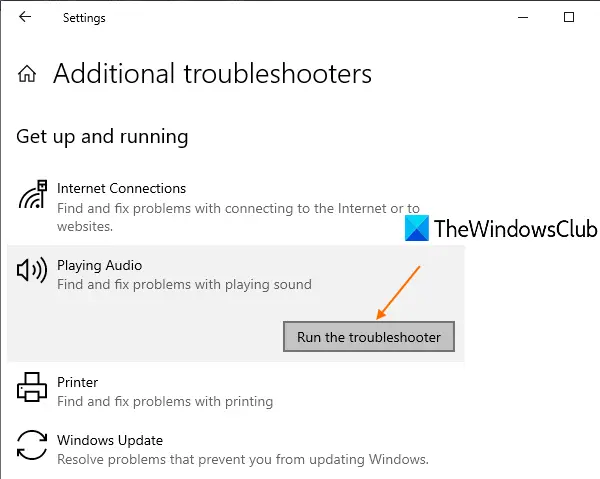 The steps are as follows:
Open Windows 10 Settings using Win+I hotkey
Click on Update & Security
Access Troubleshoot page on the left section
Click on Additional troubleshooters on the right part
Click on Playing Audio
Use Run the troubleshooter
This audio troubleshooter will automatically detect problems related to audio and provide you the fixes. This might work to solve your NVIDIA high-definition audio plugged-in problem.
4] Set Input and Output Sound device
Windows 11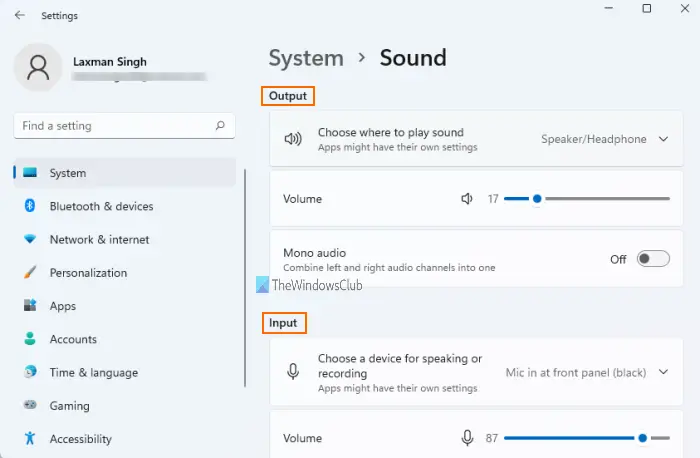 In Windows 11, follow these steps:
Open Settings app using Win+I hotkey
Open Sound page available under System category
Under Output section, expand Choose where to play sound menu
Select an output audio device from the available devices. You can also add a new output device and then select that device
Under Input section, expand Choose a device for speaking or recording menu
Select an input audio device (say Mic in at front panel) from the available devices. If you want, you can pair a new input audio device and then select that device.
Once it is done, see if it fixes your issue.
Windows 10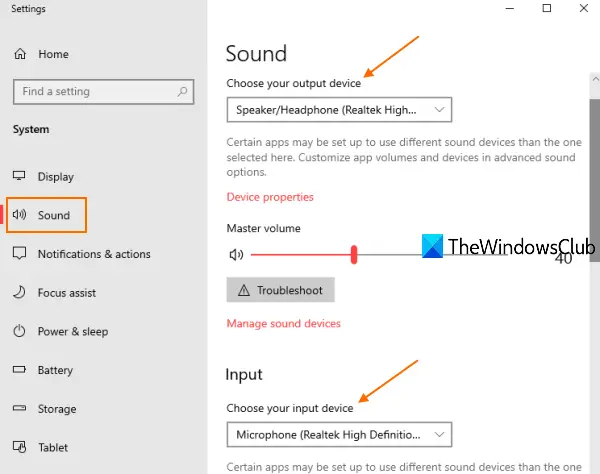 Use Win+I hotkey to open the Settings app
Click on the System category
Click on the Sound page visible on the left side
On the right-hand side, choose your output device for sound
Choose your input device for sound.
Set it to your NVIDIA device and see if it helps.
Related: No Audio Output Device is Installed error.
5] Use NVIDIA Control Panel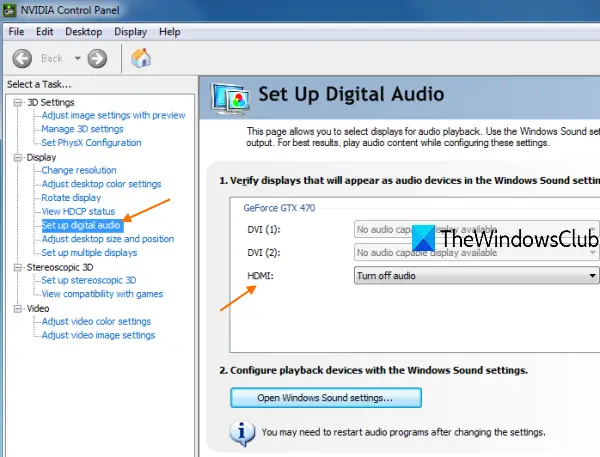 An incorrect setting in the Control Panel of the NVIDIA driver for the HDMI port might also cause this problem. So, you need to set the correct HDMI setting and then set the NVIDIA output driver as default under Sound to show NVIDIA high-definition audio as plugged in.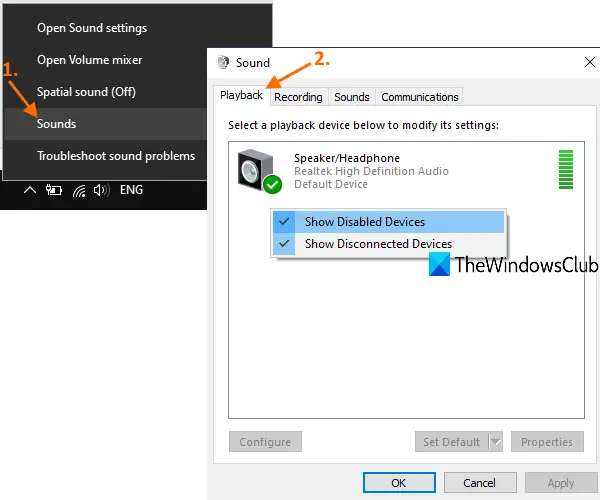 In the first step, you need to open NVIDIA Control Panel. For this, right-click on the empty area on the desktop, and click on NVIDIA Control Panel option.
In that panel, expand the Display menu available on the left side, and then access the Set Up Digital Audio option.
On the right-hand side, use the drop-down menu for HDMI and select the device with which you are connected. The task is not completed yet.
Now open the Sound window by right-clicking on the volume icon in the system tray and using the Sounds option.
In the Sound window, go to the Playback tab. You will see NVIDIA as an output device that you need to set as default. If it is not visible for some reason, then right-click there, and tick mark Show Disconnected Devices and Show Disabled Devices options.
Now, your output device will visible. Select that output device and press the Set Default button. Press OK to save the changes.
Hope these options will be helpful.
How do I fix high definition audio device not plugged in?
If your high-definition audio device is NVIDIA or something else (say Realtek), there are some common solutions in Windows 11/10 computers that might work to fix this issue. These are:
Update your audio driver
Use Playing Audio troubleshooter
Enable/disable front panel jack detection
Set HDMI settings using the Control Panel of your graphic cards.
Some of such solutions are also covered by us in this post. You can follow the steps available for different solutions and check if it solves your problem.
How do I enable NVIDIA high-definition audio?
In order to set up or enable digital audio on your NVIDIA graphics card, you need to open its Control Panel. There, access the Set up digital audio menu available under the Display section and set HDMI to Turn off audio mode. You may also check all steps in the details covered above in this post for the same.
Apart from this, you can also try other simple fixes like update your NVIDIA graphics driver, set input and output sound device, etc. All these fixes are already added in this post with step-by-step instructions.