If you open a Command Prompt and you see a message Not enough memory resources are available to process this command in the Command Prompt window on Windows 10, here is what you need to know.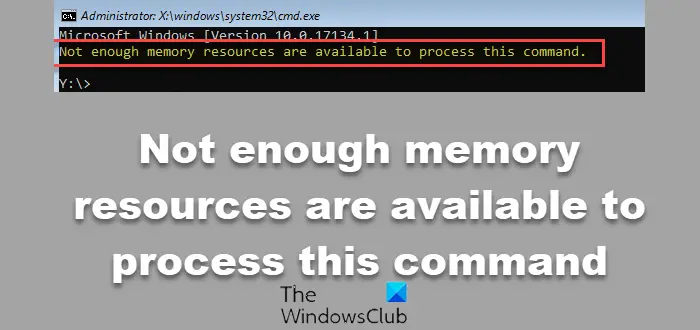 Not enough memory resources are available to process this command
This message may appear if you open CMD in Windows Preinstallation Environment (Windows PE), Windows Recovery Environment (Windows RE) or if you start the computer by using an installation media.
Microsoft KB4339170 says that this message appears instead of "(c) 2018 Microsoft Corporation, All rights reserved" – and it is a bug in Windows 10 v1803, which has been fixed in later versions.
This issue occurs because a resource file is not included in the components that are responsible for keeping these copyright strings. As a result, when the command prompt tries to read the string, it cannot find the string, and it assumes the reason that the string was not found is a low-memory condition.
It does not occur due to any no low-memory condition nor does it have any impact on any functionality. You should safely ignore this message and carry on with using the command prompt.
Nevertheless, if you see this message under any other circumstances, what you can do is either reboot your system or close all open unwanted programs & processes, and then open the Command Prompt and see. If that does not help, try the following suggestions:
All the best!
Related error: Not enough storage is available to process this command.