An issue generally noticed with the Windows operating system these days is that new updates to the OS bring their own share of problems with them. For instance, you might fail to connect to the Internet soon after the update and see an error message – No Internet, Secured flashing on your screen. Luckily, methods to correct this problem do exist. In this post, we see ways on how we can troubleshoot the issue and fix the Internet connection issue.
Fix No internet, Secured WiFi error
We generally use a secure Wi-Fi connection at our home/office. So, if we get a "No internet, Secured" error, this could be because of an invalid IP configuration. Maybe something changed the settings. Here is what you can do.
Update your Network Adapter driver
Run Network Adapter Troubleshooter
Change Adapter settings
Delete Network Adapter completely
Wifi Issues
Change power management properties
Disable WiFi sharing software
Set a Fixed DNS Server
Disable 5Ghz to Fix the "No Internet Secured" error in Windows 11/10
Remove or disable internet security software
You will need admin permission to resolve the problem.
1] Update your Network Adapter driver
Update your Network Adapter driver software and see if that helps. You will have to do it via the Device Manager or Windows Update or directly download it from the OEM website.
Windows Update offers driver update through the additional update link. If there is no update, you can download the software and then install it.
2]  Run Network Adapter Troubleshooter
Run Network Adapter Troubleshooter and check if it helps. Ordinarily, this built-in troubleshooting diagnostics will allow you to detect the problems that you are experiencing with your network. You will get it here – Control Panel > All Control Panel Items > Troubleshooting > Network and Internet. It finds and fixes problems with wireless and network adapters. You can also right-click on the network icon, and select the network troubleshooter.
3] Change Adapter settings
If this fails, try changing Adapter settings. To do so, select the change adapter settings option from the Network and Sharing Center window. You will find the adaptor option residing on the left side of the window.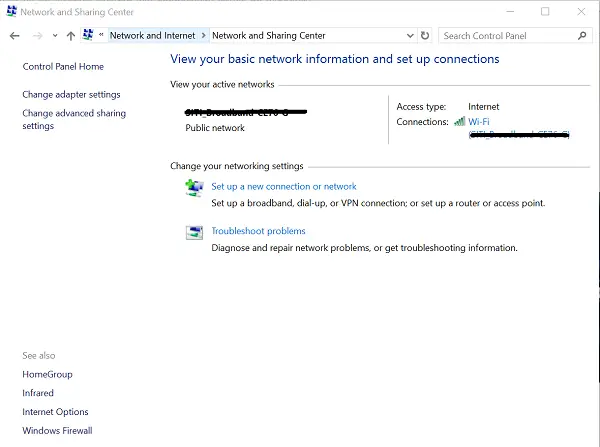 Then, open the Properties of the Network Adapter and try locating the one that is currently in use. It should be visible to you as a Wireless Adapter.
Now, find if the Internet Protocol Version 6 (TCP/IPv6) is listed under the options displayed. Click it open and uncheck it to disable IPv6.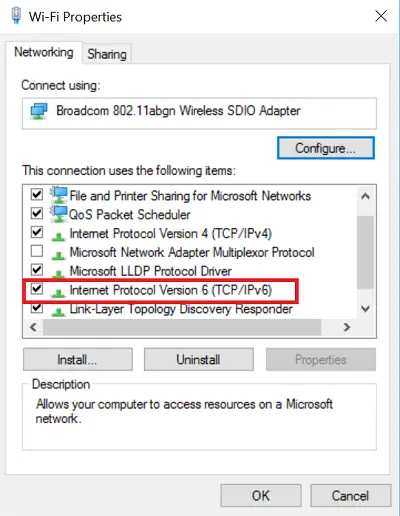 Next, click on OK, and restart the computer to allow the changes to take effect.
4] Delete Network Adapter completely
If this fix does not work on your device, you could resort to one last option of deleting the Network Adapter completely so that Windows adds it as new on the next start of the system.
To uninstall and reinstall the Network driver, press Win+X altogether and select Device Manager. Then, In the list of devices, locate the Network device whose Driver you want to uninstall.
Right-click on the device and then select Uninstall.
In the Uninstall dialog that shows up on your computer screen, check the Delete the driver software for this device option to delete the Network driver package.
Following this, in the Action menu of Device Manager, check the Scan for Hardware changes option to reinstall the device.
Finally, restart your computer when the network driver installation process is complete.
5]  WiFi problems?
WiFi is like a network adaptor, and it can have issues. Follow out the extensive guide if the Wifi Adaptor is giving issue. See this post if you face WiFi problems on Windows 10.
6] Change power management properties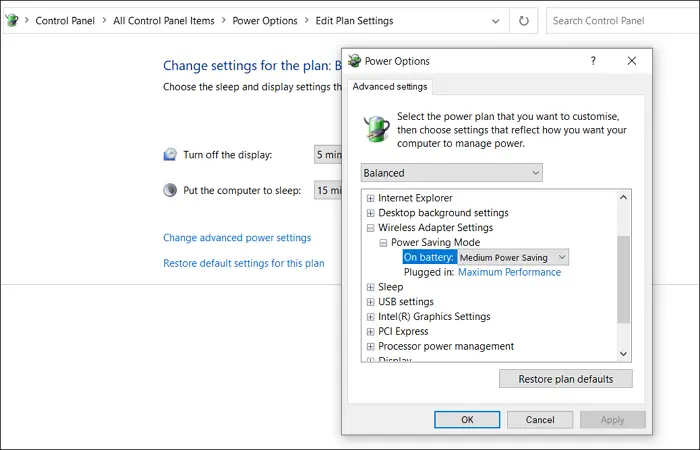 At times, Power Settings can make network adaptor sleep when not used for a long time. To make sure the Power Management doesn't mess with the network, follow the steps:
Locate the battery icon on the system tray, right-click and select Power Options
Click on Change Plan Settings > Change advanced power settings
Select Wireless Adapter Settings and change mode On battery and Plugged in
You can choose Maximum Performance from the available options
Once you change your Power Plan settings, it should not be a problem anymore.
7] Disable WiFi sharing software
Windows offers a Mobile hotspot feature that allows you to share the wifi network to which it is already connected. It comes in handy when you don't have the wifi network password. However, it is also known to interfere with the internet.
It is recommended to Go to Network & Internet > Mobile hotspot, and then turn off the hotspot.
8] Set a Fixed DNS Server
The same issue can occur if you are not connected to the correct or fixed DNS server. At times the ISPs DNS server may not work as expected, and it is best to change it. In case the ISP hasn't offered any DNS, then you are on the dynamic DNS.
Go to Windows Settings, and select the Network for which you want to change the DNS.
Click on Properties and scroll to find the Edit button next to IP settings.
Switch from DHPC to Manual and turn on IPv4.
Fill in the details, including DNS, and apply the changes after changing the IP addresses.
9] Disable 5Ghz to Fix the "No Internet Secured" error in Windows 10
Some devices do not connect well to a Router over the 5 GHz band because of compatibility issues. However, this cannot be resolved from the PC; instead, you will need to do it from the router.
In the router Wifi Settings, you need to enable the 2.4 GHz profile support. Once done, you can then reconnect to the network, and it should work. It is usually a problem with old hardware or if the WIFI adaptor is not compatible.
10] Remove or disable internet security software
Internet security software is also known to cause issues with Wifi if the rules are strict. The best way to check is to remove or temporarily disable it and check if you can connect to the wifi network. If yes, then you need to configure the security setting, so there is no interference.
What do I do when my WiFi says No Internet Secured?
If your WiFi says No Internet, Secured instead of connecting to the internet, you could do several things to fix the issue. From updating your Network adapter driver to running Network Adapter Troubleshooter to restarting the WiFi router, there are lots of things to do. All the possible and working solutions are mentioned in this article, and you need to follow them one after one to eliminate the problem.
What does No Internet Secured mean on WiFi?
It denotes that you do not have an internet connection on your computer, but the connection between your computer and the WiFi router is encrypted. Since it is encrypted, your Windows 11/10 PC shows the "Secured" message while connecting to the network.
Hopefully, something should have helped!
See this post if you receive a No Internet Access message in Windows 11/10. Need more suggestions? Check Windows 10 cannot connect to the Internet.