An issue generally noticed with the Windows operating system these days is that new updates to the OS bring with them, their own share of problems. For instance, you might fail to connect to the Internet, soon after the update and see an error message – No Internet, Secured flashing on your screen. Luckily, methods to correct this problem do exist. In this post, we see ways on how we can troubleshoot the issue.
No Internet, Secured error
We generally use a secure Wi-Fi connection at our home/office. So, if we get a "No internet, Secured" error, this could be because of an invalid IP configuration. Maybe something changed the settings. here is what you can do.
1] Update your Network Adapter driver
Update your Network Adapter driver software and see if that helps. You will have to do it via the Device Manager.
2]  Run Network Adapter Troubleshooter
Run Network Adapter Troubleshooter and check if it helps. Ordinarily, this built-in troubleshooting diagnostics will allow you to detect the problems that you are experiencing with your network. You will get it here – Control Panel > All Control Panel Items > Troubleshooting > Network and Internet. It finds and fixes problems with wireless and network adapters.
3] Change Adapter settings
If this fails, try changing Adapter settings. To do so, select the change adapter settings option from the Network and Sharing Center window. You will find the option residing on the left side of the window.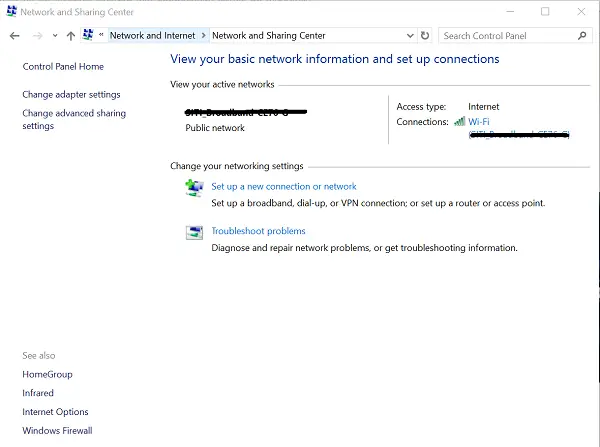 Then, open the Properties of the Network Adapter and try locating the one that is currently in use. It should be visible to you as a Wireless Adapter.
Now, find if the Internet Protocol Version 6 (TCP/IPv6) is listed under the options displayed. Click it open and uncheck it to disable IPv6.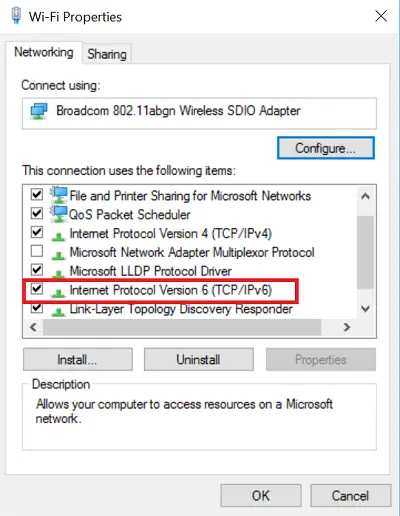 Next, click on OK, and restart the computer to allow the changes to take effect.
4] Delete Network Adapter completely
If this fix does not work on your device, you could resort to one last option of deleting the Network Adapter completely so that Windows adds it anew on the next start of the system.
To uninstall and reinstall the Network driver, press Win+X altogether and select Device Manager. Then, In the list of devices, locate the Network device whose Driver you want to uninstall.
Right-click on the device and then select Uninstall.
In the Uninstall dialog that shows up on your computer screen, check the Delete the driver software for this device option to remove the Network driver package completely.
Following this, in the Action menu of Device Manager, check the Scan for Hardware changes option to reinstall the device.
Finally, restart your computer when the network driver installation process is complete.
5]  WiFi problems?
See this post if you face WiFi problems on Windows 10.
Hopefully, something should have helped!
See this post if you receive a No Internet Access message in Windows 10. Need more suggestions? Check Windows 10 cannot connect to the Internet.