Genshin Impact Network Error Code 4206 appears when trying to launch the game as it is failing to connect to the server. The following is the complete error message that you see when the error code in question appears.
Failed to the connect to the server, Error Code: 4206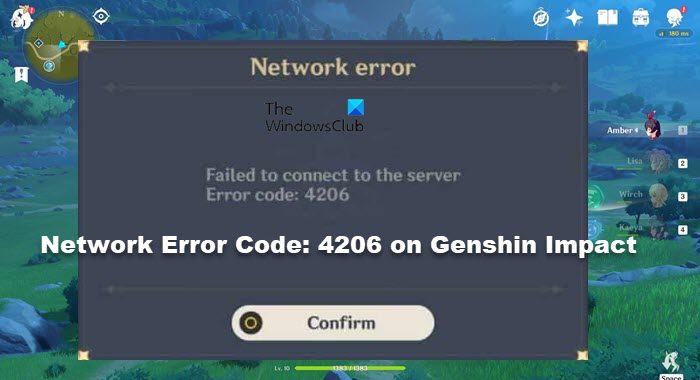 In this article, we are going to talk about this issue in detail and see what you need to do to resolve it.
Fix Genshin Impact Network Error Code 4206
If you are seeing Network Error Code 4206, Failed to the connect to the server on Genshin Impact, check the following solutions to resolve the issue.
Check your Internet
Restart Router
Allow Genshin Impact through Firewall
Check if Genshn Impact's server is down
Switch to a different server
Start the game as an administrator
Turn off VPN or Proxy Network
Use Ethernet Cable or contact your ISP
Let us talk about them in detail.
1] Check your Internet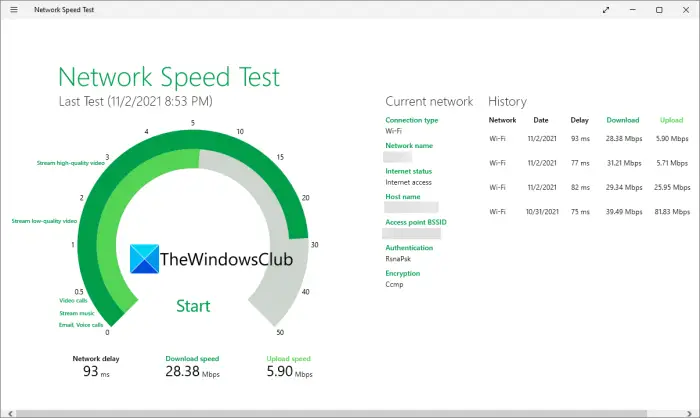 First up, try checking your Internet speed and make sure that it is not slow. You can use a free Internet Speed tester to know your bandwidth. Also, check other devices connected to your network to see how fast or slow Internet speed they are experiencing. If you conclude that all the devices are having slow Internet, restart your router and if that doesn't resolve the issue, contact your Internet Service Provider.
2] Restart Router
Try restarting your router to resolve any glitches that your network may experience. Follow the given steps to do it the right way.
Turn off the Router and unplug it from the power source.
Wait for 30 seconds to one minute.
Plug the router and turn it back on.
Hopefully, this will do the trick for you.
Read: Error Code 31-4302 on Genshin Impact
3] Allow Genshin Impact through Firewall
Next up, we need to try and allow Genshin Impact through antivirus or Windows Firewall as the service can mistake your game for a virus and block some of its services. If you have a third-party antivirus, you need to whitelist the game. And allow the game through Firewall if you have configured Windows Defender. This should do the trick for you.
4] Check if Genshin Impact's Server is down
We need to check if there is a server issue with Genshin Impact. To do that, use one of the down detectors mentioned here and see if the server is down. If there is a problem with the server or if it's under maintenance, the only thing you can do is wait for the issue to be resolved.
5] Switch to a different server
You can also try switching to a different server as there can be an issue with the server that you are connected to. Just choose either North America, Asia, or Europe and see if that works. Once the developer resolves the issue, you can then choose any server that you want.
6] Start the game as an administrator
Sometimes, the game needs administrative privileges to run or load some files or connect to the server. What you can do if you are seeing the error code, is try opening the game as an administrator and see if that works. If launching the game in elevated mode works, you can then configure the app such that it always opens with the required permissions granted. To always launch Genshin Impact as an administrator, use the following steps.
Right-click on Genshin Impact Launcher and select Properties.
Go to the Compatibility tab and tick Run the game as administrator.
Click Apply > Ok.
See if the issue persists.
Read: Genshin Impact not launching on Windows 11
7] Turn off VPN or Proxy Network
If you are connected to a VPN or have configured Proxy Network, then try turning it off and see if that works. A lot of time, your game will get confused as the ISP will be from a different location and the server is prompting to a different location and hence will fail to connect you to any server. You can try disabling both of them and see if that helps.
8] Use Ethernet or contact your ISP
Some users were able to resolve the issue by just connecting their computer to an ethernet cable and getting that stable Internet. If you don't want to get an Ethernet cable, contact your ISP and ask them to fix the issue. They can contact their tech support and get the game working for you.
Hopefully, these solutions will resolve the issue for you.
How do I fix Genshin Impact error code 4201 on my phone?
Genshin Impact error code 4201 is a network error that may occur when you try to log in to or play Genshin Impact on your mobile phone using the mobile data. So, to fix this issue, make sure Genshin Impact is allowed to use mobile data. You need to turn off Disable mobile data option under the Data usage setting for this game. Alternatively, you can use your WiFi connection to play the game. If you are using a VPN, switch to another location or server or disable VPN and check again.
Why is Genshin not working with my wifi?
If Genshin Impact is not working with your WiFi on your Windows computer and you see a Connection failed. Try again later error, then restart the router and see if the problem is gone. Also, your Windows Firewall or antivirus program can also interfere and cause this issue. So, you should add Genshin Impact to the allowed list for your firewall or antivirus program. If these don't help, then restore your router to a previous good configuration or reset it with default settings.
Also Read: Genshin Impact keeps crashing or freezing.