A mapped Network drive is one of the most useful things a computer user can take advantage of. Think of it as a storage medium that isn't technically integrated, or a part of your setup, but allows you to store and access data as if it were locally hosted. It acts as a drive containing storage that you have complete access to but is physically stored in a different computer. The facility to map your devices is available in most modern computing setups – be it computers or phones. Such mapped drives are largely used by people to store files that take up a huge chunk of space on a network that has bigger disk storage, while still being able to use it locally.
This drive mapping comes with its fair share of errors and hiccups, one of them being a Network drive getting disconnected every time a Windows 10 PC is rebooted. While this error isn't very serious in nature, it has been found to be the case for several users. Today, I will be suggesting some quick fixes for this error to help you get your mapped drives right on track.
Network drive keeps disconnecting in Windows 11/10
Before you can begin diagnosing and treating the error, it is important for users to ensure that they have the latest version of Windows installed along with access to a network location. They should also make sure that the PC and the device that is mapped with it follow the accurate time and time zone.
1] Disable Offline files on your System
Windows allows you to keep offline files of their network data. This may, sometimes, act as a glitch and lead to this error. Thus, under such circumstances, users should disable this feature to store offline files by following the steps below:
Click on the search bar in the taskbar and search for 'Control Panel.'
On the top-right corner of the screen, you'll see an option to regulate the icon size of the Control Panel, choose Small Icons.
Going by the alphabetical order, you'll find 'Sync Center,' among the last few settings.
Here, on the left side of the window, you'll find a list of options. Click on the last one, 'Manage Offline Files' and disable them.
Save these settings and reboot your PC.
2] Disable Fast Startup
As the name suggests, Fast Startup seeks to boot a system quickly. Shutting your PC down with Fast Startup enabled puts it in a state almost parallel to hibernation; even though all apps are shut down and all users are logged, the Windows Kernel stays loaded and the sessions run as it is. Sometimes disabling the system's Fast Startup can do the trick too.
Click on the Windows key and on the search pane type 'Choose a Power Plan.' This will direct you to the relevant setting in the device's Control Panel.
From the list on the left side of the screen, click on 'What the Power buttons do' and proceed to click on 'Change the settings that are currently unavailable.'
This will make available for you the option to disable Fast Startup on your system. Do so, reboot the system and check if the error persists.
3] Reset your Network Credentials
The credentials for your Mapped drive may have, somehow, been corrupted leading the device to this error, in which case the user should remove and set new credentials using the Windows Credential Manager.
First things first, open File Explorer and disconnect your Mapped Drive.
Then, on the search pane, search for 'Credential Manager' in the Control Panel.
You'll then get two settings; Web Credentials and Windows Credentials. Choose the latter.
From the options provided thereon, click on the credentials for the related mapped drive and remove them.

Now, reboot your system and follow the steps mentioned above, except for removing credentials, you make a new set for your mapped drive.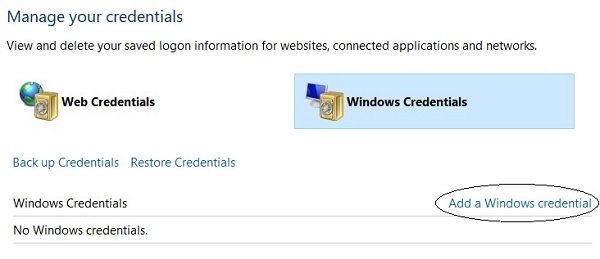 Now, follow the process of Mapping a network and make sure that you select the 'Reconnect at Sign-in' option.
One of the above-mentioned tools should provide you with a way out of this error of a Mapped drive.
TIP: Also take a look at – Mapped Drive gets disconnected. Maybe you need to turn off the Auto-disconnect feature or Auto-tuning network feature/s.