When you use Windows to connect to the Internet, it is the Network Adapter and the corresponding hardware network chips that are your primary supporters in getting you online. At times, we come around with various kinds of network-related issues, such as limited WiFi problems, outdated drivers, network loss when Windows wakes up from sleep and so on. To troubleshoot and fix your Network & Internet connection problems, there is a free tool called NetAdapter Repair that can help you.
NetAdapter Repair will fix Network problems on Windows 11/10 PC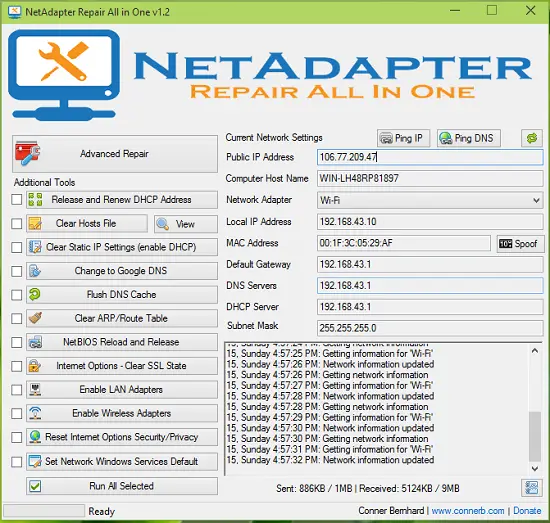 NetAdapter Repair All In One is a free tool that can help you troubleshoot and repair problems with Windows networking adapters. It is specially designed to tackle your network woes and provide you with trouble-free access to net surfing. We tested this open-source software on Windows 10 and it fixed out the network problem on that machine smartly.
As you can see in the above screenshot, it offers a lot of options to diagnose network and connectivity problems. With NetAdapter Repair, you can:
1. Flush Windows DNS cache just with one click.
2. Reload NetBIOS and can easily reset Internet Options to default.
3. Clear Static IP Settings, route table and host's file are not a big deal for this utility
4. Renew and release DHCP address and change to Google DNS for all adapters.
5. With Advanced Repair, which is the most important part of this software, you can resolve almost many networking problems at once. You can repair WinSock/TCP, clear Proxy/VPN settings and repair Window Firewall.
When you use the Advanced Repair option, many settings are changed by this software which helps you to resolve multiple issues. Hence a reboot is a must after it.
Here is a list of its features:
Advanced Repair (WinSock/TCP IP Repair, Clear all Proxy/VPN Settings, Windows Firewall Repair) <Note: Restart Needed to Complete Repair>
Release and Renew DHCP Address
Clear Host File
Clear Static IP Settings (enable DHCP)
Change to Google DNS
Flush DNS Cache
Clear ARP/Route Table (Restart Needed to Complete the Reset Process)
NetBIOS Reload and Release
Internet Options – Clear SSL State
Enable LAN Adapters
Enable Wireless Adapters
Reset Internet Options Security/Privacy
Set Network Windows Services Default (Restart Needed to Complete Repair)
Host File View Option
Automatic Restart Timer for the Restart Prompts (60 Seconds)
When you clear the host file a backup of it will be saved to the log file
Clear Static IP Settings and Change to Google DNS this can be applied to one adapter specifically or all network adapters
Ability to select multiple instances to run at once with Run All Selected
Public IP Address (retrieved from http://checkip.dyndns.org/)
Computer Local hostname
Local Private IP Address
Current MAC Address
Default Gateway
DNS Servers
DHCP Server
Subnet Mask
Refresh Button
Ability to Select Another Network Adapter
Spoofing for the Current MAC Address
Ping Public IP Addresses (Google and Cloudflare)
Ping Public DNS Addresses (Google and Cloudflare)
Program Output to Logs (Will Display OS, Repairs/Options Run, Processes Loaded, Failed or Succeeded Repairs, etc.)
Program Log File Will Be Created in Same Directory where you have Run the Program (Will Have OS, Repairs/Options Run, Processes Loaded, Failed or Succeeded Repairs, etc.)
ipconfig output will automatically save to the log file
Active Network Adapter Traffic Monitor with Total and Active Traffic
Ability to Clear the Program Output Log and Traffic Monitor (This Will Not Clear the Program LogFile)
You can download it from Github. Since this is a third-party tool, we recommend you create a System Restore Point first before using it.