There are several reasons why NBA 2K23 may not be launching on your Windows PC. Some users say when they attempt to launch the game, it freezes, then crashes after. If you face these issues, then this post will help you.
When it comes down to the solutions, well, there are quite a few. For example, maybe the game is incompatible with your computer hardware. These things do happen where PC gaming is concerned, so nothing is out of the ordinary. Is it possible your graphics driver is outdated? NBA 2K23 in many situations will not work if the graphics card driver is not updated to the latest version. Also, one should take into consideration that the game files are corrupted. If this is the case, then it could be causing the game to break, and we can't have that.
Fix NBA 2K23 crashing, freezing, and not launching
If the NBA 2K23 video game keeps crashing and freezing, or does not launch on your Windows PC, follow the solutions below to resolve the issue.
Check if your system meets the requirements
Run the game as an administrator
Disable Discord Overlay
Verify game files on Steam
Disable some in-game video settings
1] Check if your system meets the requirements
In many cases, a game fails to work accordingly because the computer does not meet the minimum system requirements needed. If you are not sure, we suggest checking the official website of the game to find out the requirements. Alternatively, you can also check the official page for the game in the online store, or just read the description that comes with the game.
The game requires a 64-bit processor and operating system
OS: Windows 11/10 64-bit
Processor: Intel® Core™ i5-4430 @ 3 GHz/ AMD FX-8370 @ 3.4 GHz or better
Storage: 110 GB available space
Memory: 8 GB RAM
Graphics: NVIDIA GeForce GTX 770 2GB/ ATI® Radeon™ R9 270 2GB or better
Sound Card: Directx 9.0c
DirectX: Version 11
Network: Broadband Internet connection
Additional: Dual-analog Gamepad
2] Run the game as an administrator
For some video games to run properly, they require special privileges and the only way to get that done is to run the title as an administrator. Let us explain in detail how to accomplish this task.
Right-click on the NBA 2K23 shortcut.
After that, select Properties from the context menu.
From the NBA 2K23 Properties window, click on Compatibility.
Next, you must tick the box next to Run this program as an administrator.
Hit Apply, then OK to complete.
Another way to do this is to right-click on the NBA 2K23 shortcut, then select Run as an administrator via the context menu.
3] Disable Discord Overlay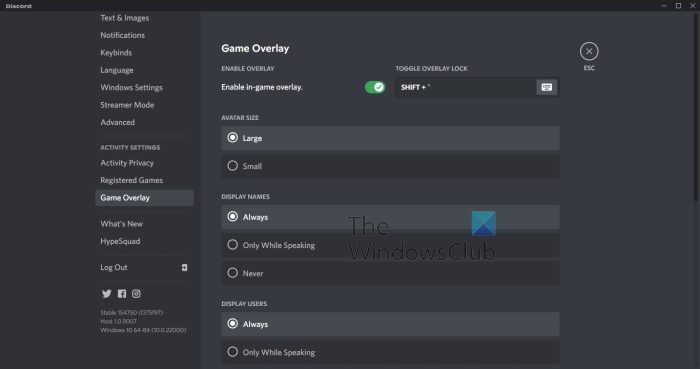 Discord comes packed with a feature that allows users to access their games by means of an overlay for the purpose of ease of use. Over the years, folks have complained that this feature will at times clash with certain games, and as such, the best choice of action is to disable the Discord Overlay.
Let us look at how to get this done in the easiest way possible.
First, open the Discord app.
From the bottom-left corner, please click on the Settings icon.
After that, scroll down to Game Overlay and select it.
You should now see the Enable in-game overlay button.
Go ahead and toggle it to turn it off.
Finally, open NBA 2K23 again to see if the problem is still persisting. If everything goes according to plan, things should run smoothly going forward.
4] Verify game files on Steam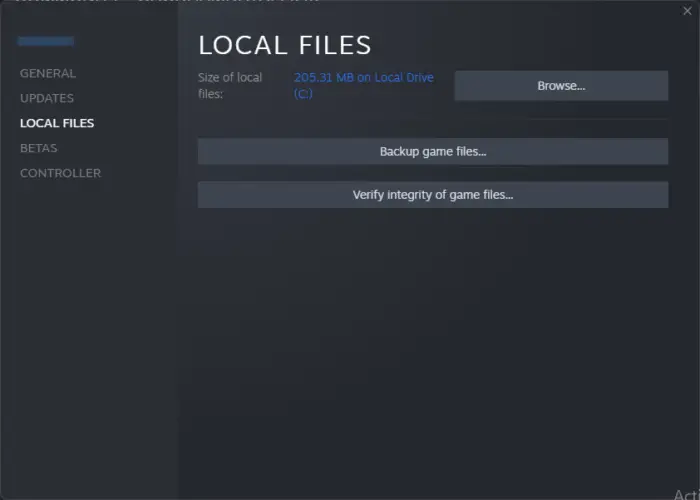 If you are playing NBA 2K23 on Steam, you can check the integrity of the game files to see if fixing that would solve all issues.
Open the Steam client on your computer.
From the menu section to the left side of the app, locate NBA 2K23.
Right-click on it promptly.
After that, please click on Properties.
When a new window appears, select Local Files.
Click on Verify game file integrity.
Finally, simply wait until the processing is completed, then attempt to play the game again to see if the problem is no longer such.
5] Disable some in-game video settings
If your computer hardware is not fully up to standard, then it can affect the performance of the game. The best option here is to tone down some settings to increase performance.
Launch into NBA 2K23.
Find the Features menu and select it.
From there, click on Video Settings.
Determining how low you want to set your graphical settings.
Next, change the Window type to Windowed.
Apply the settings when you're done.
Once done, you can press the Windows key + Enter to increase the display output.
Finally, try to play the game again to see if all issues have been rectified.
READ: Fix NBA 2K23 Error Code 727e66ac the right way
Why does my NBA 2K23 keep freezing?
Reasons why NBA 2K23 could be down to several reasons. For example, maybe the hardware is incompatible, or the game files have been corrupted. Additionally, there is a chance Visual C++ redistributable is missing and needs to be replaced.
Why is my 2K23 not loading?
There could be multiple reasons why NBA 2K23 is not loading on your computer. From a corrupt game file to graphics card settings, anything could be responsible for this error. Whether you use Windows 11 or Windows 10, you can go through these aforementioned solutions to troubleshoot the problem.