While you are using your Windows PC, the RAM memory and CPU is constantly being used. Keeping an eye on them is a good habit, especially if you are a power user. It gives you information about RAM and CPU usage consuming apps.
Monitor PC from the system tray
Here are two, very tiny, system tray apps that offer real-time monitoring apart from some other extra features. I am talking about My CPU Monitor and My Memory Monitor.
My CPU Monitor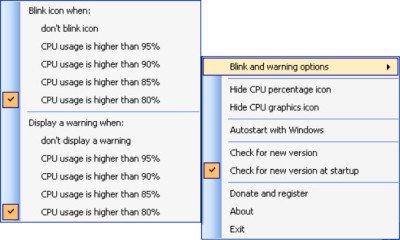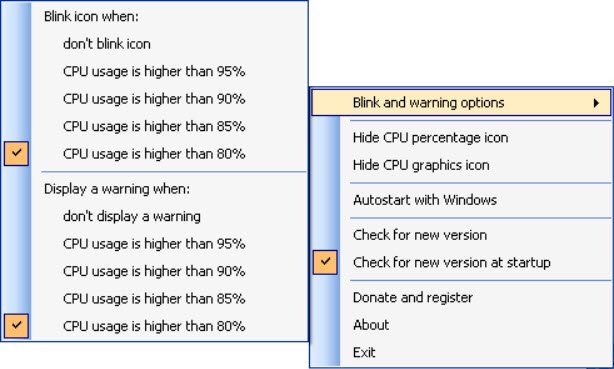 My CPU Monitor is a free system tray utility that lets you monitor your PC CPU usage and keep an eye on the load on your computer. This tiny utility is available as a single standalone portable file and it installs in the system tray of Windows. This app makes it easier for you to check CPU usage from time to time. It comes with blinks and warning options, such a feature is very useful, and it warns you when the CPU usage goes higher than your chosen standards.
It installs the CPU percentage and graphics icon in System Tray; you can hide either of them or keep both of them. For your convenience, you can change the looks of the CPU style; you can choose between Rainbow or Gradient options. You can even make this application auto-start with Windows so that you don't need to start it after your PC turns on separately.
Click here to download My CPU Monitor.
My Memory Monitor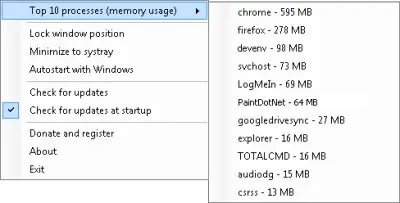 Like My CPU Monitor, My Memory Monitor is another system tray app by the same developer that lets you keep an eye on the memory usage of your PC. Unlike My CPU monitor, this app doesn't come with an animated system tray icon, but you can view memory status by simply hovering over it. Along with the system tray icon, it also installs a small tiny box on your screen that keeps on showing you the memory usage of the PC. However, the box can be easily minimized.
Along with monitoring capabilities, the software can also be used to view the Top 20 memory-using processes, this app makes it easier to keep an eye on memory usage and view the hungry memory-eating processes.
Click here to download My Memory Monitor.
This tiny apps are useful system tray utilities. They are useful for instant and real-time monitoring. Packed in KBs the apps are tiny, portable and handy too. For all those who want to keep monitoring their PC along with their work, these apps are a must.