If are you bored by using the same standard Windows Explorer, then try Multi-Commander. It is a multi-tabbed file manager with a dual-panel layout. It is fast, efficient and has got everything that you need in a file manager. Standard operations like Copy, Paste, Rename, Delete are included in this software – but apart from them, what really makes this software unique is its ability to perform advanced operations like Auto-Sorting, Auto-Unpacking, Searching for files. So, in effect, Multi-Commander is a complete file manager tool that helps you to make your day-to-day task easier.
Multi-Commander review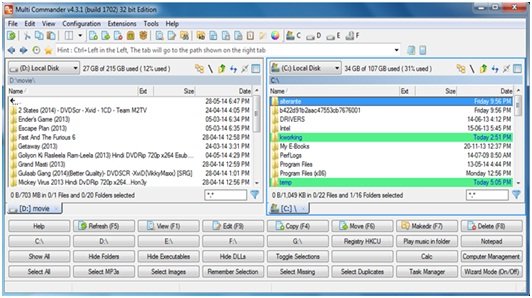 How do you want to control Multi Commander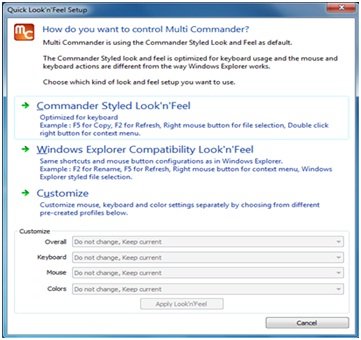 You can download the freeware by selecting one of the multiple languages. After that, it will ask for the options on how do you want to control your file manager. You can select Commander Styled Look n Feel, Windows Explorer Compatibility Look n feel or you can even customize the same.
Features of Multi-Commander
Multi-Commander has got a lot of features in it, which other software of the same category do not. Some of the features of this multi-tabbed file manager are as follows:
Dual panel layout
Support both Commander styled and Explorer styled keyboard and mouse setup
You can customize the keyboard, mouse, colors as per your need
Can view files and folders in detailed, list, or thumbnail mode
Command-line commands to get to the path quicker
You can convert or rotate pictures, view and remove EXIF tags
Supports ZIP, 7-ZIP, RAR, TAR, GZ, Bz2, JAR, etc. file formats
Support JPG, PNG, GIF, PNG, BMP, TIFF, and many other RAW formats
Audio tools like view and edit MP3 tags
You can create extensions and plug-ins as its open API for developers
Portability of the software
Both 32 Bit and 64 Bit version of the software is available
You can compare folders, put filters, write scripts to automate the tasks, etc.
Multi-language support
Using Multi-Commander, multi-tabbed file manager
This multi-tabbed file manager offers you a wide range of functionality that can help you work easily and efficiently. To make you work more easily, there are many shortcuts present, which let you complete the whole task while just using your keyboard. There are seven buttons present on top of the window. These are as follows:
File: If you are looking for the options like Copy, Delete, Move, Pack, Unpack, etc., then you can find it here in the File drop-down menu options.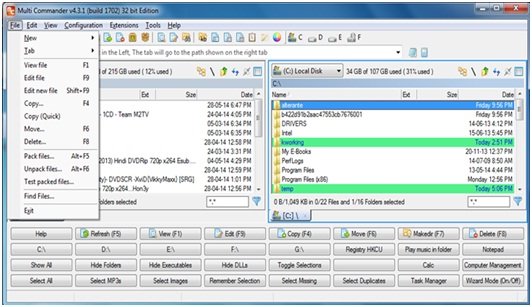 Edit: In the Edit drop-down button you will find options like Cut, Select, and Unselect, options to compare files and folders, Save, Select and Unselect with some extension, etc.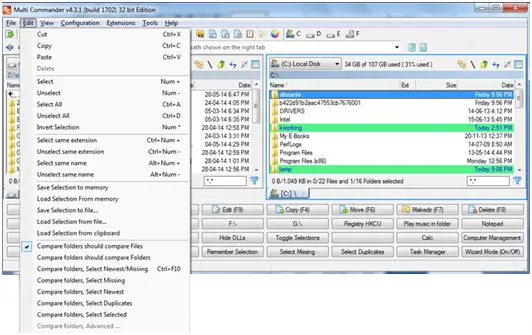 View: Using View drop-down menu options you can change the select the layout you want, perform operations like  Refresh, Stop, Split Size, Select Explorer Panel, select options from Toolbars, etc.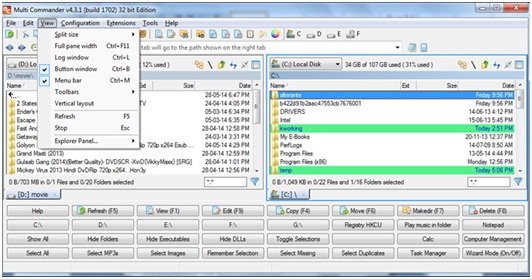 Configuration: In Configuration you will find all options related to the configuration of the application. You can select Manage Plugins and Extensions, Manage Aliases, can have user-defined commands, can customize menus, keyboard, can make changes in File Operations settings, File System Plugin settings, etc.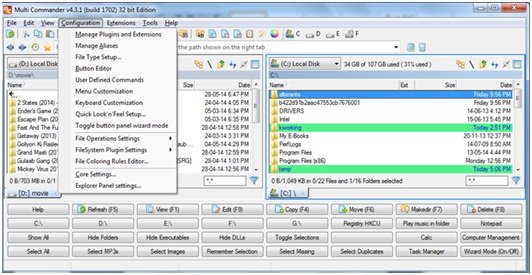 Extensions: If you want to search any file, then select the File Search option from here. Other options that are available are File Checksum, Multi-rename, and Language Editor.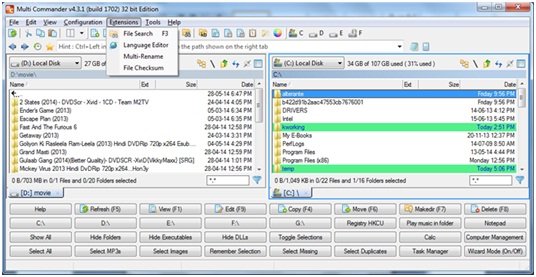 Tools: In Tools all options related to picture, video and audio are present. Some of the other options that are present are File Security, File Links, File Checksum, Text Conversion, etc.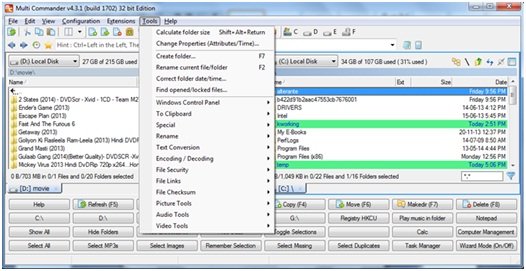 Help: In the Help section, you can look for the upgrade of the software, online documentation, online support, and other types of help. You can also send reports on any issue and feedback.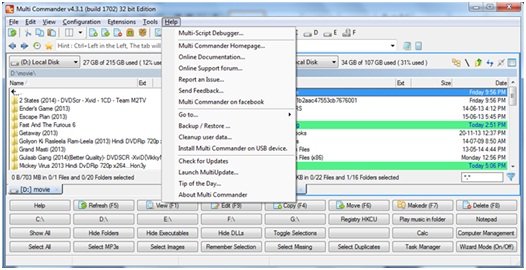 Multi-Commander download
Multi Commander is a complete multi-tabbed File Manager software that can perform all sorts of file management tasks. Visit its download page to download it. It is fully supported by all the latest versions of the Windows operating system and can be installed even if you don't have administrative rights.
Go here if you are looking for more Windows explorer replacements and alternatives.