Sending big-sized attachments has always been an issue. The email server has its own limitations regarding the attachment sizes, and thus we have to use some third-party applications or services to send our large files.
While we already have many cloud hosting and file sharing services and applications available over the web, Mozilla has added a new one to the list. The popular web browser maker Firefox has launched a new website 'Send' which makes it really easy to send large files. This is, however, a different kind of file sharing service because here, the files disappear once downloaded, inspired by Snapchat and Instagram Stories supposedly. This means the service is particularly designed for a quick file sharing service between two persons and not for long-term storing or cloud hosting purposes.
UPDATE: Firefox Send is discontinued and unavailable now. You may take a look at these free Firefox Send alternative services.
How to use Firefox Send
'Send', the website is launched as a Test Pilot for now but is open and accessible for all. Even though the website was designed and launched by Mozilla, it works on every popular browser. So, Firefox Send now lets you share your huge files right from your web browser, no matter which browser you are using.
Encrypt & share large files online
Head over to the website send.firefox.com and upload the file you want to share. You can upload a file up to 1GB of size.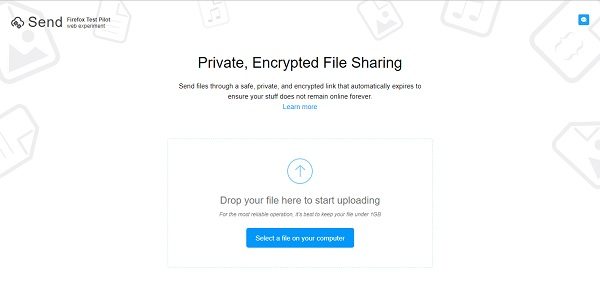 Once uploaded, the website gives you a shareable link. Send this link to anyone you want to share the file with. Make sure the receiver downloads the files before 24 hours because the file will disappear after that. Also, the link will disappear if any one of you downloads it.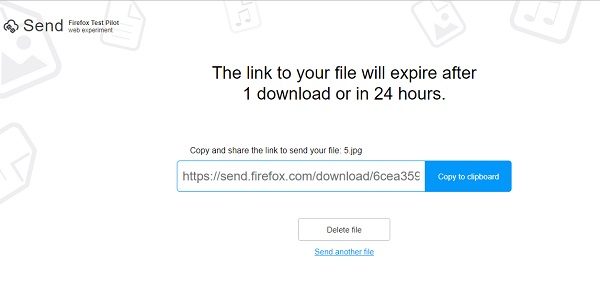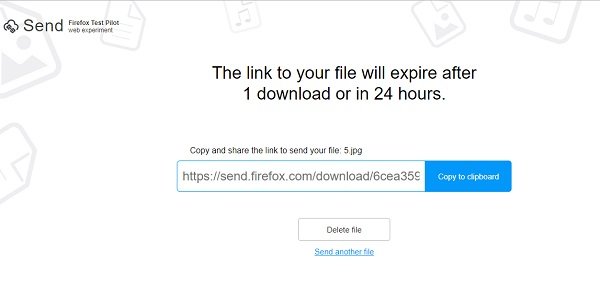 The download link, however, disappears but the original file remains unharmed.
As per Mozilla, the Send website is launched at stage 3, which official is termed as a Test Pilot Project. Thus, it means the company is all set to roll out the service officially. The service, for now, is launched in Test Pilot mode so that users can play around with it and see if there are any bugs to be fixed.
Initially, Firefox Send was available with a limit of 1 GB file upload, which would expire either after one download or in one day, whichever comes earlier. A lot has changed, and the new version offers configurable expiring download links, password protection, an option to manage shared files.
Firefox Send – Configurable Expiring Download Links & Password Protection
While its best if you sign-up for this service, Mozilla is also offering those who want to stay anonymous. You can use Firefox Send without an account but will be limited to 1 Gb file upload. Apart from the file upload restriction, there is no limit when it comes to features.
So open send.firefox.com, and either drag a file or select it. You can upload multiple files or single large files. The interface will list all the files that you wish to upload with details of individual files sizes and total size. What makes things interesting are the other options.
Expiration Time & Password Protection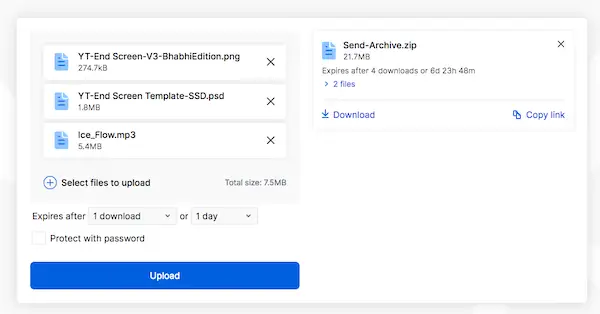 Mozilla has oddly clubbed two options. You need to choose both the number of downloads and time for the link to expire.
The number of downloads can be either of 1,2,3,5,20,50 and 100.
The link expires time can be between 5 minutes, One hour, one day or 7 days.
Mozilla must have done this to make sure to limit the number of downloads. So if you don't choose wisely and somebody fails to download it, the link can expire. It is for those who prefer a lesser download count.
Lastly, you can password protect those files if you don't want anybody else to download it. Do note that when you upload a couple of files together, they will be available as one archive files to download on the other side.
Manage Shared Files on Firefox Send
You can manage the files you have shared. If you are not signed up, Firefox will use cookies. You will be able to see all the files, expiration time an option to delete it. When you upload files in bulk, they are available as archive files. You will not be able to delete individual files from there. In case you have accidentally uploaded additional files, make sure to remove the complete set and upload it again.
How does Firefox Send download page look
Stay assured that there is no advertisement for now. When you click on the link, it will open the download page of that link and gives you a list of files you are about to download. There is no way to download individual files as of now, but you can see the name and size of those files.
Since there is no preview option for files, make sure to download files at your own risk. Mozilla is not scanning these files for virus or any files which can be harmful. The best practice is to download files only from known links or when you are definite about the files from someone who already has downloaded it.
File Send Experience
Are you wondering how fast upload and download is? It looks fast, but it will also depend on your internet speed and number of users onboard. So use this keeping in mind that its free service, and if you are a regular Firefox user, you will love this.
Mozilla is also planning to roll out Firefox Send as an Android app in beta later this week. I am also expecting that Firefox will have this option inbuilt in some time. If nothing else, a link should be useful or maybe a complete integration and dedicated page or may be an extension can be helpful.
What do you think about it? Let us know in the comments.
TIP: Firefox Lockbox allows you to carry your passwords on your Phone.