Some Windows users may not have Microsoft Project or its alternative installed on their system. At such times, if you need to view the Microsoft Project files, you can download and use freeware Moos Project Viewer. If it is only occasionally that you need to view Microsoft Project files, then this free online Housatonic Project Viewer may be what you are looking for. 
How to view Microsoft Project files
Microsoft Project Viewer free download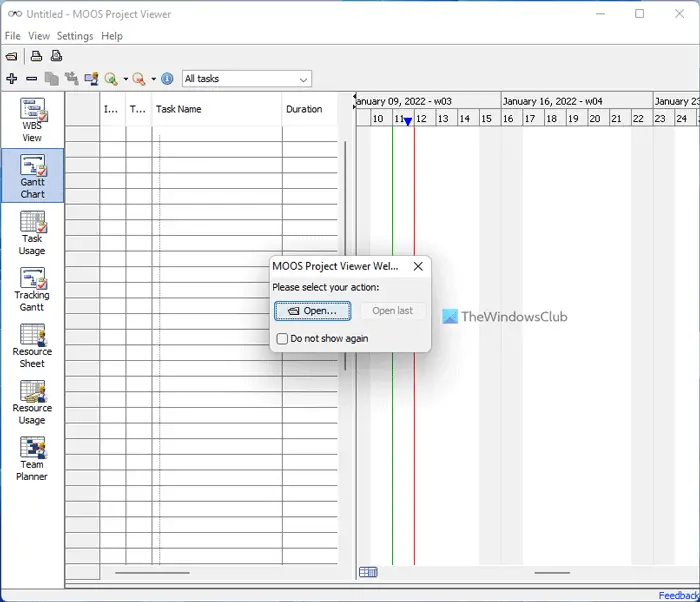 Moos Project Viewer is a viewer application for Microsoft Project allowing you to open and view any Microsoft Project file. It has been developed to run on any Java-enabled platform. This includes the three major operating systems Windows, Mac OS X and Linux.
The free online viewer for Microsoft Project has a very simple-to-use interface, simpler than the Microsoft Project! Users invariably have the option to show or hide, arrange and resize columns per view and keep settings. Any user will realize that the need of the viewer is justified when he/she receives a file generated by MS Project that they only need to view, but does not have Microsoft Project installed on their computer.
The application features WBS, Gantt chart, resource sheet, task sheet, and resource usage views. other features of Moos Project Viewer,
Requires no MS Project installation
Capability to open all Microsoft Project files (mpp, mpt, xml)
Displays critical path, deadlines and baselines in Gantt chart
Prints any view
Using MOOS Project Viewer you can get to see project details, that no other report can give you.
Microsoft Project Free Online Viewer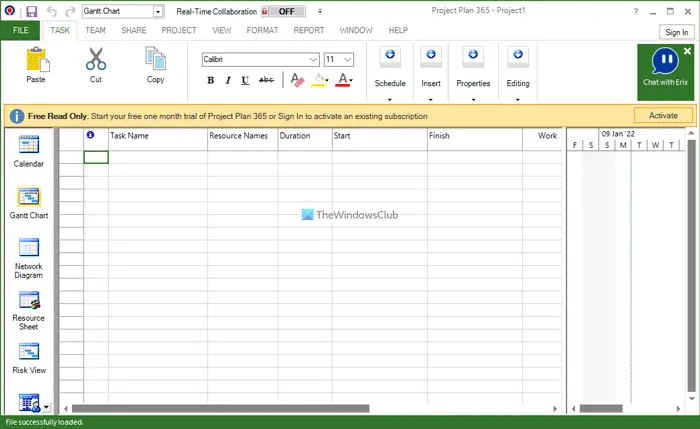 Housatonic Project Viewer allows you to open, view, print and share Microsoft Project (MPP) files stored on Google Docs or other cloud-based storage.
This online MPP viewer allows you to upload MPP files up to 400 KB in size. A great feature of the program is that it requires neither registration nor any kind of long and complex download or installation process. You are just required to upload your MPP file; this online MPP viewer then shows the content of that MPP file online.
In addition, you also have the option to open MPP files stored in Google Docs as it supports integration with Google Docs. However, to do this, you need to grant permission to the app to access your documents saved in Google docs or some other cloud-based storage. You can then simply select the MPP file that you need to open, and the program opens it directly.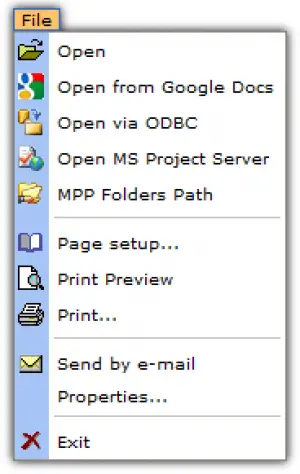 Features of Online MPP Viewer:
Opens MPP files directly, you just need to upload them
Gives access to various types of charts, such as Network Diagram, Grantt Chart, Tracking Grantt, Resource Graph and many more
Allows viewing in-depth details of any task
As per user's convenience splits its screen to view task details right below the MPP file
This service is extremely popular and at peak times the servers of the free Viewers for Microsoft Project Files may be busy. It then encourages you to try again later in such cases.
How can I view Microsoft Project files for free?
There are various tools available to view Microsoft Project files for free. For example, you can use the ProjectViewer app, which is compatible with Windows 11 and Windows 10. On the other hand, you can use Moos Project Viewer or Housatonic Project Viewer as well. Both are equally handy and come with almost all the essential features and options.
How do I open Microsoft Project without software?
There is almost no reliable option to open Microsoft Project files without software. However, if your project manager publishes the files online, you can easily view them without third-party tools. On the other hand, you can try the aforementioned apps for more flexibility.
This list of Microsoft Office Online File Converters and Document Viewers may also interest you!