This post features methods to fix Microsoft Office Outlook Exchange Error 80090016. This error can occur if the user swaps the device's motherboard or the TPM malfunctions. Fortunately, you can follow some simple methods to get rid of this issue. The full error message reads:
Something went wrong: Your computer's Trusted Platform Module has malfunctioned. If this error persists contact your system administrator with the error code 80090016.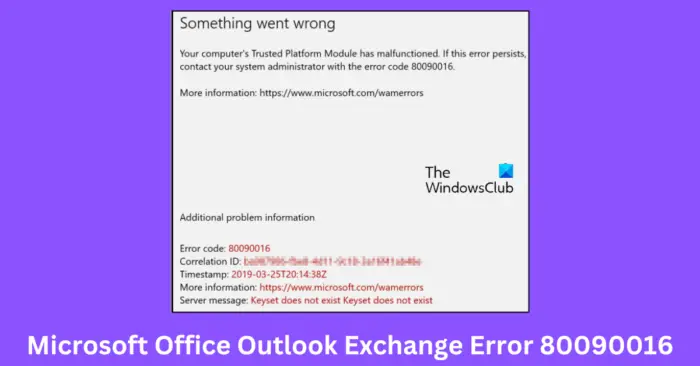 What causes Microsoft Office Outlook Exchange Error 80090016 in Windows 10/11?
There isn't any specific reason why this error may occur. In many cases, users have reported this mainly occurs if the Trusted Platform Module (TPM) gets corrupted or outdated. All things considered, the primary reasons for this error can be:
System Motherboard Replacement
Misconfigured Outlook Settings
Hindrance due to an external application
Fix Microsoft Office Outlook Exchange Error 80090016
You can fix Microsoft Office Outlook Exchange Error 80090016 by following these suggestions:
Rename the BrokerPlugin File
Repair PIN and Picture Password Solution
Disable ADAL
Remove and re-add your account
Repair Outlook
Now let us see these in detail.
1] Rename the BrokerPlugin Folder
The AAD token broker plugin file is a classified Win64 EXE file. If this file is attempted to be loaded when Outlook is starting up, it may cause runtime errors. However, renaming the file can fix any errors caused by it. Make sure you do this with the affected user account logged off. Here's how you can do it:
Open File Explorer and navigate to the following path.

C:\Windows.old\Users\asus\AppData\Local\Packages (The path may differ)

Scroll down and search for Microsoft.AAD.BrokerPlugin_cw5n1h2txyewy folder
Rename the folder as Microsoft.AAD.BrokerPlugin_cw5n1h2txyewy.old.
Restart Outlook once done to check if the issue is fixed; it may ask you to re-enter your password.
Perform this step only if your device's motherboard is replaced.
2] Repair PIN and Picture Password Solution
The Outlook Exchange Error 80090016 can appear when Windows cannot set a PIN for your device. This is usually due to the corruption of the Ngc folder located in the system volume. Deleting all the contents of the Ngc folder can help fix this issue. Here's how:
Open File Explorer and navigate to the following path.

C:\Windows\ServiceProfiles\LocalService\AppData\Local\Microsoft\NGC

Select all the files and press Shift + Del to delete them permanently.
Once done, open Settings > Accounts > Sign-in Options.
Click Add a PIN and set your PIN.
Delete and re-create your user account.
3] Disable ADAL
ADAL is a .NET framework tool that allows developers to authenticate users to an on-premises Active Directory deployment or the cloud. Turning it off can sometimes fix errors related with TPM. Here's how:
Press the Windows key + R to open the Run dialog box.
Type regedit and hit Enter.
Once the Registry Editor opens, navigate to the following path.

HKEY_CURRENT_USER\Software\Microsoft\Office\16.0\Common\Identity

In the right pane, create a new DWORD (32-bit) Value and name it EnableADAL.
Right-click on the newly created value and select Modify.
Set the Value Data as 0 and click on Ok to save the changes.
Restart your device once done and see if the error is fixed.
4] Remove and re-add your account
If the error isn't fixed, try removing and re-adding your Outlook account. Doing so can fix temporary bugs and issues you might be facing. Here is how to remove your account:
Open Outlook and click on File.
Click on Account Settings, select the account you want to remove, and click on Remove.
Now, add that account and check if the issue persists.
5] Repair Outlook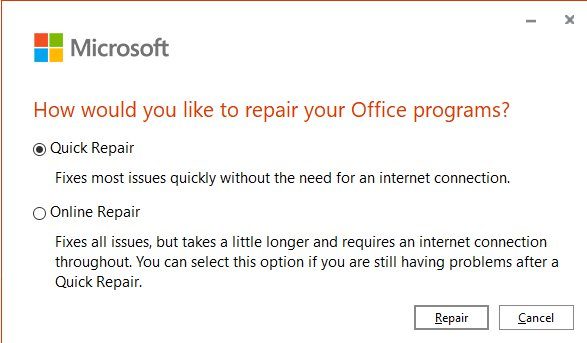 If none of these steps could help you, consider repairing Outlook. It has been known to help most users get over this error. Here's how to do it:
Press Windows Key + I to open Settings.
Click on Apps > Apps & Features.
Now scroll down, click on the office product you want to repair, and select Modify.
Click Online Repair and follow the instructions on-screen.
Read: Fix 0x800CCC90 Outlook error code
What does error code 80090016 mean?
The outlook error code 80090016 usually occurs after a devices motherboard has been replaced. This error can also occur if the TPM is facing any errors. You can fix this by renaming the BrokerPlugin file. For your information, we have enlisted some solution that will troubleshoot the issue.
How do I resolve a TPM issue in Outlook?
To resolve a TPM issue in Outlook, you need to find the root cause of the problem. That said, you can go through the above-mentioned solutions to troubleshoot the issue regarding TPM in Outlook. In case you cannot find the root case, you can disable ADAL, rename the BrokerPlugin file, and re-add your account as well.
Fix: Event ID 1098: Error 0xCAA5001C, Token broker operation failed.