Microsoft Office 365 subscription is available for both Windows PC and Mac. Nowhere on its Office subscription page does Microsoft tell you that the applications and features of Office 365 are far fewer for MacOS than Office 365 for Windows. This article talks about Microsoft Office 365 differences between Windows PC and Mac.
Difference between Office for Mac and Windows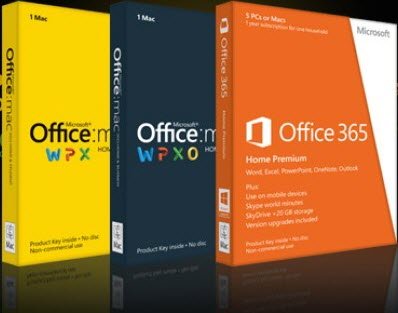 Less apps in Office 365 for Mac
The basic apps across platforms, from Microsoft, are MS Word, MS Excel, MS PowerPoint, and MS OneNote. OneNote is also available as a standalone app for Android, iOS, MacOS, Windows, and certain other operating systems.
Office 365 Home edition subscription on a PC gives you all the apps mentioned above in addition to following apps:
MS Outlook
MS Publisher – A software that helps you create and print office stationery; for example, you can create a business card based on a template or from scratch
MS Access – is a relational database application that works well with MS Excel
There are some other apps packaged into Office 365 Pro subscription for Windows 10 – such as Visio and Project. There is the facility to automate tasks using VBA scripts in PC version of Office 365.
Coming to Office 365 for Mac Home Edition, you get only the following five apps:
Microsoft Word
Microsoft Excel
Microsoft PowerPoint
Microsoft Outlook and
Microsoft OneNote
For people who always use Publisher, it would be a turn-off to find that there is no Microsoft Publisher in the Office 365 for Mac suite. I, for one, was disappointed as I could not open the files that I created in Microsoft Publisher on Windows 10 machine.
That is to say, if you are migrating to Mac, don't expect all apps from the Office Suite. Also missing is the ability to select apps to be installed when directly installing from Office 365 subscription page. If you install, say, Microsoft Office from a USB or disk, you go to custom installation and remove all the apps you don't want. That's for PC. Coming to Mac, there's no option to leave out MS Excel (for example) if you don't want it on your machine.
Reduced number of Power features in apps of Office 365 for Mac
These are fully functional software or apps in Office 365 for Mac. But they leave out some features that power users may want to use. For example, VBA scripts may create a problem in Word and Excel for Office 365 for Mac as this edition does not provide full support to complex macros. You may miss many ActiveX controls in MS Word.
If you use SharePoint, I won't recommend Office 365 for Mac. Unlike PC, the macOS version of Office 365 does not support all of the SharePoint features. Many such features on SharePoint are exclusive to the Windows operating system and hence won't work on Mac OS.
There is no support for Arabic and Hebrew languages that write from left to right. There is no optimization tool to see how the Office 365 apps are performing. Also missing is the Upload Manager. But that's not an issue because the files are stored directly to OneDrive instead of just the local sync folder named OneDrive. For the same reason, Microsoft Word for Mac does not have a file-repair-on-open feature, unlike the Windows version that provides it.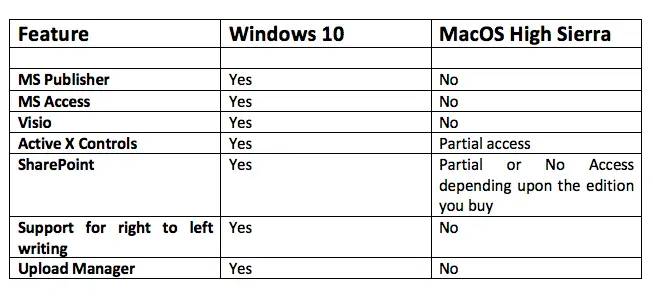 Office 365 for Mac vs. Windows – Summary
Other than the ones mentioned above, there are not many negatives in Office 365 for Mac. While Office 365 for PC offers full functionality, the Mac version allows users to get by easily if they are not into powerful computing.
Other features are as good on Mac as on PC. Office 365 saves files directly to OneDrive, without the assistance of Upload Manager, unless you opt to save them locally on your Mac HD. There is this Autosave feature in both versions so that even if you forget to save, the software keeps on saving your work in progress.