Recently we've come across a situation where several Microsoft Office users have been experiencing a problem where the Office files or apps cannot be opened unless Run as Administrator is used. This is no doubt an odd issue, but it can be fixed.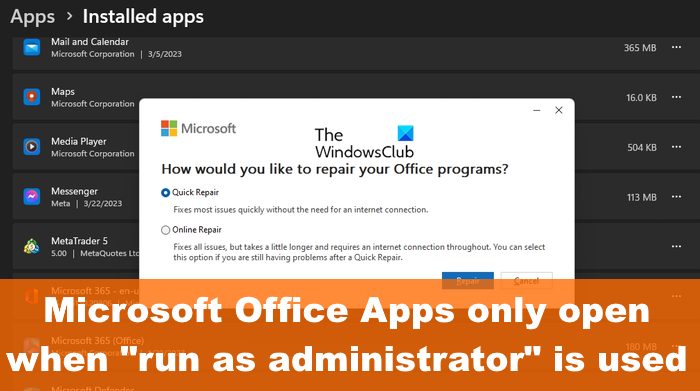 There are multiple ways to ensure Microsoft Office can be opened without needing to run them in administrator mode. We will discuss these options, so hopefully, one of them works for you as intended.
Microsoft Office apps only open when Run as administrator is used
If Microsoft Office apps or files open only when you use Run as administrator in Windows 11/10, follow these suggestions to fix the issue:
Remove Microsoft Office from Sleep feature of 3rd-party optimizers
Repair Microsoft Office
Check for Permission Settings
Create a new Local computer user
1] Remove Microsoft Office from Sleep feature of 3rd-party optimizers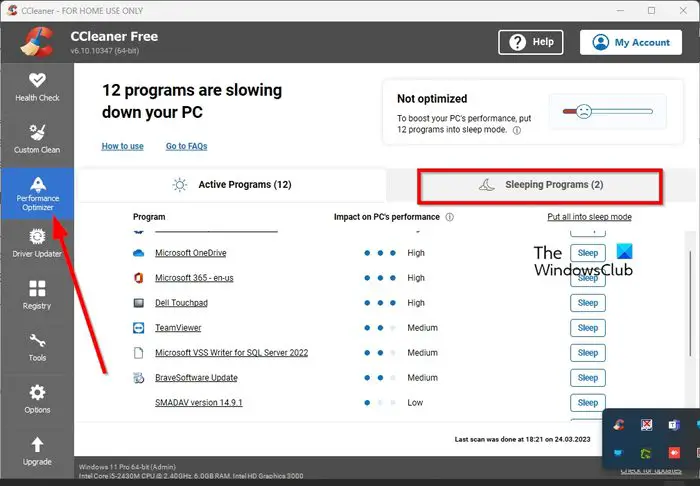 Several users have claimed that by removing the Office app from the Sleep Programs area in CCleaner, the overall problem will be fixed immediately.
If you have CCleaner installed on your computer, please open it right now.
Select the Performance Optimizer tab via the left panel.
Click on Sleep Programs from the right.
If the Office app is listed, click on the Wake Up button next to it to bring it out of Sleep mode.
Similarly, if you have AVG TuneUp or Avast Cleanup installed, you need to remove Offuice from its 'Sleep' list:
Open AVG TuneUp or Avast Cleanup
Click on Speed up icon
Open Background & Startup programs.
Scroll down and locate Programs sleeping section and expand it
Find Office and click WAKE
Attempt to open the app without administrator privileges to see if it works.
If this doe not help, you may read on.
2] Repair Microsoft Office
Repair Microsoft Office and see. With this option, there is no need to uninstall, then reinstall the Office app, so let us explain the steps you need to follow in order to get the job done.
3] Check for Permission Settings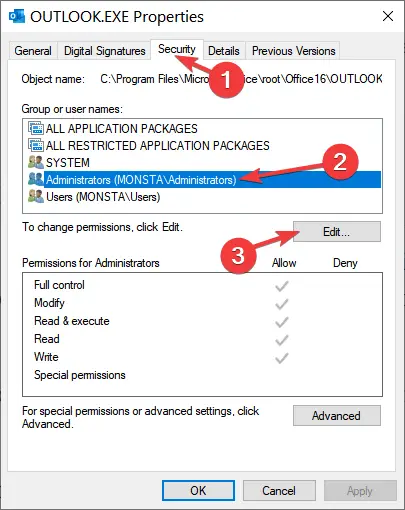 If the above fails to work, then our next solution is to check the permission settings of the Office app.
Begin by right-clicking on the shortcut icon.
From the context menu, please select Properties.
Go to the Security tab right away.
Change the permission for all to Allow Full Control.
Click on Apply > OK to complete the task.
4] Create a new Local computer user
Creating a new computer user is known to work, so create a new User Account and see.
READ: Run as administrator option not working or missing
Why do I have to Run as an administrator every time?
Some apps, especially the ones that can change important system files, will require admin permission to run or to make specific changes to the computer. This is important and must not be changed for whatever reason.
Read: RunAsTool lets you run a Program as Administrator without password
How do I Run without administrator rights?
Locate the .exe or the shortcut of the file, then right-click on it. Select the Properties option from the Context menu. Click on the Security tab, and from there, click Edit. Select the preferred user and place a checkmark on the option that reads, Full Control under Allow via Permissions. Click the OK button to complete the task, and that's it.
Read: How to allow Standard users to Run a Program with Admin rights.