Often, Microsoft unveils its newly manufactured products with great fanfare to make them a commercial success, but the launch of the new Modern Keyboard marks a departure from this rule. The Modern Keyboard from Microsoft is the successor to the Surface Keyboard. It looks much identical to the latter. Differences that can be readily discerned include a new fingerprint reader and the ability to use a cable for a wired connection instead of wireless.
Microsoft Modern Keyboard
The first look impression suggests the slim keyboard is designed for efficiency and comfort in the working environment. It is sleek and buildup of virtually indestructible aluminum. The keys are shallow compared to other traditional desktop keyboards. It doesn't have the normal curvature either. However, the typing experience on this device compared to other traditional desktop keyboards is good.
Modern Keyboard has a built-in fingerprint scanner.
These days, most Windows apps are designed to take advantage of Windows Hello and biometric login. As such Modern Keyboard finds its utility. How? Microsoft has integrated a fingerprint reader into the second Windows key on the right-hand side of the keyboard that can be used to log into Windows 10 or websites using Windows Hello. I particularly find this method more suitable and secure than passwords susceptible to interception or key loggers. You'll agree that it's become a little inconvenient to regularly type passwords on your desktop computer to access files and folders.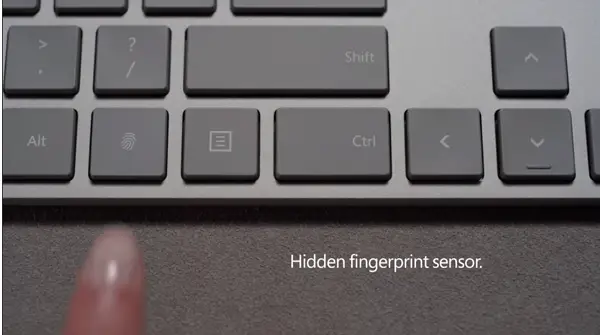 What about its battery power? Microsoft claims the keyboard should last four months on a single charge. Moreover, the battery is rechargeable, so you do not need to dish out new batteries every so often. The product description is as follows:
Length: 17 inches approximately (420.9 millimeters)
Width: 5 inches approximately (112.6 millimeters)
Wireless frequency: 2.4 GHz frequency range
Connection Interface: Bluetooth Low Energy compatible 4.0 / 4.1 / 4.2
Wireless range: 33 feet (10 meters) in the open air. Up to 17 feet (5 meters) in a typical office environment
Other specifications
Height: 0.76 inches (19.3 millimeters)
Weight: 15 ounces, approximately
Battery Life: Up to 4 months on a full charge
Battery: Rechargeable battery (included)
Warranty: 1-year limited warranty
The selling point of the keyboard – in addition to Windows, the Modern Keyboard is compatible with macOS and other platforms such as Android. The product is available via the Microsoft Store in the US for $129.99, Canada, and China, which is $30 more than the standard Surface Keyboard.
How do I pair my Microsoft Bluetooth fingerprint keyboard?
Tap the notification message in the bottom right corner of your Windows 11 device. Your Windows 11 device will pair automatically with the Microsoft Modern Keyboard with Fingerprint ID when the keyboard driver is installed.
Where is the pairing button on my Surface keyboard?
Next to the battery cover at the bottom of the keyboard, you will find the pairing button. To find Bluetooth & other devices on your PC, click the Start button, then select Settings > Devices.