Microsoft has set up a product identification service which allows you to send your suspected, high quality  sophisticated fakes to them – along with proof of purchase. Microsoft will then tell you weather or not it's fake, and if it is, they'll send you a replacement, legitimate, copy free of charge.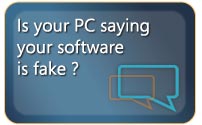 If it is legitimate, Microsoft will send it straight back to you, along with a letter confirming it is genuine.
If it is a fake copy, then they will replace it with a legitimate replacement.
Of course, it has to be a sophisticated fake – if you knew it was a fake when you were buying it, then Microsoft will not swap it for a legitimate version! But if you've genuinely been taken in, then its your route to rescue! The replacement however, could take up to 4 weeks!
What's in it for you?
Well, if somebody has scammed you, you get a full legit copy in return; and avoid the risk of viruses & trojans that exist in fake copies, or the risk that at some future point your fake version stops running.
What's in it for Microsoft?
Microsoft gets some help in trying to track down the suppliers of fake software, because it's bad for Microsoft and its legitimate Microsoft partners.
Via MSDN Blogs.