Internet Explorer, which once ruled the market, is going to be discontinued. However, Microsoft is doing everything it can to regain those lost users and "Microsoft Edge" is their new bet. Since Internet Explorer is on the way out, it is time for businesses to migrate to Microsoft Edge. This Microsoft Edge Deployment Guide for Business will help you with just that!
Microsoft Edge Deployment Guide for Business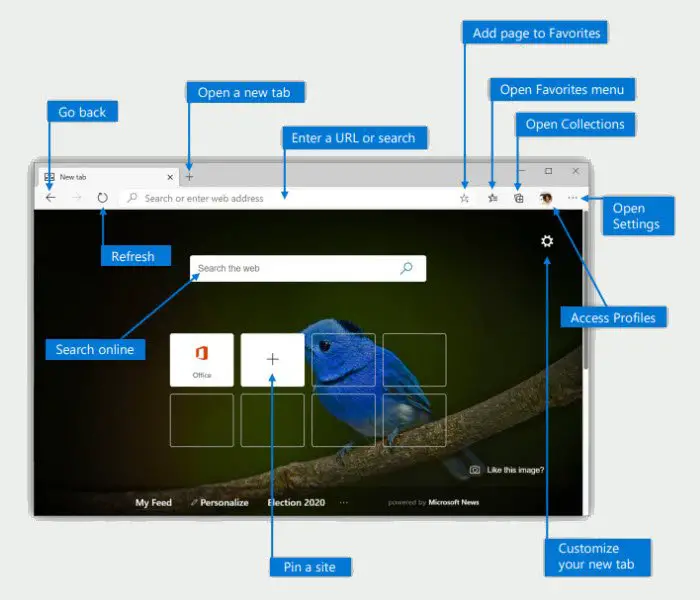 Keeping numbers aside, Microsoft Edge is not bad a browser. It's just that the competition has conquered the market in a way that it's very tough for a sea of users to switch back.
Just like Google Chrome, Microsoft Edge is based on Chromium and you can use Bookmarks of many different browsers in Edge. So, Microsoft Edge is not an alien browser, if you were using Chrome or any other browser for that matter you won't find it completely peculiar.
Microsoft Edge is now faster, more secure, and has all the other frills that you need in a daily browser.  But if we are going to use Microsoft Edge for Business, entrusting your privacy with Edge can make you skeptical. So, to confirm this, you can check the source code of Chromium as it is open-source.
Edge for Business gives the admin control over all the other clients. The System Administrative controls the administrating settings and updates.
Read: Group Policies to configure Redirection to Microsoft Edge.
IE Mode in Microsoft Edge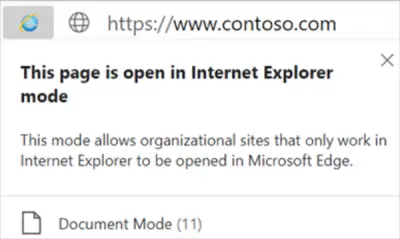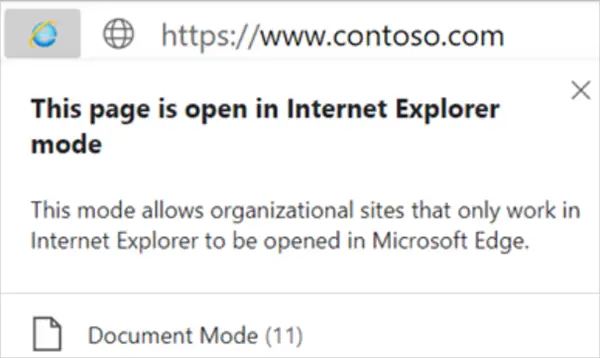 Microsoft Edge, as you may know, uses the Chromium algorithm to render most of the sites. However, to render legacy sites, it uses the Trident (MSHTML) engine from Internet Explorer 11. Because of this, it supports even archaic sites.
When you load a website with IE mode on, a small logo of Internet Explorer appears in the navigation bar. If you want to know more, just click on the IE logo to see a drop-down wizard.
But to use this, you need to enable Internet Explorer mode in Microsoft Edge.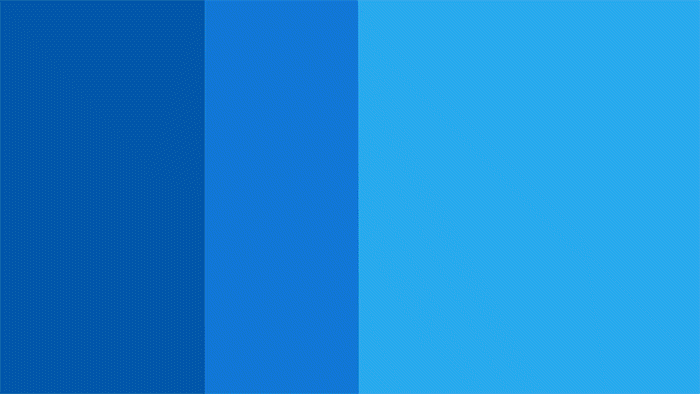 Deploy Microsoft Edge for Business
These are the two ways by which you can deploy Microsoft Edge for Business.
By Microsoft Endpoint Configuration Manager
By Intune
Let us talk about them in detail.
1] Microsoft Endpoint Configuration Manager
In the latest version of Microsoft Endpoint Configuration Manager, there is deployment flow for MS Edge. So, it will summon every required information in the process by itself saving some of your time and labor.
So, to deploy Microsoft Edge, follow these steps.
Open Microsoft Endpoint Configuration Manager and from Software Library, select Microsoft Edge Management.
Click Create Management Edge Application.
Give it a name, select a location, and click Next.
Select a Channel, version, check or uncheck "Allow Microsoft Edge to automatically update the version of the client on the end user's device", and click Next.
In the Deployment tab, select Yes and click Next.
Now, follow the on-screen instructions to deploy Microsoft Edge.
This is how you deploy Microsoft Edge. However, this is not the only method, if you are familiar with Intune and want to use that to deploy the browser, read the next section.
Read: Use Group Policy to disable Internet Explorer 11 as a standalone browser.
2] By Intune
Microsoft Edge is fully integrated with Intune and you don't need to download any installation package to get started with it. So, let us see how to deploy Edge with Intune.
Login to Intune with your Microsoft account.
Click Apps > All Apps > Add.
Select an OS and click Next.
In the App Infomation tab, fill the necessary information and click Next.
In the App Settings tab, select the Channel and click Next.
Keep moving further and configuring the deployment the way you want.
This is how you deploy Edge with the help of Intune.
In a similar manner, you can deploy Edge for mobile as well. Just click Apps > Mobile Platform (ios or Android) from the Platforms section. Now, follow the above-mentioned steps to deploy.
Which Edge channel to choose
By looking at the steps to deploy Microsoft Edge, one question may have piqued your curiosity, which channel should I choose? So, let us answer this question by looking at each of them simultaneously.
The following are the three channels of Microsoft Edge for Business.
Stable Channel
Beta Channel
Dev Channel
Let us talk about them in detail.
1] Stable Channel
Stable Channel is for the masses. It is the most complete version of the browser and, in most cases, it is subjected to broad deployment. It is what most clients will work on, so, you may have to do deploy them in abundance.
It gets updated from Microsoft every six weeks adding more features to its arsenal. However, the security updates arrive when needed.
Read: Redirect sites from IE to Microsoft Edge using Group Policy.
2] Beta Channel
Beta software, as you may know, is software in its testing stage, it is crude and not very stable. Beta Channel of Microsoft Edge is no exception.
You deploy this channel to a small set of individuals looking to test the software and inform the developers to reform the software before getting the Stable update which you are going to deploy to the masses.
They get updated every six weeks and the current version of the channel will only be supported until the next version comes out.
3] Dev Channel
Last but not least, we have Dev Channel. It is a cruder version of Beta Channel and provides you with an opportunity to try and test the upcoming features. Many enterprises do not deploy this but if you want you can assign a set of client users to work on this channel and keep your company informed about the next Beta release.
Now, depending on your choice, you can pick one. Most admins end up deploying the Stable channel to almost all users and keeping the Preview Channels, Beta and Dev, for a very small set of clients. You can download any of the mentioned Edge channels for your OS from microsoft.com.
System Administrators may want to download the Microsoft Customer Adoption Kit here from microsoft.com
Hopefully, this guide has helped you in getting all the required information about Microsoft Edge for Business.